Take the Scenic Route
Take the Scenic Route:
This summer, log some miles and celebrate the Blue Ridge Parkway's anniversary with 75 must-see stops
On the face of it, commemorating a highway's anniversary may seem a little strange. But the Blue Ridge Parkway is much more than a 469-mile stretch of asphalt from Virginia to North Carolina. For 75 years, the road has been key to our relationship with the mountains and valleys, if even for just a quick jaunt to the nearest overlook or hiking trail. It's also a link to the small towns, country stores, campgrounds, and cultural history that define such a distinct region. This summer, explore a few more bends in the road and pass a few more mileposts than you'd planned. Here are 75 reasons to keep the odometer rolling.
---
Less Than Zero
MP 0 » Shenandoah National Park
Think of Skyline Drive through Shenandoah National Park as a warm-up course for the Blue Ridge Parkway. There are 75 overlooks along the route, but even more impressive are more than 500 miles of trails you can access. (That's more miles of hiking, biking, and horseback riding than the Parkway offers in driving.) Get to know the lay of the land better through the park's Earth-caching program that hooks up visitors with GPS devices to locate natural and geological features. Challenge yourself on the demanding six-mile hike to Overall Run Falls, the tallest in the park.
---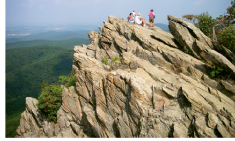 The Valley Below
MP 5.8 » Humpback Rocks
It isn't an easy hike, but the one-mile climb to Humpback Rocks, two cloven crags perched above the trees, is one of the Parkway's quintessential vistas. From here, you can see the entire northern Blue Ridge extending north through Shenandoah Park, south along the Parkway, west to the patchwork quilt of Shenandoah Valley, and east to Monticello and the Piedmont.
---
Private Picnic
MP 8.5 » Humpback Rocks Picnic Area
This quiet picnic area has a few great after-lunch trails. Head to the Catoctin Trail loop, an easy half-mile round-trip to a balcony overlook. And if the crowds at Humpback Rocks Trail dissuaded you, the adjoining hike from here to the Rocks via the Appalachian Trail offers a longer hike (six miles, round-trip) with plenty of solitude.
---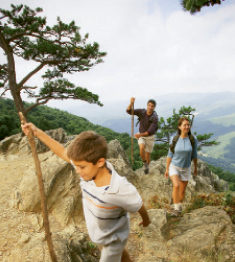 Rock Down to Azalea Avenue
MP 10.7 » Raven's Roost
Heading south, pause at Virginia's Raven's Roost Overlook. The Shenandoah Valley vista is inspiring, and this aptly named overlook is home to many of Poe's favorite muses.
---
---
Join the Party!
Blue Ridge Parkway 75th Anniversary Weekend Festival
Near MP 215 » Cumberland Knob Recreation Area, Blue Ridge Music Center & neighboring communities
Seventy-five years ago, the first shovel of dirt was turned at Cumberland Knob as construction began on the Blue Ridge Parkway. To conclude a year-long anniversary celebration, Blue Ridge Parkway 75 (a collection of all the Parkway's partner groups) is throwing a multivenue festival September 10-12. The event will include a ceremony, regional music and crafts, antique car and travel-trailer exhibits, storytelling, and children's activities.
Grapestompers Annual Amateur Winemakers Festival
MP 229 » Laurel Springs
On Saturday, May 29, from noon to 5 p.m., visitors at Thistle Knob Winery can sample wines by amateur winemakers and select the winner through people's choice balloting. Ribbons and gift certificates will
be awarded.
Visit www.blueridgeparkway75.org for a complete schedule of events along the Parkway this summer.
---
---
Sleep Near the Fishes
MP 13.7 » Sherando Lake Recreation Area
National Forest campgrounds are among the best places to camp on a Parkway trip. The campground at Sherando Lake, a 25-acre, spring-fed pool of tranquility, has been known as the jewel of the Blue Ridge since 1936. It boasts charmingly rustic facilities built by the Civilian Conservation Corps. And there's even a beach, an old CCC bathhouse (now with a small visitor center and gift shop), swimming, boating, fishing, and hiking.
---
Walk on the Wild Side
MP 13.7 - 75 » Wilderness Areas
The Parkway connects a Who's Who of Southern Appalachian wilderness areas, not all of them well-known. There are five within 75 miles north of Roanoke. Three Ridges Wilderness (Milepost 13.7) is near Charlottesville, and Saint Mary's Wilderness, is close by (Milepost 22). Priest Wilderness is next (Milepost 27.2), named for the highest peak in the Religious Range, and then comes the James River Face and Thunder Ridge wilderness areas (Mileposts 63-75).
---
Logging Some Trail Time
MP 34.4 » Yankee Horse Trail
Many Parkway interpretive trails focus on nature, but this one is telling of human impact on the environment. The short path to a waterfall crosses an old section of railroad, which in logging days, carried away almost all of the area's virgin timber.
---

Little Britain
MP 61.4 » Foamhenge
Truly a roadside attraction in the oddest sense, this quirky Styrofoam and fiberglass replica of Stonehenge is just 20 minutes off the Parkway on U.S. 11 near Natural Bridge. Artist Mark Cline has created a stunning setting, where massive "stones" adorn an airy hilltop. And it's truly a shocker to pull into the parking area and be the only visitor to this relatively unknown (and free) attraction. Informative signage does a good job of explaining the real Stonehenge.
---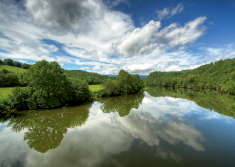 Water Gap Walk
MP 63.6 » James River Visitor Center
The mighty James River breaches the mountains at the Parkway's lowest point (646 feet). One of the best ways to experience this titanic split in the Blue Ridge is to walk away for perspective. Take the Otter Creek Trail along the stream, and the scenery unfolds before you on a short walk to Otter Lake. Take the one-mile lake loop, and return to the river for a 2.4 mile hike that includes old roads and cabin ruins.
---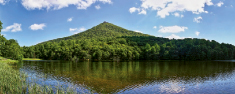 Ticket to Ride
MP 85.9 » Sharp Top
Sit this one out—at least on the way up—and catch a ride on the only motorized mountain climb on the Parkway. A modestly priced bus ride whisks you to the spectacular summit of Sharp Top, the Peaks of Otter's cone. Then hike the 1.5 mile trail down, and impress the folks in the parking lot with your athleticism.
---
---
Arts & Craft
Beyond Natural Beauty
Ben Long Frescos
MP 258 » Glendale Springs | MP 317 » crossnore
North Carolina artist Benjamin Long IV has become noted for his frescoes. You can visit two of them from the Parkway. In Glendale Springs, The Last Supper adorns Holy Trinity Church, and in Crossnore School's Chapel, Long painted Suffer the Little Children to Come Unto Me.
www.benlongfrescotrail.org
Woven in History
MP 317 » crossnore
The Crossnore Weaving Room was founded in 1913 by Dr. Mary Martin Sloop to keep alive the art of hand-weaving, give women an economic opportunity, and promote The Crossnore School through the sale of beautiful hand-woven goods. The looms are still running, and you can see the latest generation of weavers at work and also buy their exquisite crafts. www.crossnoreweavers.org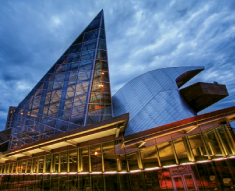 Modern Masterpiece
MP 120 » Taubman Museum of Art, Roanoke
This new 81,000-square-foot museum is a striking landmark of contemporary architecture on the exterior and a light-filled center for modern art. This summer's exhibitions include "Posing Beauty in African American Culture," the installations and sculptures of James Grashow, and "Recurring"—a site-specific sculpture of four rooms arranged into a unified form.
www.taubman-museum.org
---
---

Urban Outdoors
MP 61.4 » Roanoke Mountain Campground
This Parkway campground is a woodsy enclave that allows you to skip the campfire fare to dine on sushi, just 10 minutes from your tent, in downtown Roanoke's Historic Farmer's Market District. This cluster of great cultural attractions in the largest city along the Parkway includes museums devoted to art, history, and transportation (don't miss the O. Winston Link Museum's extensive collection of 20th century train photography). After dinner, drive up Mill Mountain to gaze at the city's awesome urban vistas.
www.downtownroanoke.org
www.linkmuseum.org
Downtown Roanoke, VA
---
Step Back in Time
MP 151 » Blue Ridge Farm Museum
Discover what rural life was like in 19th century Virginia at the Blue Ridge Farm Museum. Costumed interpreters prepare meals over an open hearth, drive oxen, forge iron, and go about the daily farm chores typical of the time.
www.blueridgeinstitute.org/farm
---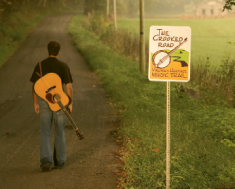 Along Virginia's Crooked Road
MP 165 » Floyd
Don't miss the town of Floyd, which is also a stop along Virginia's Heritage Music Trail, to visit the Floyd Country Store on Friday nights (and some Saturdays) for live pickin'. From July 22-25, the town will host FloydFest 9, a four-day celebration of music and arts featuring seven stages of bluegrass, old-time, folk, and world music.
www.floydfest.com
---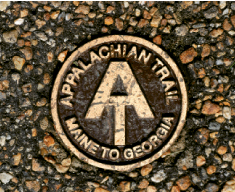 Who Moved the Appalachian Trail?
MP 168 » Saddle Overlook
Walk the easy 1.1-mile loop over Rocky Knob, the landmark summit in Virginia's Rocky Knob Recreation Area, to see one of the earliest Appalachian Trail shelters. When the Parkway was built, it displaced the AT to the west, leaving behind this rustic structure.
---
Play Me Some Mountain Music
MP 213 » Blue Ridge Music Center
A stop at the Blue Ridge Music Center outside Galax, Virginia, especially on concert nights between June and September, is an opportunity to discover and enjoy the sound of local, traditional music. Regional and nationally known musicians perform old-time, gospel, blues, and bluegrass tunes in the outdoor amphitheater.
www.blueridgemusiccenter.org
---
Go Fly a Kite
MP 264.4 » The Lump
Check out the sign about Tom Dula (actually, the infamous Tom Dooley from the folk song) who lived below this big meadow. Then continue up the grassy hill to see why so many people send kites and radio-controlled model airplanes skyward from this breezy, expansive dome.
---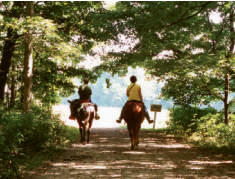 Saddle Up
MP 294 » Moses H. Cone memorial Park
Equestrians seeking a unique riding experience will love to mosey their mounts along the 25 miles of trails that wind through the 3,500-acre estate of textile tycoon Moses Cone.
---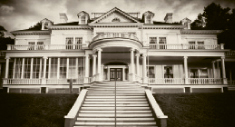 Room with a View
MP 294 » Flat Top Manor
You haven't appreciated the scenic beauty of this park until you've seen it through Moses Cone's bedroom window. Recently opened to the public, the upstairs at the manor house is now accessible on weekends via ranger-led tours.
Moses Cone's Flat Top Manor
---
It's all Downhill
MP 294.6 » Blowing Rock Sledding Hill
If you're traveling during the snowy season, slide off the Parkway (please, not literally) at the U.S. 221 junction near Cone Park. The large meadow flanking the intersection offers multislope sledding hills with easy and expert runs.
---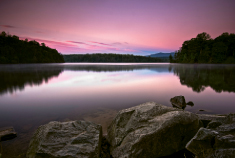 Lakeside Living
MP 296.7 » Price Lake
Yes, there are rowboats and canoes to rent at Price Lake. But you'll be living the L.L. Bean-catalog dream if you bring your own kayak, score a lakeside campsite, and launch your boat mere feet from your tent.
---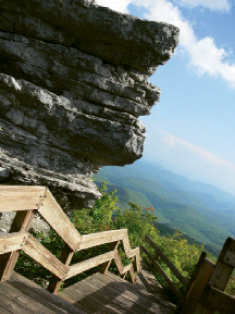 A Sight to Behold
MP 303.6 » Rough Ridge
Take the quiet, back entrance to this popular viewpoint from Grandfather Mountain. Park at Wilson Creek overlook, and hike under the Parkway overpass to join the Tanawha Trail as it rises to the peak of Rough Ridge, bypassing the lower boardwalks. The round trip is two miles, and the reward is an astounding view of the drop from the peaks of Grandfather Mountain, past the Linn Cove Viaduct, all the way to the Piedmont.
---
Unsolved Mystery
MP 310» Brown Mountain Lights
The theories on what causes the Brown Mountain Lights range from ball lightning to spirits. Not even Scully and Mulder could figure them out in a 1999 episode of The X Files. The easiest spot to catch a glimpse of this unexplained nighttime phenomenon is from Lost Cove Overlook.
www.brownmountainlights.org
---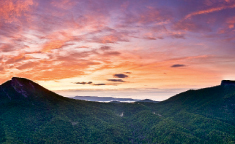 Gorge On the View
MP 317 » Wiseman's View
The best views sometimes require a little extra effort. If you want to see Linville Gorge in its panoramic glory, Wiseman's View can't be beat. Exit at Milepost 317 and go left on U.S. 221 in the town of Linville Falls (note: Louise's Famous Rockhouse Restaurant is a great pitstop). Turn left again on N.C. 183. And after 0.7 miles, go right on Wiseman's View Road (N.C. 1238). The immediate trailhead on the left also leads to Linville Falls, but take the scenic dirt road 3.8 miles to the easy .2-mile Wiseman's View Trail. You won't regret it.
---
Do-Si-Do!
MP 334 » Little Switzerland
The village of Little Switzerland has hosted Saturday night square dances for more than 80 years. Visitors are welcome to join the shindig that includes live bluegrass and a caller. Experience some good old-fashioned fun, with cake walks, clogging demonstrations, and soda pop. July & August, 7 p.m., Geneva Hall
www.littleswitzerlandnc.com
---
---
Restaurants, Wineries & Accommodations
Stay & Play
MP 0 » Stone Soup Books | Waynesboro, VA
Part bookstore and part eatery, make a pitstop at Stone Soup to fill up your tank, (OK, your stomach) and also pick up a novel. Specials include grilled paninis, pizzas, and something curiously named The Fahrenheit 451. Drop by for live music on Friday nights. www.stonesoupbooks.net
MP 86 » Peaks of Otter winery | Bedford, va
There are a lot of reasons to pull off at this milepost, one of which is the historic Johnson Orchard and the Peaks of Otter Winery, specializing in fruit wines. If you're a fan of sweet wines, their selection of pressed berries and fruits won't disappoint. The winery owners jokingly refer to what they make as Grandma's wines, so this is your opportunity to buy the only Cherry, Cherry Cheesecake, Pumpkin Pie, and Apple Truffle wines in the world.
www.peaksofotterwinery.com
MP 86 » Peaks of Otter Lodge | Bedford, VA
This sprawling lodge—with its two restaurants—is perfect for a hearty meal while enjoying views of Abbott Lake and the surrounding mountains. Walking trails abound, and if you're in need of souvenir T-shirt or a mountain musical instrument, the gift shop has you covered. www.peaksofotter.com
MP 171.5 » Chateau Morrisette Winery | Floyd, VA
More than just an excellent product, Chateau Morrisette Winery sells creatively labeled wines for a good cause. In partnership with Service Dogs of Virginia and the Saint Francis of Assisi Service Dog Foundation, this scenic winery bottles and sells Liberty and Independence wines, which pay tribute (and a considerable donation) to service dogs that help people with disabilities. More in keeping with the theme of your trip, try some BRP Milepost 469 Dry Red or BRP Milepost 000 Chardonnay with lunch or dinner at the elegant on-site restaurant.  www.thedogs.com
MP 195 » Inn at Orchard Gap | Fancy Gap, VA
This cute-as-a-button country respite was designed in the style of a traditional Southern Colonial inn. Sit back in a rocker, and enjoy the views from the upper or lower porches. Then retire to your room decorated with quilts and equipped with a gas fireplace, fridge, microwave, and other amenities to allow you complete independence. www.innatorchardgap.com
MP 195 » Stringbean Coffee Shop & Shamrock Tea Room | Galax, VA
While a cuppa Joe here is brisk, the real reason people come is for the elaborate high tea and Celtic music jams. Adjourn to the tearoom for service on white china and choose from 100 loose teas, scones, finger sandwiches, and chocolate strawberries. Or stay for a dinner of Shepherd's pie, Gaelic steak, colcannon, and other Highlander cuisine. www.stringbeancoffeeshop.com
MP 259 » Blue Ridge Bakery Café | Glendale Springs, NC
Located next to Greenhouse Crafts (where you can satisfy all your gnome and birdhouse needs), the café and bakery can set you up with fresh-baked cookies, brownies, breads, and muffins for the road, or made-to-order smoothies, subs, pizzas, gumbo, and burgers if you'd like to dine in. Don't miss the weekend Cajun breakfasts that feature a lively mix of crawfish or etouffée scramblers.
(336) 982-4811
MP 304.4 » Westglow Resort & Spa | Blowing Rock, NC
Put away the tent and hiking shoes, and pull over at Westglow Resort for some serious relaxation. Located outside Blowing Rock, this elegant inn (once the summer manor of artist and writer Elliott Daingerfield) offers genteel piano concerts at cocktail hour, sumptuous gourmet cuisine at the in-house restaurant, Rowland's, and a luxury spa to soak your worries away.
www.westglowresortandspa.com
MP 376 » Sourwood Inn | Asheville, NC
Here, tucked away in the forest of Elk Mountain, you'll dine on French-inspired cuisine. Then relax in an environment full of craftsman furnishings and handmade artworks from local galleries. Or tour the garden to see elegant fountains and sculptures that have been commissioned by Asheville artists.
www.sourwoodinn.com
MP 408 » Pisgah Inn | Waynesville, NC
Located on the Parkway, this inn's picture-window views go on for miles and amply make up for the rather simple accommodations. But you didn't come here for the room, so get out and enjoy the location. Start your exploration in the gift shop's collection of Parkway guide books. Or pick up a hand-carved walking stick, and stretch your legs on the 1.5 mile ascent to Mount Pisgah from the trailhead at Milepost 407.6. www.pisgahinn.com
---
---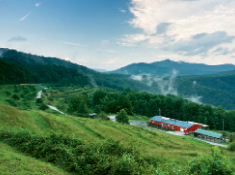 Music & Storytelling Hayrides
MP 328.3 » Orchard at Altapass
Live traditional Appalachian music gets toes tapping on weekends during warm weather at the 100-year-old Orchard at Altapass. For only $5, master yarn spinner Bill Carson will take you on his popular storytelling hayride.
www.altapassorchard.com
---
Rock It Old School
MP 331 & 334» Museums of Minerals
Learn what's at the very core of our mountains at the Museum of North Carolina Minerals, just off the Parkway at Milepost 331. Or venture deeper, literally, to see some of the exhibits at Emerald Village museum, where you can try your hand at panning for precious stones. Don't miss the nighttime Bon Ami Mine tour, where minerals show their true colors under black lights.
www.byways.org
www.emeraldvillage.com
---
Best View of the East's Highest Peak
MP 350.4 » Green Knob Fire Tower
Parkway overlooks offer spectacular views of Mount Mitchell, but the Green Knob fire tower, at 4,950 feet, spreads the entire Black Mountain Range before you. Leave the Green Knob overlook heading south on the trail, then cross the Parkway. Follow the white blazes as the trail rises to the left and brings you to the tower after a half mile.
---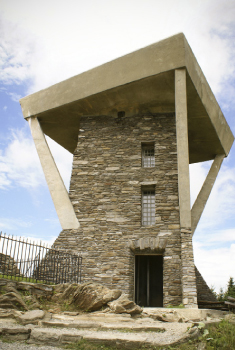 The Highest Grave East of the Mississippi
MP 355 » Mount Mitchell
Mount Mitchell, the highest point east of the Mississippi, is the final resting place of Elisha Mitchell—the scientist who fell to his death in the 1800s while trying to verify the mountain's height. You can visit his grave and learn about his story at
the museum.
---
Rise Above It All
MP 355 » Mount Mitchell
There's more than a new observation tower, restaurant, and museum on the mountain's summit. The nine-site campground tucked off the roadside is the East's highest, coolest spot to pitch your tent. Site 8 has its own little peak with a view of the summit tower.
---

Pickin' & Poetry on the Porch
MP 384 » Thomas Wolfe Memorial, Asheville
Thomas Wolfe, whose novels Look Homeward, Angel and You Can't Go Home Again marked him as one of America's literary greats, grew up in his mother's boarding house in downtown Asheville. It's the site of poetry readings and music on the porch on the first and third Fridays from May through October.
www.wolfememorial.com
---
See, Walk & Swim
MP 393 » N.C. Arboretum & Lake Powhatan
It may not be your first inclination, but pack your towel and bathing suit when you visit the N.C. Arboretum. After seeing the exhibits, you'll want to hike the more than 10 miles of trails. That's where you'll find a gravel path off the Bent Creek Trail (there's a gate as you enter the Bent Creek Experimental Forest) that leads to the Lake Powhatan swimming area. It's free and well worth the 15-minute walk.
www.ncarboretum.org
---
Sleeping Giant
MP 395 » Biltmore
If you want to snap a great pic of the Biltmore House from the roadside, keep a keen eye open around Milepost 395. Be ready to pull off the road to savor this rarely appreciated view of America's largest private home.
---
Don't Sweat It
MP 408.8 » Mount Pisgah Campground
Whether you're pulling in after backpacking in the nearby Shining Rock Wilderness or just heading back to camp after climbing the strenuous 1.3-mile round-trip to the top of Mount Pisgah, you're in luck. This is not only the highest campground operated by the Parkway (5,000 feet), but it's also the only one with showers.
---
Rock the Cradle
MP 411 » Cradle of Forestry
Few people know the science of forestry in America began deep within Pisgah National Forest, at a place that's now known as the Cradle of Forestry. A museum, educational film, and signs along the walking paths tell the forestry story. And many programs, such as the popular Songcatchers music series each July, complement this rich piece of Appalachian history.
www.cradleofforestry.com
---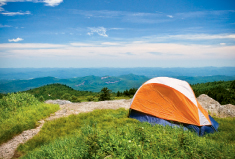 Art Appreciation
MP 412 » Art Loeb Trail
The 30-mile Art Loeb Trail in Pisgah National Forest rewards steep climbs with phenomenal views from Silvermine and Black Balsam knobs. The workout here includes treks up Tennent and Pilot mountains (from which you can see Looking Glass Rock) and stretches through Shining Rock Wilderness, the largest designated wilderness area in the state. Block out two to four days to tackle the entire trail, or make a loop with one of many connecting trails for a day hike. directions: Exit the Parkway near Milepost 412. Go south on U.S. 276 for about 14 miles to the Davidson River Campground on the right.
---
Out of This World
MP 431 » Haywood-Jackson Overlook
For a clear, high-altitude star-gazing sky, pull into the Haywood-Jackson Overlook (named for the boundary of the two counties) in the heart of the vast rippling realm of the Southern Appalachians. You're far from lights and just 22 feet shy of the highest point on the Parkway, Richland Balsam Overlook, 0.4-mile south. Lay back on the picnic table and take in the cosmos on a crisp night. Also check out the Shining Rock Wilderness on the overlook's skyline. Prominent peaks run from Cold Mountain on the left to the gentle pyramid of Mount Pisgah, the white-quartz summit of Shining Rock, and on to Devil's Courthouse on the far right.
---
Novel Attraction
Near MP 443 » Self-driving Tour of Cold Mountain
Author Charles Frazier brought the world's attention to an Appalachian community called Cold Mountain. On Saturday, June 6, you can get to know the area firsthand through a self-driving tour of historic sites. Guides will be at each location, including homes, churches, cemeteries, a farm, and school, to describe the past. Cost is $15.
www.blueridgeparkway75.org
---
Long Walk
MP 443 & 455 » Mountains to Sea Trail
Don't get the sudden urge to take a beach vacation the hard way. There are plenty of access points to the Mountains to Sea Trail along the Parkway, though not all the sections of the trail have been connected yet.
www.ncmst.org
---
Walk Down Memory Lane
MP 469 » Oconaluftee River Trail
This trail from Cherokee passes under the Parkway's last bridge, along wildflower fringed riverbanks, past inspiring plaques about Cherokee legends and culture (written in English and Cherokee). The trail ends at the Mountain Farm Museum, where the culture of European settlers is the focus. Dogs on leashes and mountain bikes are allowed.
---
Vegas, Baby!
MP 469 » Harrah's Cherokee Casino
Well, you made it. 469 miles of driving, dining, hiking, camping, touring, and sightseeing probably has you feeling spent. Could there be a more spectacular way to shake off the road than to gather the remainder of your travel budget and bet it all on a game of black jack? But before you go all in, enjoy the casino's live concerts, dine at one of its multiple restaurants, and do something that hasn't been allowed there until very recently: Drink an adult beverage to toast your completion of America's most scenic mountain highway.
www.harrahscherokee.com
---
Shopping Destinations
Make Room in the Trunk
MP 258.6 » If you're looking for authentic Appalachian crafts, antiques, or even locally baked goods, drop by the Northwest Trading Post near Glendale Springs. Now also housing a Blue Ridge Parkway Visitor Center, the trading post has been a popular stop for travelers and a favorite gathering place for locals for more than 50 years. Open April 15 through October 31.
MP 291.9 » Tucked back off Industrial Boulevard in Boone, Cheap Joe's Art Stuff is where artists of the mountains stock up on canvases, sable brushes, palettes, easels, tubes of oils and acrylics, pastels, and other art supplies. Frames, art books, classes, and workshops make this a regular sojourn for professionals and hobbyists alike. www.cheapjoes.com
MP 312 » Less than a minute's drive from the Parkway at Christa's Country Store in Pineola, you can fill your picnic basket with locally made country jams and sourwood honey, buy a tough Carhartt jacket or socks if you forgot to pack for the chillier altitudes, and satisfy your appetite with creamy chicken and dumplings, cornbread, meatloaf, smoked pork barbecue, and other wholesome delights.
www.christas.com
MP 382 » Still a must-see stop on the Parkway to appreciate traditional crafts and purchase books about the region, the Folk Art Center near Asheville also holds exhibitions of handicrafts on its second floor. Hand-made contemporary works of art from members of the Southern Highland Craft Guild fill the Allanstand Craft Shop, while an interactive Parkway map in the Visitor Center is packed with inspired suggestions for more stops along the drive. And don't forget to stretch your legs on the hiking loop that departs from the parking lot.
MP 382 » A quintessential mountain jeweler, Stuart Nye found his calling during the Great Depression, recreating the dogwood blossoms of his surroundings into sterling silver jewelry to affix to dresses, hats, ears, wrists, and anywhere else this little embellishment would brighten a garment. Today, the Stuart Nye Silver Shop, just a mile off the Parkway in Asheville, offers an array of designs. www.stuartnye.com
MP 390 » If you're in the market for a spare innertube and reliable trail advice, hop off at the northbound Asheville exit at Milepost 390, where Liberty Bicycles can take care of all your pedal-powered needs. The shop is in the Harris Teeter shopping plaza only 200 yards from the Parkway.
www.libertybikes.com
MP 440 » Pottery is a family tradition for the Dodsons, owners of Balsam's Mud Dabber's Pottery and Craft. In addition to mugs, bowls, and dinnerware by six family members, you can find pieces made by friends.
www.muddabbers.com