Sweet & Simple
Sweet & Simple:
A Graham County family's symbiotic relationship with honeybees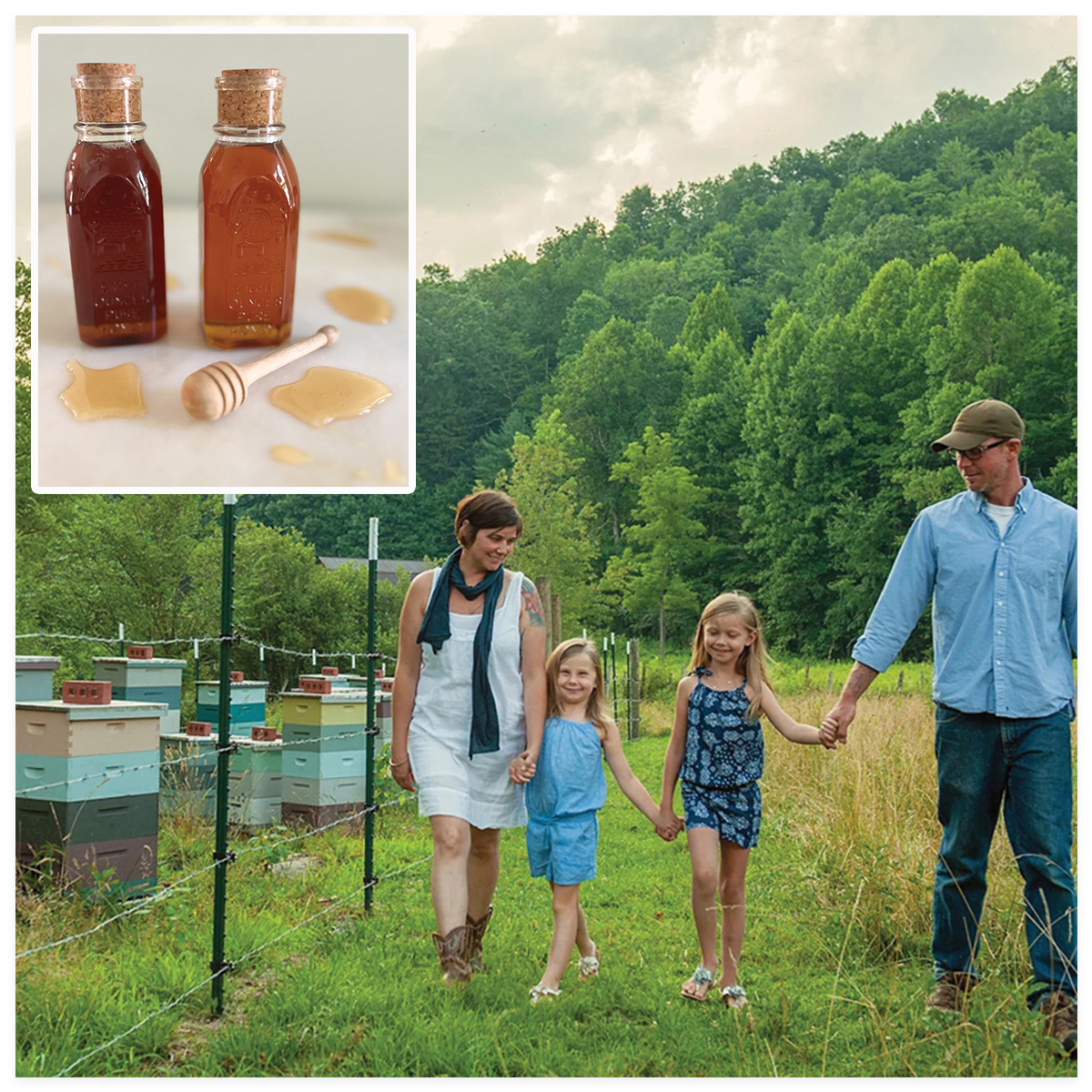 Aron, Jessica, and their two children; (inset) Wehrloom honey.
Aron Wehr and wife Jessica didn't expect their beekeeping hobby to be anything except an exciting pastime. But their family business, Wehrloom Honey & Meadery, is still blossoming in its thirteenth year. The Wehr's bee story began in 2010, when Aron gifted Jessica a few beehives for Christmas. "We started with two, and over the next three years we had twenty, and then we had 100, and it kept snowballing," Wehr laughs. As their honey supply built up, they began selling jars at local farmers markets. Their popularity persuaded them to purchase their current brick-and-mortar store in Robbinsville.
Although they originally set out as honey vendors, Wehrloom soon expanded; their business began to grow with the help of the bees. "The bees have provided us with a lot of raw materials. Not only do we get honey from them, we also get beeswax as a part of the honey extracting process. Using that beeswax, we started making a line of skincare products, making candles, and further down the line, we decided we could make alcohol with this, too. So we started making mead." The store offers a variety of simple and infused honey, along with soaps, balms, teas, and candles, all made from the spoils of their hives.
(Clockwise from above left) Wehrloom moisturizers, lip balms, and more; Wehrloom's hand-harvested honey; Wehrloom Meadery offers a variety of flavors, including a lavendar and hibiscus-flavored Black-Beary.
Innovation began with their family, as Jessica began using beeswax to make moisturizer for her children. Their two children, Anna and Abby, are the inspiration for many of their products, as the Wehrs create their products with them in mind. "We use good ingredients, organic oils, scented with simple essential oils," Wehr explains. "Most of our products, even our lotions, you could essentially eat it, it would not hurt you." Simple ingredients, sourced from their own honey bee farm, go into all their products. At Wehrloom Meadery, the family offers multiple flavors of the oldest type of alcohol in the world, fermented from their own honey.
Wehrloom Honey offers a variety of honey flavors and products, many infused with natural ingredients, for sale online and at their brick-and-mortar store.
Before the COVID-19 pandemic, Wehrloom Honey's observation deck allowed onlookers to get an up-close look at the store's beehives and learn its inner workings. Wehr says that he hopes to restore it soon so it can be ready for visitors this summer.
Wehrloom Honey
257 Willie Colvin Road, Robbinsville
(828) 735-2300; wehrloom.com