Sweet as Honey
Sweet as Honey:
Fox Hill Meadery brews a welcome break from hops and grapes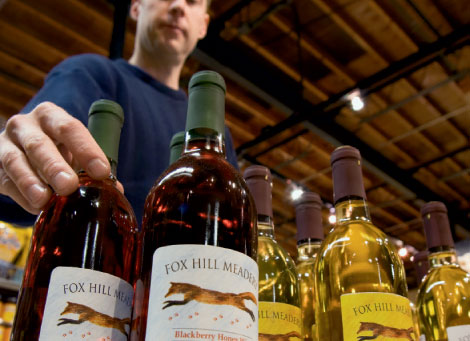 With a new craft brewery popping up every month in Western North Carolina, the surplus of high-gravity pale ales and chocolate stouts, however satisfying, can get monotonous. Enter Jason Russ. The owner and operator of Fox Hill Meadery is lending some depth to the brewing scene with his smooth and flavorful mead, or honey wine.
"It's a simpler brewing process, but once I tried it, I knew I was on to something," says Russ, who opened the region's first exclusive meadery in Marshall a year ago. "I also fell in love with the history behind it."
Mead is the world's oldest fermented beverage, and its historical place in Nordic mead-halls gives the false impression of pewter tankards foaming with an uncomfortably potent libation. Most first-timers tend to "go by what they've read about it in Beowolf," Russ says.
But his brew is a slightly sweet and fragrant blend more akin to wine than any Viking-mulled concoction. In addition to the rarely available traditional variety, Fox Hill is turning out a diverse selection of honey wines—the result of more than 250 test batches.
"There's always a question of whether craft brewing is a science or an art," Russ says. "I say it's 99 percent art. There's a lot of room for improvisation."
That's especially true with mead since geographic factors like climate heavily influence the honey's taste—much like the terroir of wine grapes. Russ plays on the floral traits of orange blossom honey by adding berries, spices, and oak during the aging process.
The fruity blackberry mead rivals most dessert wines, and the spiced variety is a holiday favorite for its warm allspice and cinnamon overtones. But the most experimental recipe—and Russ' personal favorite—is the pleasantly sharp and tangy ginger-apricot fusion. This month, Fox Hill rolls out its 32-proof special reserve, a refined batch of the traditional mead with a kick.