Swatch in the Dark
Swatch in the Dark:
A Madison County couple takes a leap of faith into the world of quilt art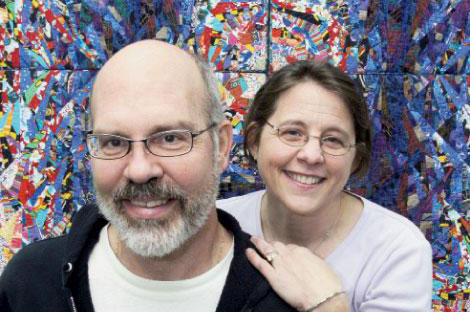 Nearly 10 years ago, Jim and Libby Mijanovich found themselves wandering through a Philadelphia arena filled with artwork. Health care professionals at the time, the couple was particularly struck by the pieces made from recycled materials, so much so that it prompted a career shift turning vintage fabrics into artwork, melding quilting techniques with abstract expressionism.
"I've always been a tactile person, but I didn't want to make clothes because I could never make anything fit," says Libby as she sits at the kitchen table in her Madison County home. "I just latched on to this idea of fabric recycling."
Libby scoured sewing books, and a few months later, she and Jim began creating intricate wall hangings. Built with hundreds of swatches of recycled cotton, their artworks are kaleidoscopic mosaics, with names such as Yellow Sapphire and Peaceful. Abstract and painterly, the undulating designs evoke movement and expression. Some feature subtle color palettes, others are as vibrant as a kindergarten classroom. Some are single, poster-size panels, while diptychs and triptychs eclipse walls.
Each piece takes months to construct. Interesting prints found at thrift stores are dismantled in a studio next to their home. Like a painter choosing his palette, the fabrics are carefully selected. Cutting the clothes into small pieces, they sew palm-size squares before arranging them on a wall to get a sense for the design. "We look for striking patterns that accentuate the interaction of the fabrics," says Jim. Once the design is determined, Libby sews the squares together and embellishes the work with free-form stitching in delicate metallic thread.
"Traditional quilt design is premeditated," explains Jim, "whereas our process is intuitive." A leap of faith guides the design and has secured their places in the art world. Their recycled fiber art now inspires others who wander through art-filled arenas.