Summer Reads
Summer Reads:
Local authors' new offerings, from the poetic to the profound to the just plain fun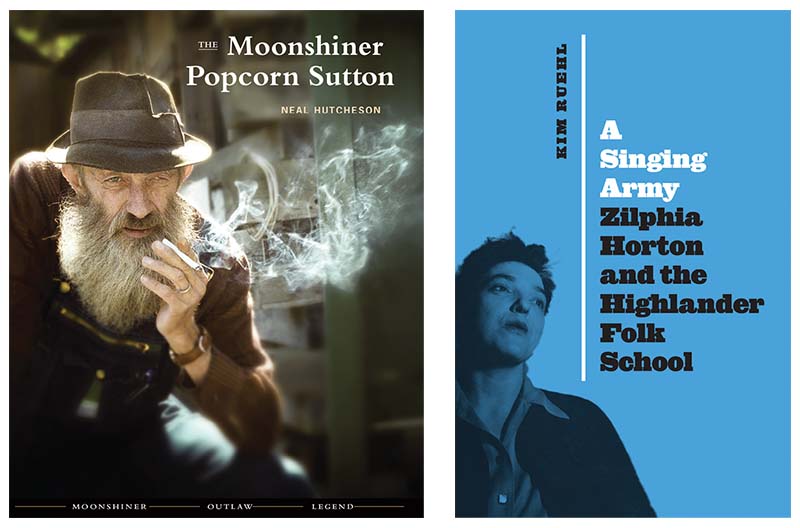 The Moonshiner Popcorn Sutton by Neal Hutcheson, with forwards by Kirk French and David Joy
Neal Hutcheson, a documentary filmmaker from Raleigh, may have spent more time with the late Popcorn Sutton than anyone outside the legendary moonshiner's inner circle. This warts-and-all portrait of Popcorn, a Haywood County native who became nationally famous, is imbued with Sutton's presence via lengthy interviews, stunning photographs of the man and his 'shine operations, and poignant tributes from Hutcheson and others. At last, this book conveys the depth of a character who outshone his cartoonish reputation and took no small part in making his own myths.
A Singing Army: Zilphia Horton and the Highlander Folk School by Kim Ruehl
Asheville writer Kim Ruehl has done the history of American social justice movements a great service in this first biography of Zilphia Horton. The wife of longtime Highlander Folk School director Myles Horton, Zilphia brought art, drama, music, and heart to the east Tennessee institution that trained frontline labor and civil rights activists for decades. While her untimely death in 1956 at the age of 44 cut Horton's story short, Ruehl's thorough and thoughtful book testifies to her lasting influence.
The Wind Under the Door by Thomas Calder
An earnest and striking debut, The Wind Under the Door is set in Asheville, in a 30- to 40-something milieu that will be familiar to many of the city's artists and sundry cultural connoisseurs. The characters struggle with failed marriages, uncertain new romances, and regrets that withstand memory-erasing quantities of booze. There are pleasures amidst the pain, though, and Calder's deft use of indie music subtexts, along with his sheer narrative skills, make this a most welcome addition to local lit.
Woodsmoke by Wayne Caldwell
An Asheville native best known for his 2007 novel Cataloochee, Wayne Caldwell presents his first book of verse, delivered in the form of "found" missives from fictional Pisgah Forest denizen Posey Green—a grizzled, stoic, mountain man with no shortage of homegrown wit—juxtaposed with notes from an imagined female neighbor/observer. The 79 short poems weave a life story immersed with the land.
Miss Julia Happily Ever After by Ann B. Ross
Parting is indeed sweet sorrow in this last (and 25th!) installment of the best-selling series by Hendersonville author Ann B. Ross, which finds Miss Julia applying her signature Southern style and humor to a series of wedding-based intrigues in fictional Abbottsville, a town with a striking resemblance to Ross' own. While Miss Julia's legions of fans will doubtless be sorry to see her go, Ross gives her signature character a rousing send-off.