Storybook Cottage
Storybook Cottage:
A couple writes a new beginning for a charming North Asheville bungalow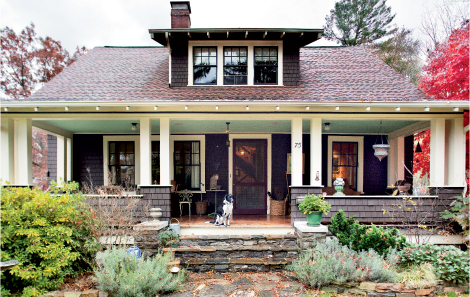 Situated in the company of distinguished, pastel-colored Victorians on an idyllic street in North Asheville's historic Chestnut Hill neighborhood, the demure 1915 bungalow that caught Tara and John Lochen's attention likely seemed a shrinking violet to other would-be buyers. Save a Japanese maple in the front yard that turns an eye-popping shade of crimson in the fall, the 2,500-square-foot home keeps a low profile, clad in deep brown shingles and set back from the street. Still, it was the home's modest nature and great location that sold them immediately.

"I've never had such a personal response to a home," recalls Tara. "It was like a little wallflower tucked back here that just needed some love."

Seeing the house now, it's obvious the two poured their hearts into it. Lofty ceilings and tall windows brighten cozy nooks perfect for curling up with a book and cup of coffee; the relaxed flow from room to room encourages mingling during gatherings; and graceful antique furnishings and curios throughout evoke a sense of nostalgia. Artworks, including pieces from American Folk Art & Framing where Tara works part-time, adorn the walls.

 "We have the space we've always craved," says John, who works from home as a booking agent for musical acts. "The house has this great sense of warmth and comfort." But attaining such pure satisfaction took a good bit of sweat equity and a little naivety.

The couple, who moved to Asheville from Oakland, California, with their son, Ben, purchased the house in 2005 and set about transforming it into the welcoming cottage it is today. They refinished the original heart pine floors and refurbished most of the large windows. Aside from one structural issue that had to be rectified, the most daunting task the Lochens faced was reconfiguring part of the floor plan on the main level to open up cramped spaces. Many would have hired an architect for such an extensive undertaking, but Tara and John ambitiously tackled the job themselves with guidance from a builder.

"We're not renovators. The way I renovate is to open a can of paint," says Tara with a laugh. "I think we actually benefitted by not knowing anything. People who knew better wouldn't have touched it. We definitely got in over our heads."

Tara describes the old kitchen as a "Pepto Bismol pink '70s nightmare." The staircase located in the center of the house was an oppressive, walled-in tunnel to the top floor. And the den that leads to a sunny office adjacent to the kitchen once served as a bedroom.

The Lochens began by enlarging the doorways leading to the stairway, and installed a handsome carved railing crafted by friend and artist Donna Price. Doing away with the bedroom took more effort, including relocating a bathroom entryway, knocking down walls, and adding windows. Skylights in the office and kitchen and French doors that open to the back deck also brighten the space. Tara is particularly fond of the three antique leaded windows she picked up at Oddfellows Antiques that serve as a transom between the den and office. She relished enhancing the home with such one-of-a-kind touches. "That was the sexy stuff for me," says Tara, a longtime antiques hound.

Upstairs, John got his wish for a spacious bedroom. The couple added height to the room by knocking through a low ceiling into the vaulted attic and adding windows that frame a view of the Japanese maple. Tara even gave up the closet in favor of more spacious sleeping quarters. She and John use the closet in a spare bedroom, and the couple share the second floor and upstairs bathroom with Ben, who's now 14.

"You have to make sacrifices to live in an older home," admits Tara. But none of the Lochens seem to mind; there's ample space for the family, plus three cats and their bluetick hound mix, Lucky, to spread out.

Tara's favorite spot to relax is on the wide, covered front porch, which was livened up with a shade of mint green on the ceiling. The bright, open kitchen is a hive of family life. Even the more formal spaces—a living room that features an elegant glossy, black-beam ceiling, and dining room that accommodates a grand antique Mexican table made from one solid tree trunk—are inviting.
Technically, the table was John and Tara's first big purchase together. John shakes his head recalling the time his wife went shopping with the earnings from a garage sale and came home with the hulking piece of furniture. "It was a classic man versus woman moment," he says.

Other pieces speak to Tara's German and Indian heritage. The wooden trunk in the master bedroom that features carvings depicting the four seasons and an ornate cuckoo clock are holdovers from the 10 years Tara spent in Germany as a child. Keepsakes such as delicate, embroidered khussa shoes are displayed to represent her father's roots in India. "This house is a memory box," she muses. "I like when a home tells about your history and travels."

There are also plenty of odds and ends that come with their own stories—vintage black-and-white photographs of intriguing strangers, carved wooden birds, a paint-peeled curio cabinet. Considering Tara began antiquing and decorating in her teens, it's no surprise the home is charmingly adorned. "The less perfect something is, the better," she says.

Some may call her sentimental; or maybe it's simply a desire to give new context to pieces from the past. Either way, Tara has a knack for seeing potential in well-worn objects. And when it comes to the house itself, she and John both played a part in the recovery. "We got to rescue something that was forlorn," she says. "We feel like this house loves us for it."