Splash Down
Splash Down:
Keep the kids cool—in and out of doors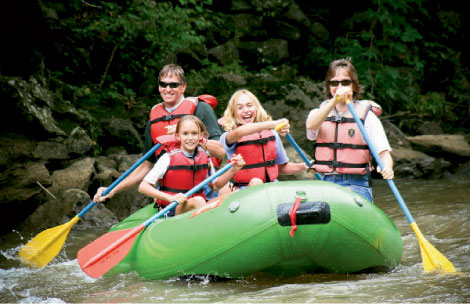 WET AND WILD
Little ones can splash until their fingers wrinkle at the Waynesville Recreation Center, which earned a mention in a recent edition of The Great Towns of America: Unique Travel & Relocation Guides. Among similar facilities, "[it's] one of America's best," raves the write-up. The center's indoor amenities include an eight-lane lap pool, rubber walking track, weight room, and racquetball court, but it's the water playground with a corkscrew slide and Dr. Seuss-like, pop-jet fountains, that bumps the venue to kiddie oasis status. Unlike WNC's municipal pools, which close once school starts, the Rec Center is open year-round. "It's great during the winter," says Asheville mom Cara Ciliberto, who has two-year-old twin sons. "But even in the summertime, it's nice sometimes to be indoors swimming where it's not so hot and you don't have to worry about sunscreen."
550 Vance St., Waynesville; $6.25 adults, $4.25 seniors, $3.25 children ages 5-11, free for children 4 and younger; (828) 456-2030
—Melanie McGee Bianchi
---
ISLAND HOPPING
A beautification project has enhanced portions of the Oconaluftee River, yielding a wooded walking trail and spruced-up picnic grounds where the waterway meets with downtown Cherokee. Two grassy expanses flank a shallow portion of the Lufty at Oconaluftee Islands Park; the depth here ranges from a couple inches to four feet. Pristine enough to support nearby trout fishing, the spot is a major draw for local families. Besides being one of WNC's prettiest rivers, it's the only regional white-water passage mild enough to suit the youngest members of the family.
Tsali Blvd., Cherokee; free; 1-(800) 438-1601; www.cherokee-nc.com
—Melanie McGee Bianchi
---
THE RIVER MILD
Three qualities make the Tuckaseegee River great for family trips: warm water, mild rapids, and runs that only take two and a half hours. Even four-year-olds can enjoy (with a guardian, of course) splashtastic rapids with names like Double Drop, Surprise, and Shark's Tooth. If you catch an early departure, you can be back home for afternoon nap time—reason number four to love this excursion.
Blue Ridge Outing Company
1-(800) 572-3510; www.raftwithkids.com
Dillsboro River Company
1-(866) 586-3797; www.northcarolinarafting.com
Tuckaseegee Outfitters
1-(888) 593-5050; www.tuckfloat.com
—Rita Larkin