Spice Nights
Spice Nights :
DeSoto Lounge satisfies a hunger for Ethiopian cuisine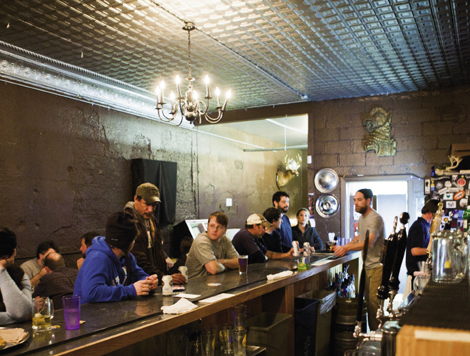 When Lisa and Josh Gambrell moved from Portland, Oregon, to Asheville three years ago, they missed their corner hang-out bar, and a good Ethiopian meal every once in a while. The first was remedied when the couple opened the relaxed DeSoto Lounge in West Asheville, serving a casual menu of pimento cheese sandwiches, BLTs, Cubans, and meze platters. Filled with a hodgepodge of sofas, chairs, and tables, the place is like "your cool aunt's basement," says Lisa.
But finding Ethiopian cuisine—the east African fare characterized by chilies, lentils, and spongy injera bread used for dipping and scooping—proved a harder task. The sensory experience of eating with your fingers, piquant flavors, and blend of exotic spices are all so memorable that message boards on Internet chat sites, such as chowhound.com, buzzed about why no such meals existed in Asheville. So the Gambrell's decided to cook up Ethiopian Tuesdays.
Lisa had a tradition of cooking Ethiopian dishes for New Year's Day. "There are a lot of similarities between traditional Southern New Year's dishes and Ethiopian cooking—black-eyed peas, greens," she says. "So I thought, why not do it more often." She now augments the regular Tuesday menu with the fragrant fare.
The dishes have received the seal of approval from perhaps the most knowledgeable critics. "We've had parents of adopted Ethiopian kids bring their families here, as well as adults from the country, and have gotten positive feedback," notes Lisa. "That says something about the authenticity."
DeSoto Lounge
504 Haywood Rd.
(828) 255-1109
desotolounge.com
Ethiopian Tuesdays (dinner);
no reservations