Sparta
Sparta:
Detour off the Blue Ridge Parkway this summer to take in arts, outdoors, and small-town allure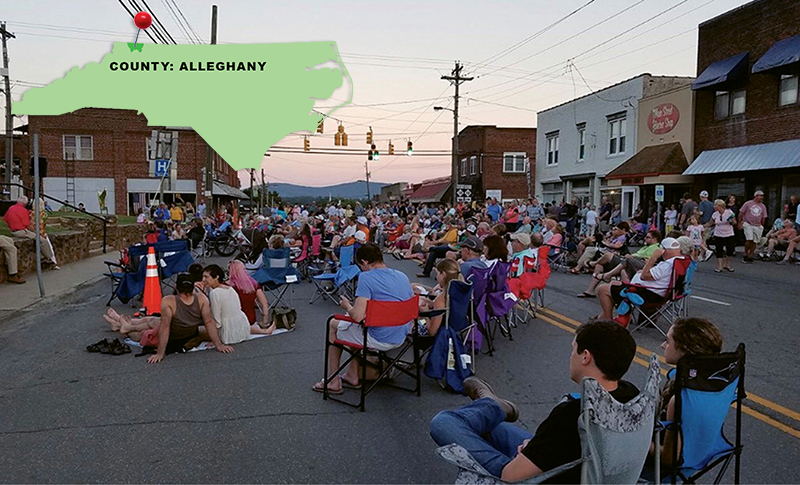 Music on Main.
"What happens in Sparta gets home before you do," laughs Sparta resident Ginger Collins, citing what she calls the town's unofficial motto. The retired marketing professional and Atlanta transplant leads the Alleghany Writers, one of several such creative groups contributing to the blossoming arts scene in WNC's far northern reaches. The sentiment might imply there's nothing better going on there than small-town gossip, but the closeness of the community (there are only 11,000 people in the county) set against a spectacularly scenic rural backdrop is exactly the allure of this under-the-radar mountain town. The locals are as friendly as they come, and when you consider the number of outdoor pursuits, arts and music happenings, and the town's close proximity to the Blue Ridge Parkway, it makes for a worthwhile stopover for visitors seeking to explore beyond the beaten path.
If you're motoring the parkway, take in Mahogany Rock (milepost 235), which is the actual center of the byway, before checking into Glade Valley B&B in time to slip into a front porch rocker with wine in hand. The large, rustic log cabin has six well-appointed rooms, idyllic grounds, and is literally walking distance to the parkway. For dinner, Horizon Bistro is a good bet. The menu changes regularly, offering items like rib eye or surf and turf, lasagna made with beef from nearby Chilly Water Farm, bourbon-glazed salmon, watermelon salad, and a s'mores lava cake.
(Left) Dusty Trails Outfitters offers paddle and fishing excursions; (top right) Laconia Ale Works; (bottom right) Stone Mountain State Park
Other popular eateries include Nikolas (the area's only fine-dining restaurant), Becca's Backwoods Bean (a good spot for breakfast, lunch, and meeting locals), Main Street Pizzeria & Taphouse (a lively joint offering 36 draft beers, cocktails, and more than just pies), and Muddy Creek Cafe & Music Hall (where a side of music comes with burgers, sandwiches, salads, and Southern supper entrées). Alleghany's first and only brewery, Laconia Ale Works, is in downtown Sparta and serves up a small menu of brats and snacks, plus trivia, live music, and brews.
On the topic of music, Alleghany County has no shortage of Appalachian musicians or platforms to catch them play. Muddy Creek Cafe & Music Hall is the newest addition to the scene, presenting everything from open mic nights to local showcases to touring acts. Music on Main happens the first Friday evening of the month, June through September. Akin to an art crawl, this version features free music at downtown restaurants, galleries, and shops, and an outdoor street concert from 8-10 p.m.
And if you happen to be in town on a Tuesday or Saturday, don't miss the Alleghany Jubilee for a full-on dance party—we're talking flatfooting, clogging, and square dancing to a live old-time band. Located in the former Spartan Theater, with a stage and worn wooden floors, the place is an institution. Sure, you can watch, but if you want in on the action but don't quite have the moves, line dance lessons are offered on Mondays.
Mangun-Cater Pottery; (inset) On the New River
When it comes to outdoor recreation, you'll not be bored. Stone Mountain State Park is only 25 minutes south of downtown, where you can camp, hike 18 miles of trails, rock climb the 600-foot granite landmark, or fish more than 30 miles of designated trout waters. Similarly, nearby Doughton Park presents 30 miles of trails, fly-fishing streams, camping, and the chance to learn about farm life of an earlier era through two preserved family homesteads: the Brinegar and Caudill cabins. The New River—actually one of the world's oldest waterways—cuts through the northern part of the county near the Virginia line, and Dusty Trails Outfitters can get you out on the water via kayak, canoe, or tube.
No matter which adventure you choose, Sparta is the sort of place that reveals its riches the longer you stick around. 
Plan Ahead
The third weekend in July is worth planning a trip around. It's a chance to take in both the Alleghany County Fiddlers Convention, which draws the best of the best fiddle players, and also the annual studio tour organized by the NC Mountain Arts Adventure, a juried group of fine artists and craftspeople.
RESOURCES
Alleghany County Chamber of Commerce & Visitor Center
58 S. Main St., Sparta, NC
(336) 372-5473
http://alleghanycountychamber.com/
Authentically Alleghany
https://www.authenticallyalleghany.com/
EAT
Becca's Backwood Bean
21 N. Main St., Sparta, NC
(336) 372-7888
https://www.facebook.com/BeccasBackwoodsBean/
Horizon Bistro
38 S. Main St., Sparta, NC
(336) 372-7444
https://www.facebook.com/horizonbistro/
Laconia Ale Works
433 N. Main St., Sparta, NC
(336) 372-4005
http://www.laconiaaleworks.com/
Main Street Pizzeria Taphouse
151 S. Main St., Sparta NC
(336) 372-8885
https://www.spartapizzeria.com/
Muddy Creek Cafe & Music Hall
60 South Main St., Sparta, NC
(336) 372-5999
https://www.muddycreekcafeandmusichall.com
Nikolas at High Meadow Inn
10498 Hwy. 21, Roaring Gap, NC
(336) 363-6060
http://www.highmeadowsinnnc.com
PLAY
Alleghany Jubilee
25 N. Main St., Sparta, NC 
(336) 657-1441
https://alleghanyjubilee.com/
Doughton Park
https://www.blueridgeparkway.org/poi/doughton-park/
https://www.nps.gov/blri/planyourvisit/doughton-park-trails.htm
Dusty Trails Outfitters
2541 Garvey Bridge Road, Crumpler, NC 
(336) 977-8375
http://www.dustytrailsoutfitters.com
Stone Mountain State Park
3042 Frank Parkway, Roaring Gap, NC 
(336) 957-8185
https://www.ncparks.gov/stone-mountain-state-park
EVENTS
Alleghany County Fiddlers Convention
July 19 & 20, 2019
http://www.alleghanyfiddlersconvention.com/
Music on Main 
July 5, August 2, & September 6, 2019
https://www.facebook.com/pg/musiconmainsparta/about/
NC Mountain Arts Adventure Studio Tour
July 19-21 & October 18-20, 2019
http://www.ncmountainartsadventure.com/
STAY
Glade Valley B&B
330 Shaw Ln., Glade Valley, NC
(336) 657-8811
http://www.gladevalley.com/
Harmony Hill B&B
1740 Halsey Knob Rd., Sparta, NC
(336) 209-0475
https://www.harmonyhillbnb.com/
RESOURCES:
Photographs by (Music on Main and potters) courtesy of authentically Alleghany; (kayaking and fishing) courtesy of Dusty Trails Outfitters; (beer) by Ian Yancich