Southern Music Legends Through the Lens of David Holt
Southern Music Legends Through the Lens of David Holt: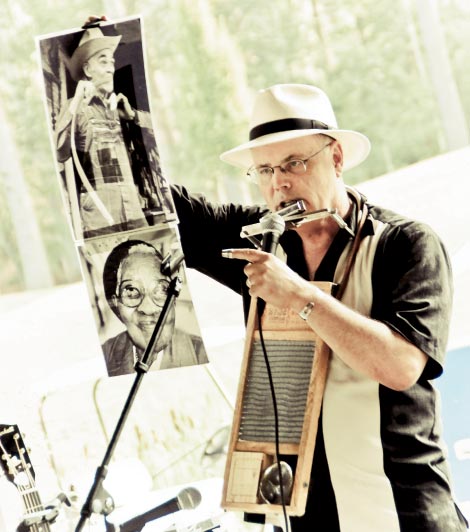 David Holt sits at his computer, scrolling through the past. He needs to leave soon: The instrument cases are stacked by the door, the shows are scheduled in Charlotte, then California, and his trademark hat is on his head, but the stark black-and-white photos cast a spell. "Look at that face," he murmurs, lingering on the close-up portrait he shot in 1989 of Nimrod Workman, a coal miner and ballad singer from Mingo County, West Virginia. "What a great mountain face. He worked in the mines from the time he was 14 years old."
The affection is plain. So is the bittersweet sense of time gone by and the difficulty of trying to select a few images to represent his archive of thousands of negatives, shot over a period of thirty-plus years. They make up a remarkable visual record of the people who made old-time music in Southern Appalachia and beyond.
Holt is better known for other accomplishments, including winning four Grammys, hosting radio and television music series, and making a cameo appearance in the Coen Brothers' film O Brother, Where Art Thou? On stage, he plays 10 instruments, tells traditional and original stories, and dances a mean soft-shoe. But as a photographer, this Texas native who grew up in California and majored not in music, but art and biology, seems to have hit that perfect sweet spot between insider and outsider—inside enough to capture people at ease, with a real sense of intimacy as a friend, but outside enough to see the regional culture and its people with fresh eyes.
His subjects, many of whom he worked and played with for years, range from the legendary, such as Doc Watson and Ralph Stanley, to the lesser-known, including Workman and Avery County storyteller Ray Hicks. Many are photographed in the context of their homes, bringing out a clear sense of their humanity. Their instruments are always at hand, like extensions of themselves.
Holt cites Henri Cartier-Bresson as a photographic influence—that pioneer of modern photojournalism and proponent of what he called "the decisive moment," that instant when life composes itself within the photographer's frame to reveal its essence. Holt's photos express the same quality of careful seeing, iconic moments captured.
Some day, Holt says, he'd love to see the portraits in a book, but so far he's been too busy touring and recording to make that happen. But it's increasingly dawning on him how valuable they are, as the generation he captured—many of them born in the late 1800s and early 1900s—passes away. "You know, when I started doing this, I didn't really see it as something important," he says thoughtfully, "but it's turning out to be one of the most important things I've done."