Sound Tradition
Sound Tradition:
WPAQ in Mount Airy plays on to preserve the roots and spirit of mountain music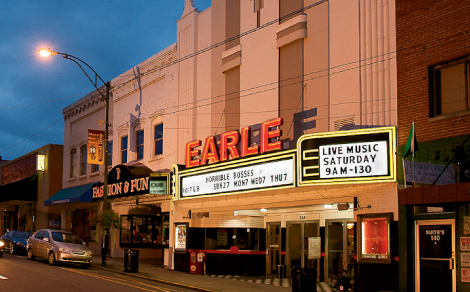 In most towns, Friday and Saturday are the prime nights to step out for live music performances. But in Mount Airy, the time to enjoy a great old-time and bluegrass concert is Saturday morning.
Every week, the historic Earle Theatre hosts Merry-Go-Round, the second-longest running live radio show in the country, bringing the likes of the Sourwood Mountain Band, Over The Hill Bluegrass, and  The South Carolina Broadcasters to the stage.  WPAQ 740AM started the program in 1948, the same year the station took to the airwaves, and it hasn't missed a Saturday since.
The station is run by Kelly Epperson, the son of its founder Ralph Epperson, and has stayed true to its format over the years. "My dad made a promise to the FCC that he'd promote local talent and this region's rich musical heritage," Kelly says. "We're still making good on that promise."
Thanks in part to WPAQ's dedication, Mount Airy has grown into a stronghold of Appalachian music, hosting weeknight jams and a fiddler's convention each summer.
Of course, keeping your integrity for 65 years doesn't come without its challenges. "There have been some pretty lean years," Kelly says. "But the thing that helps is the loyalty of our listeners. They don't want to see this type of programming die."
Seen & Heard
 The Merry-Go-Round is broadcast live from 11 a.m. to 1:30 p.m. Saturdays at the Earle Theatre and streamed on wpaq740.com. Tickets for the show are $5. 142 N. Main St.
 
RESOURCES:
PHOTOGRAPHS by: (THEATRE) Hobart Jones with The Surry Arts Council