Smooth Landing
Smooth Landing:
Mars Hill welcomes a standout new art space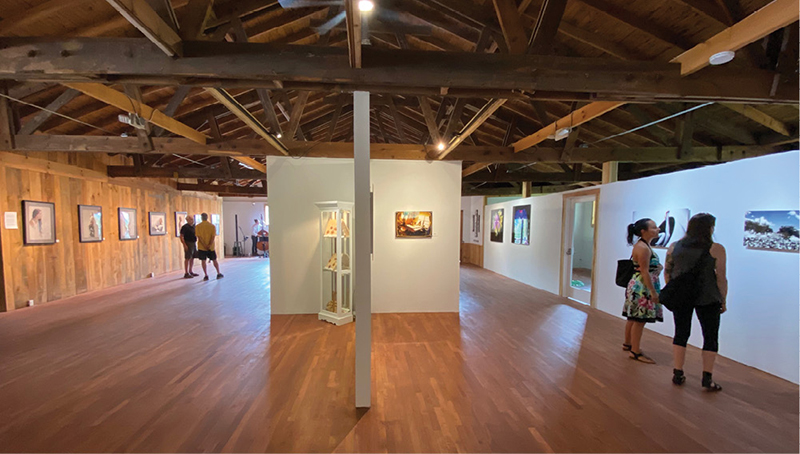 After many incarnations, the now-purple clapboard building behind the library in downtown Mars Hill has reemerged as Mars Landing Galleries. Owner and founder Miryam Rojas took on the challenge of restoring the 1945 structure into a stunning, 6,000-square-feet art gallery and studio space.
Rojas, who is originally from Rye, New York, and arrived in WNC via South Florida, spent eight months renovating the building, creating an inviting space with a juxtaposition of rough-hewn elements and simple, clean lines. The cavernous main hall is separated into a series of mini galleries, and three 200-square-feet studios serve as open areas for demos and teaching. And below the main gallery, 2,800 square feet of space at the garden level boasts concrete floors and electric service available for up to six 50-amp kilns.
With the gallery, Rojas combines all of her life experience—a double major in art history and fine art, internships in museums, a career as a freelance art director in the TV and film industry, and a beloved "side hustle" renovating commercial real estate.
(Left to right) Michael Filonow - Kaleidoscope 3; Reuben Williams - Portals 3.
Among the presently featured artists known to the area are Frances Domingues (reclaimed metal work installations), Valerie Hoh (mixed media collages), and Mars Hill resident Skip Rhode (charcoal and pastel figurative pieces). Particularly striking are portraits by Israeli-born immigrant Valred Pasternak and mixed media LED light boxes by Alissa Christine and Eva Ruiz. Other featured mediums include jewelry, photography, ink on paper, and traditional oils.
"I encourage art lovers seeking to experience the work of artists new to them that have pushed through their personal experiences," Rojas says, "and whose results are clearly on display in their work shown at Mars Landing."
Mars Landing Galleries
37 Library St., Mars Hill
(828) 747-7267
marslandinggalleries.com