Skin in the Game
Skin in the Game:
Steve Woody's medical-tech company is primed to boom locally and help heal around the globe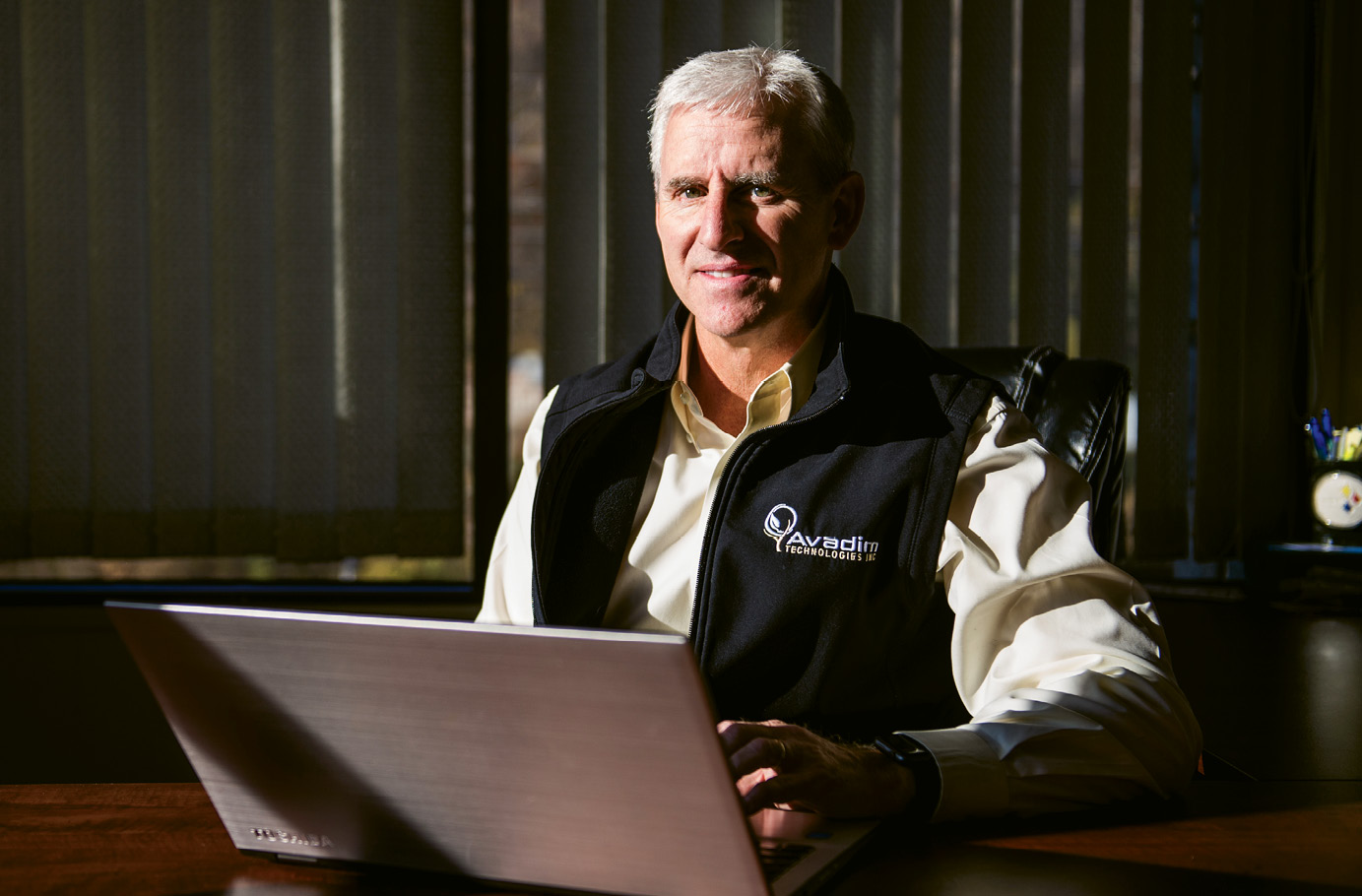 The fact that Steve Woody, the CEO of Avadim Technologies Inc., is at the helm of a $10 million company that's poised to grow tenfold might not be immediately evident. For starters, the father of six still shares his modest-size office with his 89-year-old mother, Jane, who manages purchase orders at the company's current corporate and manufacturing headquarters in Asheville's Biltmore Village.
As quaint as it may seem, it's where his company packages a cutting-edge suite of topical skin products that's positioned to meet one of modern medicine's most vexing problems: preventing and managing hard-to-treat bacterial infections. Yet the humble chief executive insists that his—and his company's—good fortune has been secured by a group of dedicated employees and, well, a fair dose of luck.
"I would love to tell you I was a great visionary, but I was lot more blessed than I was smart," concedes Woody.
That self-assessment, however, may be an understatement. Clark Duncan of the Economic Development Coalition of Asheville and Buncombe County thinks Woody is not just the right guy to lead an emergent company, he's also well-suited to spearhead the rebirth of a once-thriving medical-related production industry in Buncombe County.
"If you spend time with him you'll quickly understand the kind of character he has. He cares about the kind of employment and career paths they can offer," says Duncan. "You have to have employers in your community that value more than just the bottom line.
In September 2016, Avadim announced a massive expansion with a $25 million investment in a new Black Mountain headquarters that will employ an additional 500 workers. And not only will the company have a meaningful economic benefit in the mountains, its products may impact global health in far-reaching ways by making patients everywhere safer from drug-resistant superbugs.
Strong Foundation
Woody's path to success in the medical industry started by chance. The Asheville native and T.C. Roberson High School grad played varsity soccer and studied math at the University of North Carolina at Asheville. After graduating in 1989, a friend suggested that Woody pursue a career in the field of quality assurance. He did, and the first job he landed was with Medical Action Industries, a surgical equipment manufacturer in Asheville, earning $4.50 an hour.
"The goal was to get a couple of years of experience and move on," recalls Woody. "I actually ended up loving it." He stayed 13 years and left an expert in product development, writing procedures, and navigating regulatory rules and agencies.
Back then, says Woody, most people his age were making a break for bigger cities like Charlotte and Atlanta that held more opportunity. Still, the mountains had several thriving industries and a history of strength in manufacturing. Among them, Asheville housed a once-lucrative industry centered on producing medical devices—companies that make anything from precision surgical instruments to latex gloves.
But shortly after Woody's career began, the local manufacturing niche was squeezed by the unrelenting forces of international commerce. Beginning in the late '80s and early '90s, the industry—like many others in North Carolina—left for cheaper labor overseas and south of the U.S. border. "It was a tragedy what happened here," says Woody. "We had an awesome part of our economy that went away."
What Worx
While many manufacturing jobs disappeared, Woody's skill set was well positioned to profit from a growing demand for disposable medical products and devices designed to reduce costs and improve care. After leaving Medical Action Industries in 1997, Woody established a consultancy to launch other medical device companies. In 2002, he also formed a company, G3 Packaging, to provide contract packaging for medical devices.
Then, in 2006, the developer of a bacterial wash was searching for a partner to help commercialize their product—now known as Theraworx—which was designed for bathing patients at care facilities. At first, it didn't seem a good match for Woody's operation.
"I came across the product three times and turned it down every time," he recalls. On the final attempt to partner, Woody agreed to take a closer look. To his surprise, it worked. "I was really trying not to do the project," laughs Woody, who remembers extracting the sweet tea-stained prospectus from his trash can.
This year, Woody anticipates his company will exceed $10 million in revenue sparked by the blueprint he saved from the trash heap. But that's just a small slice of its promise and why Avadim is embarking on an ambitious plan to expand and market a platform of hospital and consumer products under the Theraworx Technologies brand.
"I never thought our company would be this size, but the marketplace has changed dramatically," he says. The transformation that Woody is referring to is the shift from hospitals treating antibiotic-resistant superbugs, such as MRSA, to preventing them. In the mid 2000s, intensive care units were struggling to keep patients from contracting bacterial infections, some of which can prove deadly. While Woody's market was ICUs, he figured that the product could be a good match in any clinical setting.
As Woody explains it, the skin's top layer is like a brick wall bound together by 10 coregulated defense functions that form a natural barricade designed to keep moisture in and pathogens out.
"We have an incredible natural body armor," he says. Yet, those biological safeguards have been compromised by misuse of antibiotics over decades that have allowed difficult-to-treat bacterial infections to thrive in hospitals, doctors' offices, and locker rooms. As it turns out, his company's topical application seemed to be useful at preventing nasty infections from occurring in the first place.
One of Woody's first customers used the product to deal with one of the most common complications in hospitals: urinary tract infections. Not only can UTIs be deadly, they're costly too, requiring additional nights in care. In one clinical study, the product reduced infections by 77 percent.
"That was a real surprise to us," says Woody, who decided to launch Avadim in 2006 to exclusively produce the therapies and purchased the rights to the product in 2007, rebranding it as Theraworx.
Still, despite its clinical success and promise, Woody struggled to earn a profit. In fact, in January of 2013, he and his team were just days from shutting down. Around that time, the now defunct Mission Foundation awarded him grant funds intended to support health care companies in the mountains. He consulted with David Fann, who now serves as Avadim's president, to tune-up their business plan and attract funding. "I was completely out of capital, but David saw what I didn't," says Woody. "He pointed out that the emphasis on prevention completely changed the valuation of our company."
In addition, they discovered other promising applications in athletics, such as treating nocturnal cramps and preventing season-ending infections in sports such as wrestling. Theraworx is currently in the locker rooms of most professional baseball and hockey teams, and Woody plans to market a nocturnal night cramp therapy and a sports cream for consumers that will be available in stores in 2017.
Anchor Business
Avadim's upcoming expansion, in 2018, is being welcomed as a massive boon to the local economy. "With that many employees, they will be in rarified air," says Duncan. "To have that kind of growth from a local business is a huge feather in the cap for Buncombe County."
Many of those will be well-compensated professional jobs, adds Duncan, exactly the kind that economic developers are so eager to attract. He's also betting that Avadim's good fortune will anchor a cluster of medical technology companies that could bring hundreds more jobs to the region.
"I saw it being a small business and had no vision for what it turned out to be," says Woody, who hopes to use his company's future profits to support care in developing nations. "It's fantastic because of the number of people we get to reach. I couldn't have been more blessed."