Sip, Sip Hooray!
Sip, Sip Hooray!:
A new tour company uncorks the Crest of the Blue Ridge Wine Country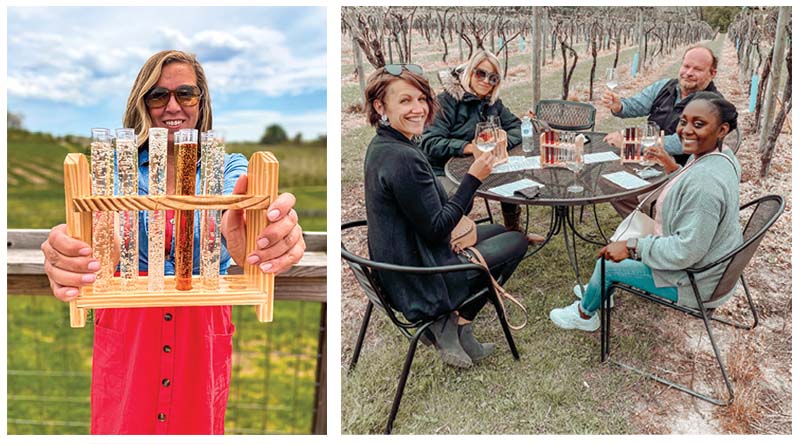 When the Crest of the Blue Ridge American Viticultural Area was established in summer 2019, it joined five other federally recognized AVAs in the state and signaled a boon for the six Henderson County wineries situated along the Eastern Continental Divide—all producing vinos from European vinifera and French-American hybrid grapes that grow well here. As of this summer, Henderson County's wineries are gaining even more attention with the launch of Blue Ridge Wine Tours.
The Asheville-based outfit, started by Kasey Hotchkiss of Asheville Detours scavenger hunts and Kelly Denson, formerly behind All American Food Fights, offers small group, four- and five-hour tours of Hendersonville's wine region, hitting two and three wineries, respectively. The excursions, which start and end in Asheville, include tastings at each along with bite-sized pairings, a light picnic lunch in the vines, vineyard tours, and time to relax and enjoy the serene setting.
Wine Time! Learn more at blueridgewinetours.com.
"We'd visited a couple of the wineries last fall and were so impressed with the experience and the quality of the wines," says Denson, who at the time was searching for a new career path since the pandemic left her large-scale food competitions in near ruin. Hotchkiss, who'd led food tours in Asheville prior to starting her own business, also saw an opportunity. The venture officially launched in May. While a few other companies are offering chauffeured services—and most don't include the tastings—Blue Ridge Wine Tours is filling a void in Western North Carolina's burgeoning wine tourism industry.
To the point of why opt for a guided tour, Denson laughs. "Well, it can be quite dangerous to spend a day drinking and driving, so obviously we're able to provide a safe way to experience the region's wines," she says. "But in all seriousness, we're providing guests an immersive experience they wouldn't be able to get if they did this on their own."