Sip & Savor
Sip & Savor:
A new festival showcases the best of Hendersonville's eats and drinks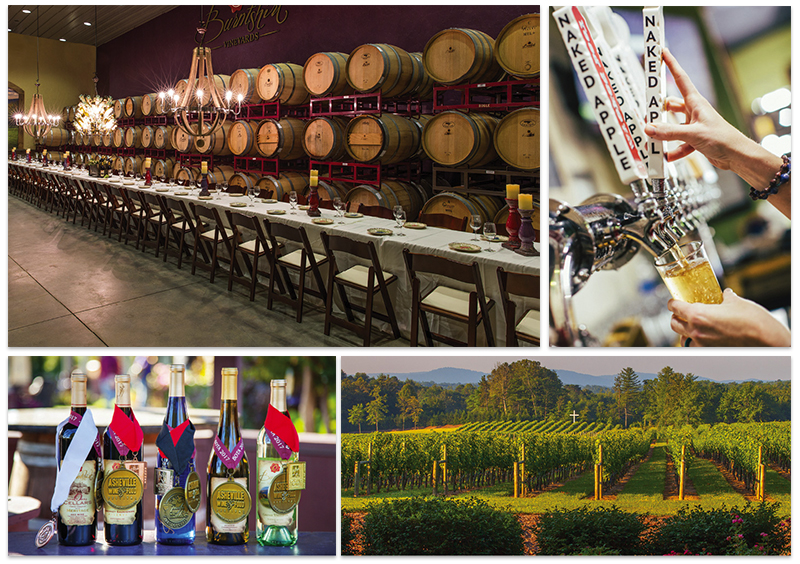 If an apple a day does so much good, can you imagine what a weekend featuring fine apple squeezings can do? Henderson County is about to find out, thanks to the first ever Hendersonville Cider, Wine & Dine Weekend, happening April 20-22. The event, taking place at seven wineries and taprooms, will celebrate Henderson County's blossoming cider and wine industries while welcoming the return of spring.
"The focus is entirely on local producers," says Michael Arrowood, event coordinator for the Henderson County Tourism Development Authority. The weekend offers behind-the-scenes peeks at cool spaces including a repurposed historic barn set amidst orchards, a mountaintop pavilion, and a cidery in lush farm county. Highlights include cider dinners, cooking classes, helicopter tours over vineyards, an evening of apple brandy and cigars, food trucks, live music, tastings, a chance to hike or bike through an apple orchard, meet-the-maker events, and more.
The festival will "take traditional apple tourism in a new direction," Arrowood says. "Our cider and wine makers have outdone themselves by putting together a full weekend, and this event is sure to show off why we're becoming a destination for cider and wine tourism."
Cider, Wine & Dine Weekend - April 20-22
Nearly 50 events take place at seven venues in Hendersonville. Some events are free. For a complete schedule, go to www.visithendersonvillenc.org.
RESOURCES:
Photographs (Burntshirt Vineyards, bottles, and indoor) by Ashley Bowen photography; (tap) courtesy of Henderson County Tourism Development Authority