Simple Sophistication
Simple Sophistication:
Furniture maker Brian Fireman's designs reflect both his training as an architect and love of nature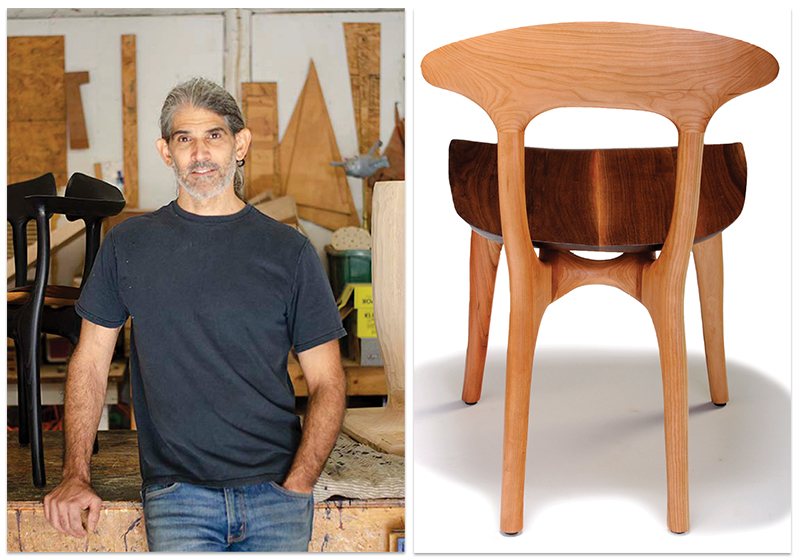 (Left) Brian Fireman; (Right) The Gentian chair, shown here with a cherry frame and walnut seat.
Frank Lloyd Wright did it. Mies van der Rohe did, too. For architects accustomed to envisioning a structure in a landscape, creating a signature piece of furniture can be an equally satisfying challenge. That's been the case for Hendersonville's Brian Fireman, whose background in architecture led to a successful career in studio furniture design.
"Brian Fireman is among our area's most talented furniture makers," says Jordan Ahlers, owner and director of Momentum, the Asheville gallery that represents his work. "His designs follow in the tradition of studio furniture giants: Sam Maloof, Wendell Castle, and Wharton Esherick." The works reflect a similar grace, and yet, the style is all Fireman's own.
(Left) The Cumberland Credenza, shown here with walnut and ambrosia maple with ornamental splines in wenge; (Right) A detail from the top of the Pogonia table, with burled and curly maple
It's hard to pin down the aesthetic. A little Art Nouveau. A little Noguchi. A little Danish modern. Take the Swallowtail, one of his most recognized chair styles, which received a Best of the Year merit award from Interior Design magazine in 2010. "It's a low-back armchair. It's been done 100 times before, by designers I admire: Hans Wegner, Finn Juhl. I wasn't trying to be original," Fireman says. "I was trying to put my own spin on it."
Fireman's ability to take a recognizable source of inspiration (people often tell him his shapes remind them of organic forms) and reimagine it might be what makes his work so fresh and yet familiar. Drawing from multiple sources—furniture history, nature, indigenous architecture from places he's visited around the world—he creates a singular vision.
Given his multifaceted background, it's not surprising Fireman's inspiration comes from a broad spectrum of sources. A Winston-Salem native, he started out studying geology as an undergraduate because it seemed the ideal field for someone who loved spending time outdoors. Later, he spent several years working in the white-water kayaking world, making films on the New River in the summers and traveling to places such as Nepal or Chile in the winter.
(Left) Fireman's Swallowtail Chair; like most of his works, it's available in a number of hardwood and finish options. (Right) The Monarch chair, in maple and walnut
Architecture school at Virginia Tech was the next adventure. It was there that he had his first experience working with wood. "I didn't want to be an architect who'd never picked up a hammer," he says, so he worked construction in the summer. While working with a timber framing company, he had his first experience creating wooden structures and fell in love with both the mechanics of joinery and the material.
"There are a lot of design parallels between architecture and furniture making," Fireman says. "There are a lot more practical considerations in home design and it's on a different scale, but it's the same kind of thought process." He delights in sculpting wood, devising the often complex but hidden joinery that keeps a strong but graceful piece together. It's a process that demonstrates the designer's "respect for material and balance in proportion and form," says Ahlers. The intentionality of the approach results in a piece with enduring quality.
The Wisteria table, with ebonized walnut base
Throughout his career, Fireman has shifted back and forth between architecture and furniture making, keeping a foot in each world. He is now working in architecture again, but furniture making is always part of the equation. As an architect, his role is limited once the drawings are complete. As a furniture maker, though, he gets to see the whole process through from selecting the wood to the finished product. "I like taking the intangible and making it real," he says.
To learn more about Fireman's work and how to view and purchase his furniture, visit brianfiremandesign.com.
RESOURCES:
(Furniture) by Tim Barnwell; (Fireman) by Emily-Ann Trautman; Facing page (Monarch) by Tim Barnwell; (Wisteria table) by Michael Traister