Sense of Place
Sense of Place:
Lorraine Plaxico draws a harmonious union between art and architecture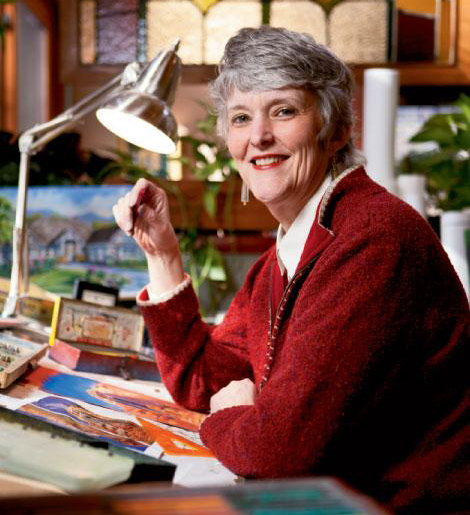 Architectural illustration goes beyond the blueprints of design. A study in mathematics as well as art, it's an accurate rendering of an architect's complex ideas that allows clients to visualize what the finished project will look like. And Lorraine Plaxico, who has more than 30 years experience and three HGTV Dream Homes to her credit, is a noted artist in the field.
A Furman University studio art graduate with an interior design degree from the University of Georgia, Plaxico never imagined she'd find a job that would combine her knowledge of art and design so well. But while working at an architectural firm in South Carolina, she found she excelled in technical illustration, working to scale, and reading blueprints.
Today, from her Weaverville home studio, the freelancer illustrates her own art—pastel landscapes and colorful scenes from area farmer's markets—along with the proposed buildings and homes she brings to life for clients. In all her creations, she balances the rules of scale and perspective against the soft flourishes of atmosphere and scene.
Plaxico is one of the few architectural illustrators who generates her renderings by hand (most are created using 3-D modeling software programs), so her work is in high demand. Many architects still want a collaborator to create artistic imagery and enhancements that give a true sense of place.
"Lorraine breathes life into her designs, adding people, landscaping, natural or man-made lighting, and overall character," says Jane Mathews, an Asheville architect with whom Plaxico worked to illustrate several North Carolina Arboretum buildings. "She sometimes has to do this with very little information, as we might only be in the early stages of design."
And imagining that which is not there can present challenges. For example, with the adobe HGTV Dream Home in New Mexico, Plaxico received little more than blueprints and photos of the Southwestern terrain. "I had to make a caramel colored box look good enough for people to want to enter and win the contest," the artist chuckles.
She relied on the help of her fine arts instincts, concentrating on the sky and surrounding cactus-dotted landscape to create depth, color, and complexity. It's atmosphere and life which give her work that undefinable quality only attainable by an artist's hand.
View Plaxico's art and illustrations at lorraineplaxico.blogspot.com.