Seen & Heard
Seen & Heard:
Photographer Jon Leidel captures all the notable moments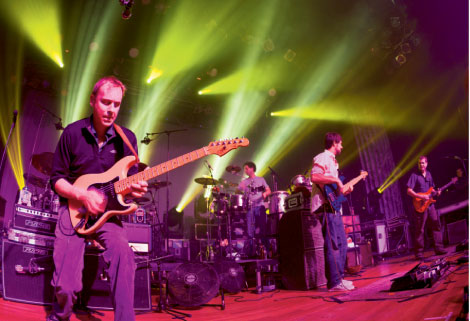 The energy and emotion of live music can often be summed up in a single image: a guitarist arching his back in the thrall of a solo
; a keyboardist bent low over the keys, pounding out a furious melody; a lead singer stretched over the edge of the stage, about to make contact with extended hands in the audience.
These are the iconic moments that Asheville's Jon Leidel strives to capture. He's been the house photographer for The Orange Peel since 2003—a gig that's opened the door to shoot acts on prominent national and international stages, including The Fillmore in San Francisco, Manhattan's CBGB, and the Milky Way in Amsterdam. And in January, he won an Independent Music Award for his live concert imagery.
Photography started as a hobby for Leidel while growing up on Long Island, New York, where music was a big part of his life—his mother was a music teacher and Leidel was an avid follower of numerous jam bands during college. After graduating with an English degree from UNC Charlotte, he moved to Asheville in 2000, where he found a link between his two long-time interests.
"Taking pictures of bands, I quickly realized, 'hey, I can get into a lot of shows for free and be up front,' " Leidel says with a laugh. But while shooting, he came to a new understanding. "When the camera came out, I realized I was connecting with the music on another level—in a way I hadn't connected with it before."
Early on, Leidel kept a day job while traveling all over the region shooting concerts on nights and weekends. But it wasn't until 2006, after attending an intensive, six-month program at Rocky Mountain School of Photography in Missoula, Montana, that he made his hobby a full-time career, specializing in weddings and children's portraiture, which remain the larger part of his business. "If I could, I would make my living taking pictures of kids for the rest of my life. I really love being around their energy," Leidel says.
Last February, a Michael Franti show at The Orange Peel brought together the subjects that Leidel most likes to shoot, and provided another opportunity to capture a gripping, live-music moment. During a matinee show, Franti called for all the children in the audience to come on stage. "I'm standing in the pit, and people are literally passing their kids to me," Leidel says. "I set down my camera and start putting them on stage, and Franti and about 25 kids are up there just jamming out. Stuff like that, I love."
—J. Hansbrough