Seeing Double
Seeing Double:
North Carolina's state theater opens new digs on Main Street in Hendersonville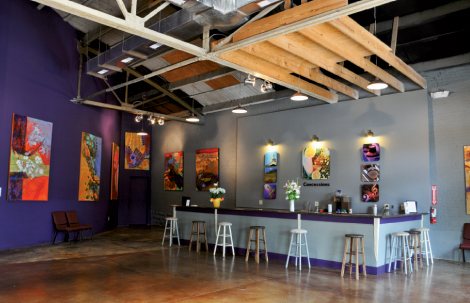 Last year, Flat Rock Playhouse took the show to Hendersonville's historic courthouse and sold out every performance of 12 Angry Jurors, even after extending the show's run by a week. The success confirmed what the playhouse's leaders already knew: downtown was ripe for an arts venue.
Enter playhouse supporter Tom Fazio, who invited Producing Artistic Director Vincent Marini to check out a building on South Main Street that he thought might fit the bill. "We realized immediately it had the bones of a great theater space—20-foot-high ceilings, 10,000 square feet, and early 20th-century architecture hiding underneath the drop ceiling and drywall," says Marini.
With support from the city, the project took shape quickly. "In a seven-week period, we turned an old office building into what I think is the most unique theatrical environment in WNC," says Marini. And its proximity to the visitors center and restaurants makes dinner and a show easily accessible to audiences.
The Playhouse Downtown features stadium seating for 250 and a thrust stage that can transform into a theater-in-the-round. And don't worry, the main stage in Flat  Rock isn't going anywhere—which means you can take in twice as many great shows.    
IT'S SHOWTIME:
The Playhouse Downtown
125 Main St., Hendersonville
Sheer Madness
August 3-September 4
This murder-mystery comedy set in a salon changes every night based on audience interaction. Wednesday-Saturday, 8 p.m., Thursday & Saturday, 2 p.m.; $34, $32 seniors, $24 students
Flat Rock Playhouse, Main Stage
2661 Greenville Hwy., Flat Rock
Hairspray
Through August 14; Wednesday-Saturday, 8 p.m., Wednesday, Thursday, Saturday & Sunday, 2 p.m.; $40, $38 seniors, $30 students
The Mousetrap
August 18-September 11; Wednesday-Saturday, 8 p.m., Wednesday, Thursday, Saturday & Sunday, 2 p.m.; $34, $32 seniors, $30 students
(828) 693-0731; www.flatrockplayhouse.com