Security Blanket
Security Blanket:
Swannanoa Valley Museum pays tribute to a legendary local manufacturer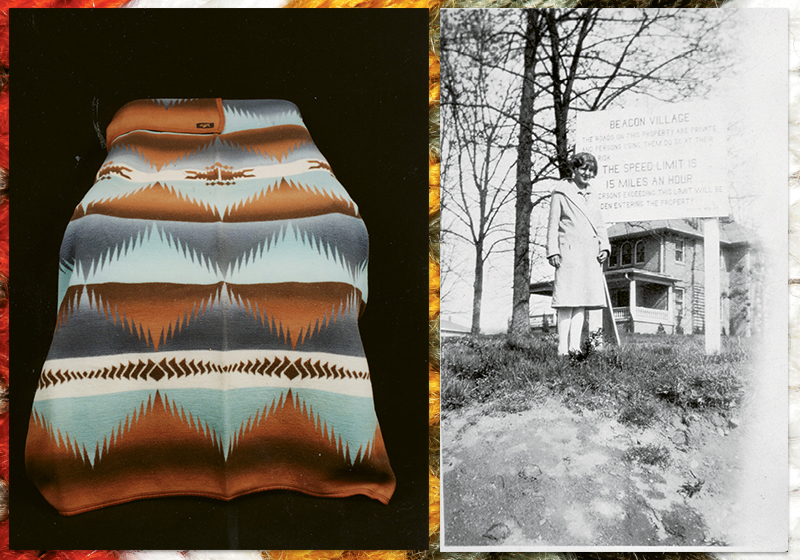 (Left) A classic beacon blanket; (Right) Entrance to Beacon Village
In 2002, the Beacon Manufacturing Company plant in Swannanoa closed for good, and the following year, an arsonist torched the place—once one of the biggest mills in the South and the largest blanket maker in the world. A landmark of decades of local work and civic life, the factory was gone, but out of its ashes and through the work of local historians, Beacon's story is still a vibrant part of the community's fabric.
There's ample evidence of this in Beacon Blankets: The Mill, an exhibit at the Swannanoa Valley Museum & History Center in Black Mountain. It chronicles the company's profound impact on the Buncombe County town.
The factory floor
Starting operations in 1924, Beacon became famous for its finely woven blankets, which drew on traditional Native American designs (while also handling large blanket contracts for the US military). At the peak of its operations in the 1940s, it employed 2,200 workers, and for decades it was Swannanoa's driving economic force—the source of many of its jobs, houses, shops, and even a company baseball team. To this day, former employees still speak of Beacon as though it were an extended family.
"Beacon really formed the heart of the community, and shaped what Swannanoa was," says museum director Anne Chesky Smith. "And it's not just a local history story—these blankets were sold nationwide, and drew workers from around Western North Carolina and the North."
All Together Now - This gathering at a 1939 Christmas party during Beacon's high point in Swannanoa offers a sense of just how large the factory's community was.
Today, original Beacon Blankets are still bought and sold as valuable collector's items, but you can see some of them in person at the exhibit, which tells Beacon's story through photos, oral histories, fabric displays, and rare relics from the factory, the company, and the town it sustained for so many years. For all the glowing memories, the exhibit doesn't sidestep controversy, including frustrated efforts to unionize the workforce and disputes that forced the company to quit implying that its blankets were hand-woven by Native Americans. Smith says that, of particular note are items loaned from the Owen family, who owned Beacon Manufacturing in its earliest years and during its heyday.
"Swannanoa, for most of its life, has been about Beacon," Smith notes. As the town continues to adapt to life after the factory, its industrial foundations won't soon be forgotten.
Beacon Blankets: The Mill - Through November 2
Tuesday-Saturday, 10 a.m.-5 p.m.
$5 suggested donation
Swannanoa Valley Museum & History Center
223 W. State St., Black Mountain
(828) 669-9566
history.swannanoavalleymuseum.org
RESOURCES:
Photographs (Christmas party, Machinery, Blanket) Courtesy of the Swannanoa Valley Museum and History Center; (sign) Courtesy of the Asheville Pack Memorial Library