Seasonal Sensation
Seasonal Sensation:
Catch the buzz for Highland's Cold Mountain Winter Ale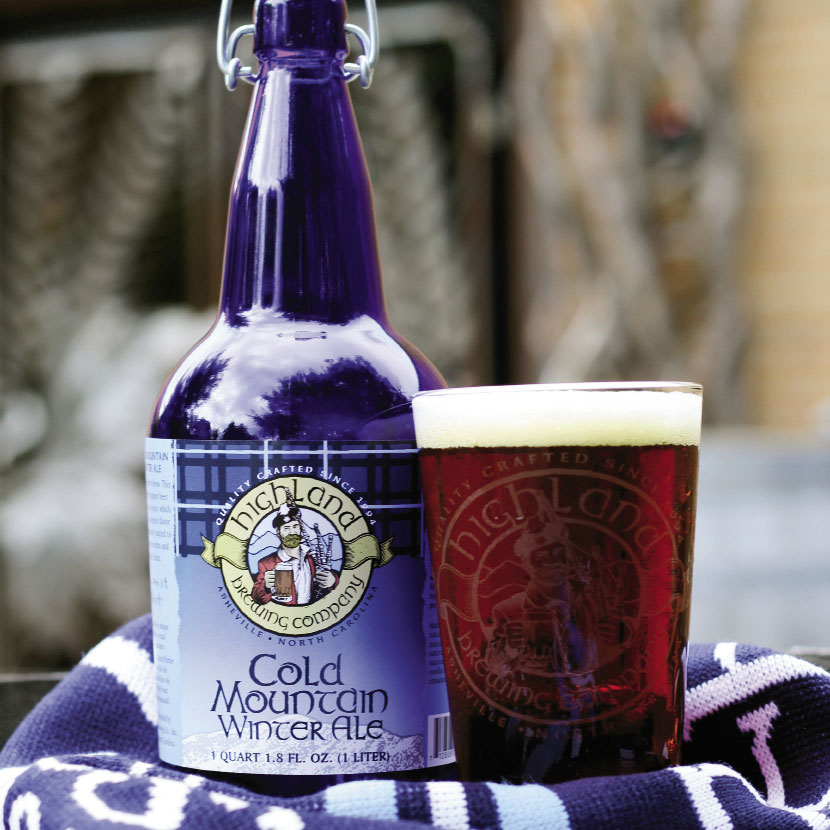 Get ready to scramble to the store: Highland Brewing Company's holiday brew is set for its usual November release. The formula for the frenzy around these sought-after suds is simple—secret ingredients and a certain scarcity.
Brewmaster John Lyda says it all started more than a decade ago when the Asheville-based company produced a beer spurred by requests for a spiced holiday rendition. Originally dubbed Holiday Ale, Highland switched the title to Cold Mountain Winter Ale after the first couple of years of production. It's named for the peak in Haywood County that also inspired the namesake book and movie.
Every year, Lyda starts with an English-style brown ale. It takes eight weeks to brew the beer, the longest that any of Highland's products tie up tanks. After that comes the special blend of herbs and spices that varies every year. Aficionados have detected everything from vanilla, cranberry, and hazelnut to cinnamon, raspberry, and maple. But don't ask Lyda for the recipe. "That's part of the fun of Cold Mountain," he says, "guessing what ingredients have changed."
The result is a slightly hopped concoction that's creamy, spicy, and light, usually with an ABV of around 6 percent. In short: Christmas captured in a bottle. And just like the turning of the leaves and the first frost, there's an annual flurry of activity as fans seek out the holiday nectar, which flies off the shelves of retailers. Each year, Highland increases production of Cold Mountain, but the demand also rises.
Hundreds of people descend on Highland's tasting room for an annual release party, jockeying to be the first to get their hands on the cobalt blue liter bottles, while others frantically follow social media postings for tips on where to find the elusive beverage. (There's even a special Twitter account,@coldmtntracker, set up to help locate it.)
"Cold Mountain's following is something we rejoice in and do not take for granted," says Highland's President Leah Wong. "We have requests that far exceed our capacity. We'll make a bit more this year—even if it doesn't feel that way based on where you'll be able to find it and for how long."
Cold Mountain Release Party
November 12, 4-9 p.m.
Highland Brewing Company
12 Old Charlotte Hwy., Asheville
(828) 299-3370
www.highlandbrewing.com
RESOURCES:
photograph courtesy of john warner photography