Screen Legends
Screen Legends:
A Waynesville couple gives the Strand Theatre a second act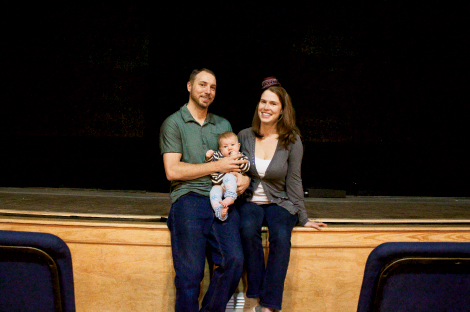 Hypothetical question: If you renovated a classic movie theater, what would be the first film you'd screen? The Rocky Horror Picture Show? Breakfast at Tiffany's? The possibilities are endless, but there's only one right answer: The Goonies, the '80s Spielberg hit that sent kids with nicknames like "Chunk" looking for pirate treasure. That's the flick Lorraine Conard and her husband, Rodney, screened in September after accidentally reopening the historic Strand Theatre on Main Street in Waynesville. Now, for the Conards, trying to decide what movies to show an eager public has become an unexpected conundrum, especially since they never intended to open a theater.     

Two years ago, the Waynesville pair was looking for a larger space to house their electronic equipment refurbishing company, Broken Media. The Strand Theatre, dormant for two decades and condemned, was vacant and cavernous. Built in 1947, the building isn't a grand experiment in art deco construction like many historic theaters being revived across the country. But despite its understated architecture, it is no less of a local icon. The Conards were keen on bringing the Strand back to life, even if it was just for a business headquarters.

The couple spent two years renovating the building, which had been stripped to just steel and cinder block. They carved out offices and storage space, but felt compelled to save the stage and 80-seat theater, imagining a community-driven project where films are just a small part of the appeal. Think vinyl listening parties where you bring records to play on the state-of-the-art sound system. Picture jazz nights, and a live venue for bands. The concession stand has become a showcase of local food, including natural artisan sodas by the Waynesville Soda Jerks.

Each month, the Conards upload a list of titles to a movie opinion board via Facebook, letting locals decide what comes to the big screen. "It's a nostalgic landmark for Waynesville," Lorraine says, "so I like the idea of inviting the community to take part in its revitalization."

And Waynesville has responded. The first three films (The Goonies, American Grafitti, and Casablanca) showed to capacity crowds. "Today, there's so much incentive not to even leave your house," Lorraine  says. "It's amazing to see people line up outside the ticket window to have this shared experience as a community."                
---
Stage & Screen
The Strand
38 Main St., Waynesville
$6, $4 ages 12 & younger
(828) 283-0079
www.38main.com