Scottish Lineage
Scottish Lineage:
Julian Morton's community, Invershiel, recreated a bit of his homeland in the High Country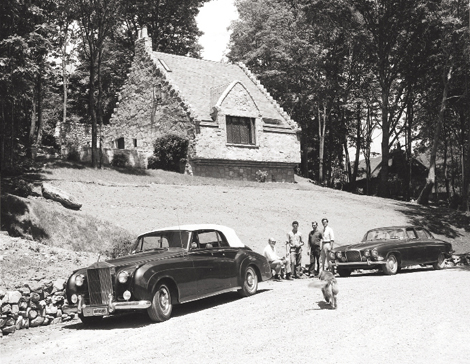 Just follow a car through the turn off N.C. 105 toward Banner Elk and it's easy to tell the locals from the tourists. The visitors slow down to marvel at a three-story stone tower named Tolbooth, a replica of a 16th-century Scottish town hall. Next, they're awed by an arched stone bridge and collection of stone homes resembling castles, some featuring turrets.
Today, this community bears the name Tynecastle, but it began as Invershiel. In the mid-1960s, Julian Morton dreamt up the unique mountain resort straight out of Scotland, with croft houses and castles. At that time, the resemblance to an old-world village was even more striking. Some of the  homes constructed with huge chunks of native stone were capped with sod roofs.
Julian was the development's founder and president and brother of Hugh Morton, who owned Grandfather Mountain. Their mother, Agnes MacRae Morton, cofounded the Grandfather Mountain Highland Games and Gathering of Scottish Clans in 1956, an event that sparked a resurgence of pride and interest in the region's significant Scottish heritage. A development like Invershiel seemed a perfect fit situated below the mountain peaks.
Julian and Agnes searched the family's homeland for architecture to inspire the community's design. He was "convinced he could transplant the 16th Century charm and unbelievable livability of those Scottish homes to the Linville domain…the mountains, meadows, flora and fauna of this American Highland area being exceedingly similar," wrote Betty R. Raveson in a gushing 1967 profile of Invershiel in Palm Beach Life magazine, a publication that claimed to be "on the scene wherever society goes."
They borrowed the idea for Invershiel from a small village on the western side of the Scottish Highlands, about seven miles from Eilean Donan Castle, the stunningly picturesque and iconic ancestral home of the MacRaes. The plans included 62 home sites just larger than two acres. Julian and Agnes each had a home there; his a townhouse made to resemble a prominent tower of Claypotts Castle, hers a charming croft house.
In addition to naming some of the famous and respected residents of Invershiel, Raveson's article described Julian's home as a "bachelor's haven," rich with wormy chestnut panels that concealed closets and even a refrigerator, an entrance floor laid with blue-gray slate, and a master bathroom the size of a living room.
Invershiel's original concept included all types of interesting proposals, among them a resort center designed to replicate a complete Scottish village "with a proper Scottish Inn as well as cobblestone streets where pedestrians can walk at peace," claimed Julian Morton in the article. A Highland Stable Club was underway for the equestrian set, and shaggy Highland cattle belonging to the Mortons were employed to graze in surrounding meadows. According to a person who frequented the club, "Mrs. Ms' favorite was a lovable bull named Hector MacPherson."
The beacon for the development, Tolbooth, was inspired by the Tolbooth tower of Culross, Scotland, and built with a tenant in mind. It was designed to lure Harvey Ritch and his store, Everything Scottish, from Charlotte. In the late 1960s, Ritch was involved with the Highland Games. A dedicated Scot himself, he later started the Grandfather Mountain Highlanders Pipe Band and became a national figure in the resurgence of Scottish music.
Construction on Tolbooth began in 1971, and Julian and his mother reasoned that the building was so distinctive Ritch wouldn't be able to refuse the new space in the High Country. The plan worked, and his store occupied Tolbooth from 1973 to 1978.
Now in his 80s and operating his store in Linville, Ritch still remembers the long queue of curious tourists that would file into Tolbooth. "I can't tell you how many thousands of times I had to tell people that building was not, and never was, a church," Ritch says, with a chuckle. Today the tower serves as a centerpiece for a shopping complex.
In the late 1970s, like so many grandiose resorts before and since, the idea faltered. Developer Robert Schwebke bought Invershiel in 1978 and renamed it Tynecastle, a title that still honors the Scottish inspiration. Its dozen or so homes and other structures still survive, seamlessly folded in among the more modern dwellings.
Julian's home, for instance, was recently doubled in size, with the work completed by Schwebke's son, Bret, of Tynecastle Builders. Like the original, the new wing was designed to resemble another tower on Scotland's Claypotts Castle, and replicates the authentic features that epitomize these distinctive homes, including leaded glass windows, custom walnut paneling, and ornate rock details.
In the '60s, there were misfires in achieving the "unbelievable livability" promised. The original cottages have seen their grass roofs, which were not entirely practical, replaced by tile when roots began growing through the tar paper. Gone forever is the chance to see a goat grazing atop the sod roof of Agnes' house, which Hugh captured in a photograph.
Despite such issues, the basic formula of two-foot-thick stone walls, insulated and backed by custom wood paneling, has stood the test of time—with ongoing maintenance, of course. "There's no way around it," says Bret, "leaded glass windows need care, and the joints between the stone in these structures need to be kept up. Just the rock itself requires waterproofing every two years."
Still, there's no arguing the atmospheric appeal and status of castle living. "These homes tend to be a little dark inside, so they're definitely not for everyone," says Bret. "On the other hand, you couldn't get some people out of them." In fact, one of the homes is still owned by the original buyer, and the previous landowner kept the property for 100 years. As Bret says, "two owners in a century is pretty remarkable."