School Reformed
School Reformed:
An historic schoolhouse for African Americans in Madison County finds a new community role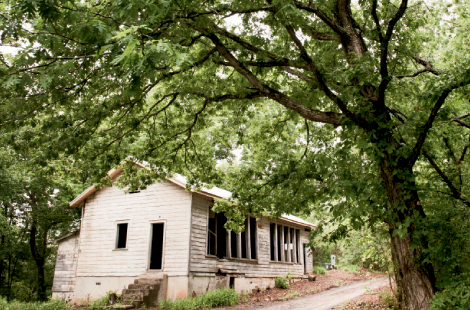 In the Jim Crow era, African Americans attended separate and decidedly unequal schools throughout the South. However, some black students received a major boost in the 1920s when philanthropist Julius Rosenwald, president of Sears Roebuck and Co., launched a fund to build new schools for blacks in rural areas.
By the time the program ended with Rosenwald's death in 1932, there were 5,000 Rosenwald Schools in the South. North Carolina had about 800, the most of any state. When public schools were largely desegregated in the 1960s, most of the Rosenwald Schools were effectively abandoned.
Madison County's Anderson Rosenwald, an elementary school built in 1930, is one of the few remaining relics of the effort. Before it closed in 1964, some 2,000 students had been taught there.
The school building still stands, albeit in a state of severe disrepair, in the Long Ridge community near Mars Hill. Its windows are long gone, the paint is mostly chipped away, and parts of the walls and floor have rotted. Inside, only a warped, upended piano and two small, broken desks remain. But this local landmark is on the mend: It has a new tin roof and a promising future, thanks to a recently launched preservation effort.
Mars Hill College is spearheading the year-old campaign to refurbish Anderson Rosenwald and reopen it as a community cultural center. Partners in the project include the nearby Mt. Olive Baptist Church, Madison County Education Foundation, various local government agencies, and the Conservation Trust for North Carolina.
Few photos of the school when it was open have been located, but the building springs to life in the watercolor paintings of Charity Ray, who attended in the 1940s and serves on the Anderson Rosenwald Preservation Committee. Memories shared by her and other alumni have helped guide the restoration plans.
Ray says that when she attended, nearly 100 pupils packed into the school. "There were two teachers, and the school was divided into two classrooms: one for grades one to four, and one for grades five through eight," she recalls. "Those teachers worked mighty hard."
The school had no kitchen or running water when Ray was a child. But there was an outdoor privy, she remembers, and a woodstove the students would hover around on cold mornings.
Her favorite part of going to the school, Ray says, was "just getting together with our neighborhood's children and learning together"—that and the chance to learn in a lovely spot in the hills of Madison County.
"We had lilies that bloomed all over one side of the school," Ray remembers with a swoon. "And they're still coming up today, so we're going to preserve those too."
To learn more about the project, and view a documentary on the school's history, visit http://bit.ly/lVMNXT.