The Scenic Route
The Scenic Route:
A new app puts tours of WNC's beautiful byways at your fingertips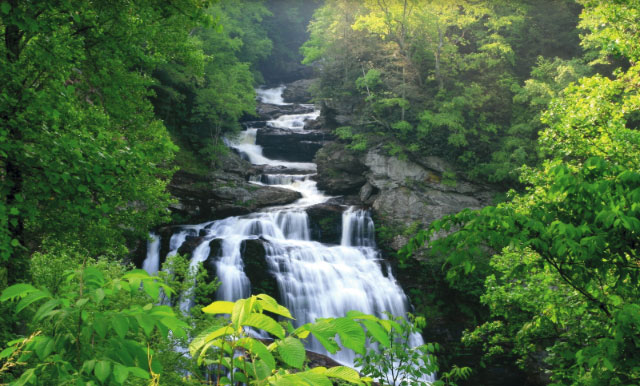 The North Carolina Department of Transportation has designated 54 official Scenic Byways, and naturally, almost half of them are in the mountains. Navigating those routes is now easier than ever, thanks to a new mobile app the DOT commissioned. The free UGoTour app, which works on both Apple and Android devices, offers step-by-step driving directions along with must-see recommendations. Here's a sampling to inspire your next road trip:
---

Wineries & Vineyards
Distance: 79 miles
Duration: 5 hours
Highlights: This 79-mile run starts in Avery County at Linville Falls Winery before making its way to a string of vineyards, farms, and a cheese-maker, concluding at Sweet Betsy Farm in Marion. Of course, as with all of the byways, you're free to drive the route in reverse or in part.
---

Waterfalls
Distance: 98 miles
Duration: 3.5 hours
Highlights: This drive stretches from Rosman in Transylvania County to Murphy in Cherokee County. Along the way are some of the state's most breathtaking waterworks, including Bridal Veil, Dry, and Cullasaja falls, as well as the mountain hamlets of Cashiers, Highlands, and Franklin, among other points of interest.
---

Cherohala Skyway
Distance: 43 miles
Duration: 1 hour+
Highlights: This trip crosses the North Carolina-Tennessee border and packs in plenty of standout sites, from Lake Santeetlah to stunning overlooks to Joyce Kilmer Memorial Forest. It would take but an hour to drive the route without stopping—but stop you certainly will.
RESOURCES:
photograph (app) courtesy of ugo tour