Scenic Fall Drives
Scenic Fall Drives:
Discover Valle Crucis, the Yadkin Valley, a Blue Ridge Parkway alternative, and the New River along four of the region's northern routes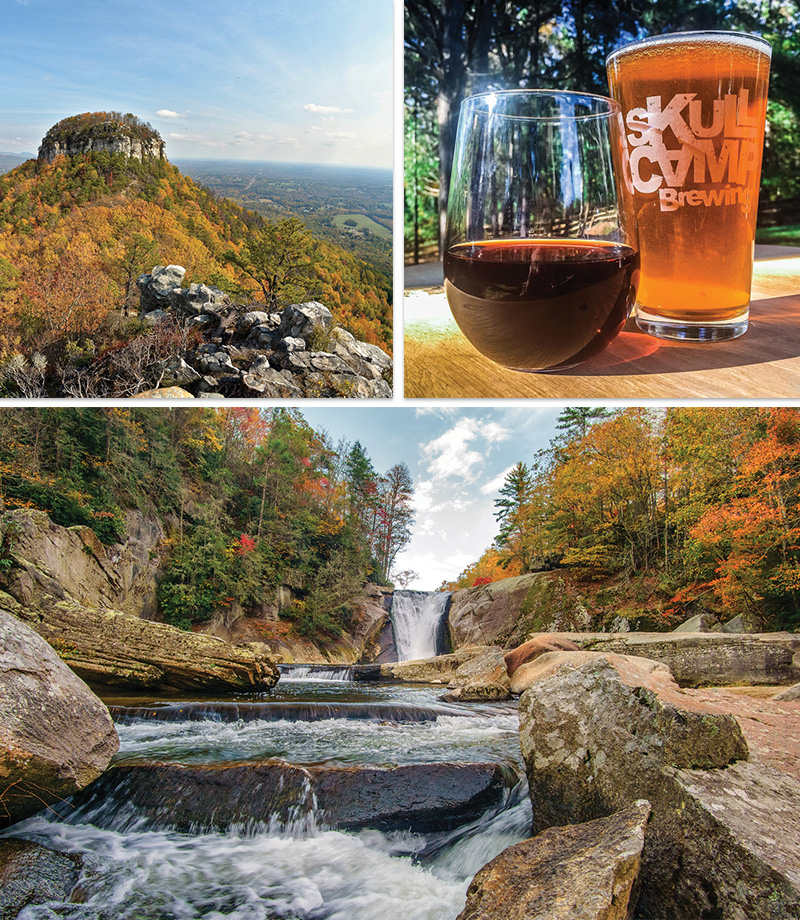 Mission Crossing Scenic Byway - 17 miles ➼ 45 minutes
Navigate: The drive runs from US-19E in Elk Park along NC 194 to Banner Elk. From there NC 194 dips to the Watauga River in Valle Crucis, then squiggles on to end north of Boone at Vilas on US 321/421.
Mission Crossing runs the rural western edge of the High Country along NC 194 from Elk Park to Vilas below the Tennessee border, and remnants of the byway's once-isolated past make this a worthy scenic drive.
Start at Elk River Falls, a major cataract tucked into a corner of Pisgah National Forest. It's an easy hike and the must-see sight in Elk Park.
Most of the route between Elk Park and Vilas was a 19th-century turnpike. It follows the Elk River, but just before Banner Elk, turn left on Old Turnpike Road, the last original stretch of a route trod by Tennessee-bound Confederate deserters and Union escapees. Explore the Union-supporting side of that history at Banner Elk's Banner House Museum.
On the roller-coaster ride into Valle Crucis, pause at the early-1840s Bishop Ives cabin, built by the founder of an Episcopal ministry that became the first Anglican Church monastic order since the English Reformation. Today it's a thriving Episcopal conference center.
For a leg stretcher, turn right at the Valle Crucis stop sign to the Mast Store Annex, then left into Valle Crucis Community Park (weekend parking fee). Circle the cool paved path beside the dancing Watauga River, a favorite with fly fishers.
Mast General Store is next, an iconic country store. Just beyond, on the way to the byway's end on US 321/421, the late-1800s Baird Barn is a classic transverse-crib design set in the verdant, picturesque valley of North Carolina's first rural National Historic District. 
Insider Tips:
➼ Detour: From East Tennessee, reach the beginning of the byway in Elk Park through the town of Roan Mountain (with an easy side trip to its famous namesake mountain). From the byway's end near Boone, US 321 closes the loop to the Volunteer State with a shoreline drive along Watauga Lake.
➼ Refuel: The Appalachian Trail crosses 19-E in Elk Park where the new Station at 19-E brew pub and AT hostel tempts trail traffic. Raise a pint or grab lunch with the thru-hikers. In Valle Crucis, Over Yonder is the refined choice for sit-down dining in a Civil War-era farmhouse. Or grab a takeout lunch from the eatery's Yonder Market and have a picnic in Valle Crucis Park.
➼ Stay the Night: The Mast Farm Inn bed and breakfast in Valle Crucis is a halfway point worth an overnight. This 120-year-old farmhouse and classic cabins includes the oldest log lodging in the state.
===============================
Yadkin Valley Scenic Byway - 65 miles ➼ 1.5 hours
Navigate: Start the drive just off I-77 in Elkin. Head south on US 21, across the Yadkin River, and take Swan Creek Road to a left on Old US 421. Go left on North Lee Avenue, cross US 601 onto Country Club Road near Yadkinville, then bear right on Rockford Road through historic Rockford Village all the way to Dobson as it becomes NC 601 Business. Take Kapp Street to the left and it becomes Zephyr Road. Follow Zephyr until it becomes Poplar Springs Road. At the junction with US 21, turn left back to Elkin.
Look no further than the Yadkin Valley of Surry and Yadkin counties to understand why North Carolina has reached the top-10 list of states for both wine production and number of wineries. Fields of vines and tasting rooms are everywhere in an expansive rural area roughly bounded by Elkin and Yadkinville.
Wineries dot a far larger domain, and "subset" wine trails wander there too, but for a taste of wine and scenery, North Carolina's state-designated Yadkin Valley Scenic Byway can't be beat.
Some of these established wineries are among the state's best known (Raffaldini, RagApple Lassie, Shelton); others are newer. Many boast impressive awards for their vintages and a variety of amenities, including music, dining, and even lodging.
Start at Elkin's chamber of commerce for advice, maps, and winery/business brochures.
You won't even be out of town before the options start. Skull Camp Taproom and Smokehouse has its own wine and beer, great smoked meats, sandwiches, peel-and-eat shrimp, and sonker, a local not-to-miss dessert. There's also Elkin Creek Vineyard and Winery, Slightly Askew Winery, and Adagio Vineyards.
From Elkin, this route boasts wonderful rolling foothills framed on the west by the distant escarpment of the Blue Ridge and on the east by the rocky plug of Pilot Mountain State Park. Dozens of wineries are either on the byway or a short side trip.
Insider Tips:
➼ Can't-miss Stop: Beyond sightseeing and sipping, the village of Rockford holds a variety of historic properties from its run as the county seat of Surry from 1790 to 1850, when Aaron Burr and Andrew Jackson were among its prominent visitors. The 1890 Rockford General Store is an authentic purveyor of local fare, another sonker source, and an organizer of paddling trips on the Yadkin River.
➼ Detour: Pilot Mountain State Park flanks the northeast side of this route, so a quick motor to the top for a view of the region is recommended. This National Natural Landmark is a monadnock, a startlingly isolated single summit.
➼ Refuel: Besides wine, this tour affords a variety of places to taste an indigenous Yadkin Valley treat, sonker. This fruit- or sweet potato-based potpie or cobbler might have been called a "grunt" in Thomas Jefferson's day (his favorite version was blueberry). One newspaper article on the delicacy called it a "soupy, deep-dish baked dessert" available "nowhere else in the nation." Check it out at sonkertrail.org.
================================
Little Parkway Scenic Byway - 18 miles ➼ 45 minutes
Navigate: The designated drive on US 221 may be short, just under 20 miles between Blowing Rock and Linville, but it's packed with scenic and historic significance.
In 1890, more than a half-century before the Blue Ridge Parkway was even conceived, today's US 221 was already snaking its way from touristy Blowing Rock to the isolated outpost of Linville. It was called the Yonahlossee Road, and its postcard-perfect scenic landmarks and modern gradual grade made it an early equal of today's bigger parkway, thus the nickname "Little Parkway." Today, this less-traveled route is a nice detour from the busy Blue Ridge Parkway nearby.
Keep an eye open for these sights. Not far out of Blowing Rock, check out the state rest area on the left, one of the tiny waysides used long before interstate highways (a few trails start here). Wander on, and Bridal Veil Falls foams beside the road. When Nose End Rock protrudes its proboscis over the pavement, pull in beyond at Wilson Creek where the big roadside boulder was a popular "shelter rock" campsite for centuries. Pull off in the next big curve for a rare look up at the Blue Ridge Parkway's Linn Cove Viaduct. As you near US 221's dip under the parkway to the Grandfather Mountain entrance near Linville, look up at Stack Rock, or "Leaning Rock," towering over the road.
Insider Tips:
➼ Don't Miss: Named for its elderly profile, Grandfather Mountain is both a state park and an attraction that includes nature displays, wildlife habitats, hiking trails, the Mile High Swinging Bridge, and jaw-dropping views. The $22 entry fee ($9 for kids) is worth it, though those only wishing to hike the mountain can access it for free from two trailheads outside the attraction, which are located along the Little Parkway. grandfather.com
➼ Stay the Night: Just south of Blowing Rock is Westglow Resort & Spa, the former mansion of famed artist Elliott Daingerfield that's now a nationally rated place to be pampered, relax in luxury, and dine at Rowland's. Linville's classic hostelry is Eseeola Lodge, a bark-sided landmark born in the days when the Yonahlossee Road was young.
================================
New River Valley Scenic Byway - 35 miles ➼ 45 minutes
Navigate: From US 421 in Boone, head north on NC 194 through Todd. Go left on US 221, a break in the official byway, then right again on the byway, NC 16/88 in Jefferson. The route ends on NC 88 at the stop sign in Laurel Springs. The Blue Ridge Parkway is nearby. Head south to meet back up with US 421 for a return loop to Boone.
Even if the ironic name of the world's second oldest river is the New, the pastoral rolling countryside of this byway won't get old as you motor along this ancient stream in far northwestern North Carolina.
This drive flows north from Boone, the same (very unusual) direction as the river itself. All along the route, deep, forested valleys rise to high, Christmas tree-covered meadows and distant views of lofty peaks.
Eleven miles from Boone, turn off into Todd for fishing, tubing, or kayaking on the south fork of the New. RiverGirl Fishing Company, based in the historic old station terminus of the Virginia Creeper logging railroad, is the choice for all sorts of water sports. Just beyond, a right on Big Hill Road (SR 1347) leads a few scenic riverside miles to Green Valley Community Park and Wahoo's Adventures New River Outpost, popular put-in points for the easy float to Todd.
Beyond Jefferson, back on the byway, don't miss a sharp left a few miles to New River State Park's Waggoner Access Area, one of the park's main parcels. Picnic by the water or just watch paddlers land or launch. Two easy riparian paths make short hikes, and campers can backpack or paddle to riverside backcountry sites (showers available).
Just past the byway's end, pause at the Parkway's Northwest Trading Post, now operated by FIND Outdoors, the rebranded Cradle of Forestry in America Interpretive Association. The shop still carries some local crafts, along with outdoor gear, homemade baked goods, and other snacks.
Insider Tips:
➼ Detours: The byway has "valley" in its name, but summit views are nearby. On NC 194 just north of Boone, head left in Meat Camp to Elk Knob State Park for vistas from the car; it's a 3.8-mile round-trip hike to the summit. In West Jefferson, Mount Jefferson State Natural Area is a short hop from US 221 for a quick drive to the summit, where multiple panoramic viewpoints survey the entire High Country.
➼ Refuel: Todd Mercantile's bakery turns out all manner of delicious baked goods, including rave-worthy cinnamon buns, perfect for a picnic beside the river. Check out the crafts upstairs as well.