Scenic Fall Drives
Scenic Fall Drives:
Four classic fall drives for motorists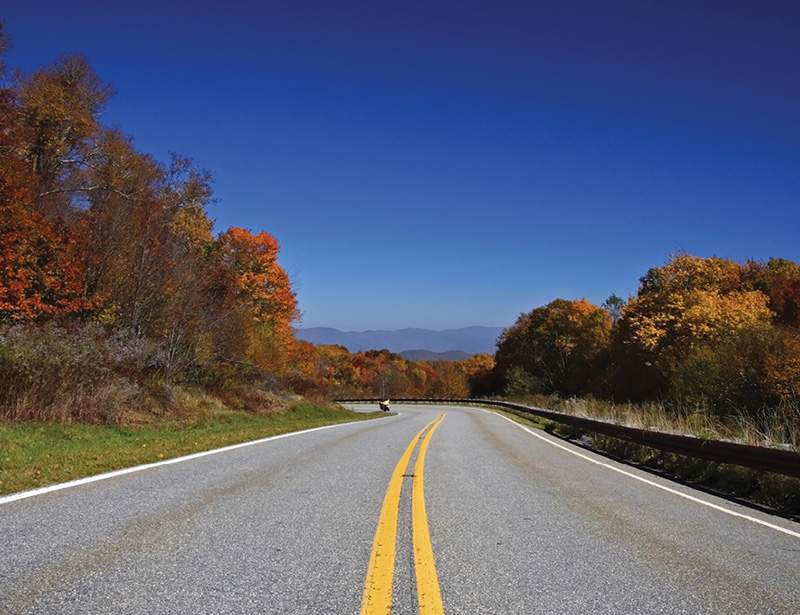 Cherohala Skyway
Cherohala Skyway - 43 miles ➼ approx. 2.5 hours
This mile-high drive, named for the Cherokee and Nantahala national forests through which it passes, winds 18 miles from Robbinsville, North Carolina, crossing 5,400-foot mountains, and descends 23 miles to reach Tellico Plains, Tennessee. It's particularly gorgeous in the fall and a great alternative to the heavily trafficked Blue Ridge Parkway.
Tail of the Dragon
Tail of the Dragon - 11 miles ➼ 30 minutes
OK, so scenery isn't the draw on this famed motorcycle route (which also lures sports car enthusiasts as well); with 318 curves in a short 11 miles, it's the drive itself that's the attraction. It follows US 129 from Deals Gap on the NC/TN border and ends at Tabcat Bridge in Tennessee. En route are roller-coaster-worthy curves that have earned names like Hog Pen Bend, Copperhead Corner, and Gravity Cavity. Start farther south so you can take in Fugitive Bridge and the Cheoah Dam, where Harrison Ford made his epic jump over the dam in The Fugitive (the carnage from the train wreck earlier in the film is actually nearby in Sylva). tailofthedragon.com
Switzerland Inn
The Diamondback - 12 miles ➼ 30 minutes
Heading south along NC 226-A from Little Switzerland, motorists are in for a ride—190 steep switchbacks that descend some 2,000 feet in elevation in just 12 miles (sans guard rails). The Diamondback Lodge at Switzerland Inn, which in addition to amazing views has covered parking for motorcycles, makes a great base for such a road trip. To make this drive a 38-mile loop, at the end of 226-A, make a right on US 221 south for four miles, then a right on Toms Creek Road, which connects to another right on NC 80 (aka Buck Creek Road). This winding drive north is called the Devil's Whip, because the last three of seven miles is steep and twisty, including one final 180-degree switchback. The final leg is 10 miles along the Blue Ridge Parkway to return to Little Switzerland. switzerlandinn.com
Black Mountain Rag - 31 miles ➼ 45 minutes
In musical lingo, a "rag" is a song with ample twists and turns, and thus, the speedy old-time fiddle tune this route is named after is an apt soundtrack for your drive. Following NC 9 south from Black Mountain to Bat Cave, the road offers many twists and turns, crossing up and over the Eastern Continental Divide. In Bat Cave, turn left onto US 64 to explore the plentiful offerings and gorgeous scenery in Chimney Rock and Lake Lure.
To make a loop, head north for 16 miles from Bat Cave to Asheville along the Drovers Road (alt. US 74). Once a turnpike farmers used in the 1800s to drive livestock to market in South Carolina, the road winds through the Hickory Nut Gorge. About half way to Asheville, look for historic Sherrill's Inn on the left. Now a private home and event venue, it was once a stagecoach stop along the route. Past the inn, the road straightens some to reveal pastoral scenery of rolling farmlands. From Asheville, it's an easy drive along I-40 or US 70 to return to the quaint town of Black Mountain.