Scenic Fall Drives
Scenic Fall Drives:
In WNC's central region, follow these routes to explore the Linville Gorge and Lake James, Mount Mitchell, and the region's forestry heritage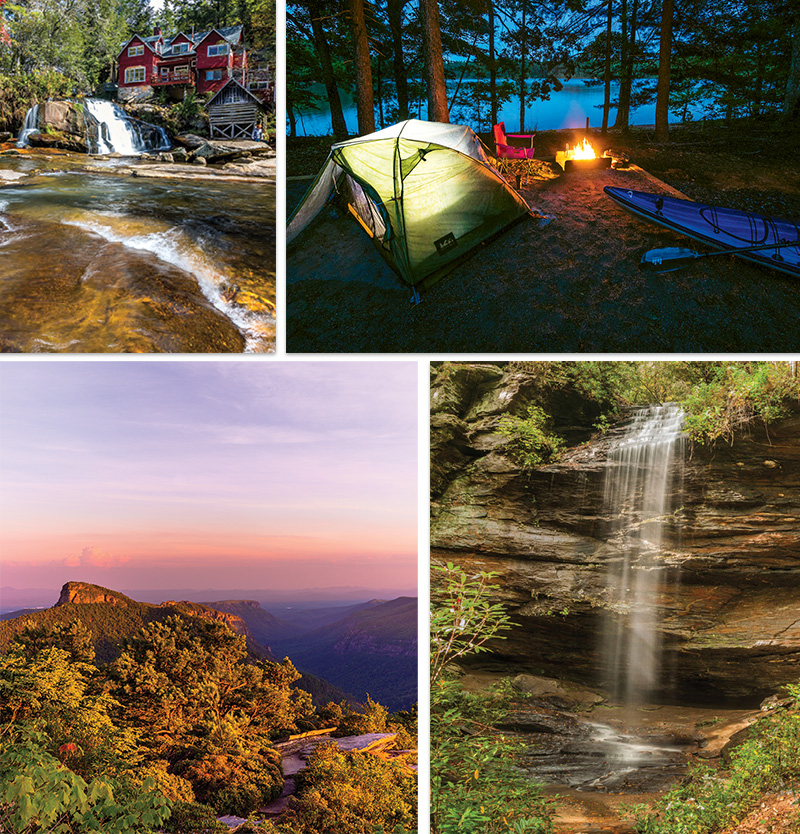 Pisgah Loop Scenic Byway - 47 miles ➼ 2.5 hours
Navigate: Start at the intersection of NC 181 and Fish Hatchery Road (FSR 1240) north of Morganton. Follow NC 181 north for 17 miles, then turn left onto NC 183. It's another left onto Old NC 105, an unpaved road that requires four-wheel drive. Follow this for 15 miles, then turn left on NC 126 for five miles to meet back up with Fish Hatchery Road.
Presenting a loop through Pisgah National Forest, this road trip takes in the mighty Linville Gorge and Lake James as well as points of historical interest, with portions of it requiring four-wheel drive.
The route starts north of Morganton at the intersection of NC 181 and Fish Hatchery Road (FSR 1240). Traveling north for 17 miles, it traces the route of Kirk's Raiders in the Civil War. After skirting the Blue Ridge Parkway along NC 183, it drops over into the western rim of the gorge. A visit to the Linville Falls Visitor Center offers a lay of the land for those who want to take in a visit to the falls or other hikes on the western side.
The route then heads south along Old NC 105 (aka Kistler Memorial Highway), which is a dirt road that offers some unrivaled views—particularly from Wiseman's View—over the gorge and the rock faces of Table Rock and Hawksbill mountains and the Chimneys on the eastern rim. Traveling along this descent into the Catawba River Valley, the byway traces the route the Overmountain Men walked to defeat the Loyalists in the crucial Revolutionary War battle at Kings Mountain.
NC 126 takes you to Lake James State Park, where hiking and biking trails, picnic areas, and canoe, kayak, and paddleboard rentals (through September) could busy you for an entire day. A final left on Fish Hatchery Road completes the loop. 
Insider Tips:
➼ Camp Outdoors: It's hard to beat camping on the water at Lake James. There are three campgrounds, with Paddy's Creek being the most accessible along this route. It includes 33 drive-to sites; be advised to reserve ahead.
➼ Take a Hike: There are many amazing hikes in the Linville Gorge Wilderness, and they're organized by their location on the eastern or western rim of the river that cuts through the middle. While some are short, most are rugged and warrant planning ahead. On this scenic drive, many of the west rim hikes are accessible along Old NC 105. Two good resources for advance planning are ashevilletrails.com/linville-gorge and hikinginthesmokys.com.
➼ Detour: A hop off of NC 183 onto US 221 at the town of Linville Falls will take you to Linville Caverns (COVID-19 restrictions in place). A limestone cave deep within Humpback Mountain, the cavern offers tours along well-lit pathways that lead past subterranean formations while informing about the cave's geology, history, and wildlife. linvillecaverns.com
===============================
Mount Mitchell Scenic Byway - 52 miles ➼ 1.5 hours
Navigate: From exit 9 on I-26 north of Asheville, take US 19 north. Continue through Burnsville to Micaville where a right on NC 80 follows the Toe River Valley. At the Blue Ridge Parkway, go south, then right on NC 128—the highest road in the East—into Mount Mitchell State Park. Retrace your route for a different perspective.
Expect an autumn drive to the summit of Eastern America's highest mountain to be a scenic spectacle. This road trip includes just about every mountain ecosystem and color zone possible.
From I-26 to Micaville along US 19, stop in Burnsville and circle the Town Square, where the 1833 Nu Wray Inn is a historic landmark. Coming or going, the affordable B&B is an atmospheric overnight option that offers a leg up on breakfast with a voucher at Appalachian Java, a short stroll away.
Between Micaville and the Blue Ridge Parkway, you'll zip by the colorful patterns of the WNC Quilt Trail, but take time for not-to-be missed craft shops. The studios start in Micaville with the pottery, jewelry, and mixed media focus of OOAK gallery (which stands for "One of a Kind"). Farther along NC 80, there's internationally famed Rob Levin Glass and McWhirters Pottery—the county's oldest ceramic studio at 57 years. Now under second-generation potters Pete and Kim McWhirter, the family makes jugs with amazing faces, among other decorative and functional works.
Mount Mitchell's grandeur and distant views are spectacular in any season, but fall is a chance to see rime-frosted evergreen trees while the valleys below are dotted with color. Bring cold-weather gear so you can walk to the handicap-accessible view tower. Turn right on the way down and take the Balsam Nature Trail back to the parking area to learn about the East's southernmost Canadian-zone forests.
Insider Tips:
➼ Detour: If you're returning to Asheville, don't retrace your steps from the top. Just keep south past Craggy Gardens and take the parkway down to town.
➼ Refuel: The state park's rustic stone restaurant is well regarded for home-cooked country dishes, iced tea, hot chocolate, and such. Heading back down the mountain on NC 80, Hawtree's Pub and Restaurant at Mount Mitchell Golf Course is a welcoming outpost for more gourmet urban dining and drink options. Warm up by the windows or bundle up on the deck for an awesome view up to the peaks you just conquered by car.
➼ Stay the Night: Pisgah National Forest's classic Black Mountain and Carolina Hemlocks campgrounds are located below Mount Mitchell on the Toe River along NC 80.
================================
Forest Heritage Scenic Byway - 65 miles ➼ 2 hours
Navigate: Near Brevard, take US 276 north to Bethel. Then take NC 215 south to Rosman. US 64 east returns to Brevard.
For sheer scenic diversity, it's hard to beat this official US Forest Service Byway, which is a loop that includes two crossings of the parkway as it takes the measure of the Blue Ridge from deep valleys on both sides of the range. It's a memorable circle, much of it beside rushing mountain rivers with spectacular waterfalls and fishing and sunning spots. You'll crest at rarefied views of evergreen-punctuated peaks, and wind mile after mile through uninterrupted mountainside woodlands on the way to valley hamlets and farms.
Take US 276 north of Brevard and past two landmark water features. First is Looking Glass Falls, a short stroll to an impressive water-curtain cascade. Not far beyond, Moore Cove Falls is an easy 1.4-mile round-trip.
Make time for the trails and history exhibits at the Cradle of Forestry. The nation's first forestry school has its roots in Asheville's Biltmore Estate, a once huge tract that became Pisgah National Forest.
Across the Parkway, two adjacent trailheads access Shining Rock Wilderness, an alpine-like area of rugged trails that include Cold Mountain, the setting for Charles Frazier's namesake novel. After a turn on NC 215, you'll pass the side road to a trail that climbs that conical 6,000-foot summit.
On the way back up to the parkway, NC 215 passes the Forest Service's primitive Sunburst Campground on the right, across from the west fork of the Pigeon River, with wading pools and fishing sites. Two scenic stone bridges cross rocky chasms on the climb before the downhill leg ends near Rosman. 
Insider Tips:
➼ Can't-miss Stop: There are side trails all along this byway, but don't miss the walk near Living Waters religious camp (9.2 miles east of the parkway on NC 215 toward Rosman). It's private property, but the public can wander an easy trail to four waterfalls in the rugged, rocky gorge of the north fork of the French Broad River.
➼ Refuel: Cafe at the Cradle is praised for its barbecue. Or just beyond, take a detour north on the parkway to Pisgah Inn. It's a six-minute side trip to a classic lodge with panoramic views from a popular restaurant and guest rooms. On the way, look down from the Cradle of Forestry overlook.