From Santa Barbara to Sodom
From Santa Barbara to Sodom:
How a California girl became a Carolina gal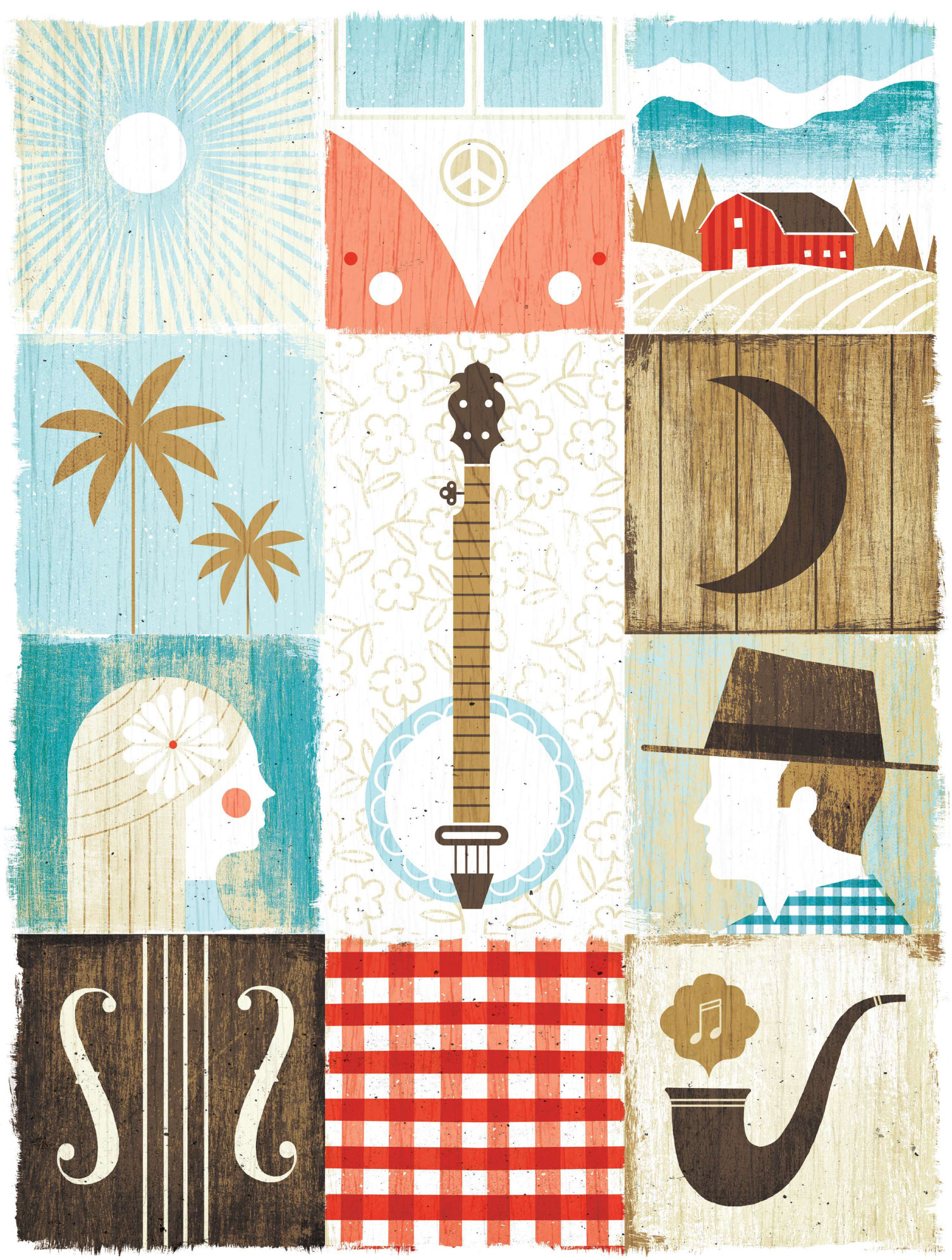 A warm, sandy beach, a transistor radio playing Kasey Kasem's Top 40, and me with nothing on except Coppertone. I was surrounded by other naked twentysomethings, playing volleyball, drinking cheap wine, running in and out of the freezing cold Pacific Ocean surf.
In 1973, I was a student at the University of California at Santa Barbara, which perched on the cliffs overlooking the ocean. Isla Vista, the student ghetto, flanked the campus to the north. That's where I lived, but I'd grown up in the Los Angeles area. Home was backyard swimming pools and tennis courts, expansive shopping malls, Whiskey a Go Go on the Sunset Strip, and love-ins in Griffith Park. I was a classic Beach Boys surfer girl: straight, golden-blond hair that fell below my waist, the perfect line-free tan, and a 1965 VW Bug with a sunroof.
That day, my body luxuriated on the beach, but my mind was elsewhere. "I want to move to North Carolina," my boyfriend, David, had said the day before.
"Move where?" I knew exactly where North Carolina was. It was right above South Carolina. I had a wooden jigsaw puzzle of America as a kid and I was faster than anyone putting those loosely shaped wooden states right where they belonged. David and I had even been to North Carolina the summer before, checking out bluegrass and old-time music festivals overrun with mosquitoes the size of B-52s, lawn chairs of every color, and a plethora of fried pies, especially cherry. So I was really saying Good God, are you kidding me? Leave California, Santa Barbara, my home? No way. That piece of the puzzle didn't fit.
David and I were on track to become elementary school teachers in the fall, but then David saw a different path. By a lucky or unlucky stroke, depending on which side of the five-string you're sitting, David saw the famous Ralph Stanley play an old-time banjo number in the rollicking clawhammer style. Gob-smacked, David asked Ralph how he could learn to play like that.
Ralph finished packing up his banjo, tilted his big cowboy hat back on his head, looked David in the eye and said, "Go back to the Blue Ridge, son, to Galax, Virginia, Paducah, Kentucky, or Asheville, North Carolina. Lots of old-time music there."
 Done. After our last exam in June, David packed up his stuff and headed to Asheville.
The perfection of Santa Barbara summers kept me on the beach. I spent the next three months pondering whether to stay in my familiar world without David or follow him to a place as foreign to me as a primordial jungle.
My romantic heart won. At summer's end, I traded my Bug for a VW camper and headed east, facing the great unknown like a pioneer in a 63 horse-power, pop-up Conestoga.
David and I stayed in a sweltering West Asheville attic, the guests of our new friend, Lynn. Lynn loved music and had an open door policy: All musicians welcome. David was in heaven. I felt like I had gone the other direction.
Everything was strange. The accent: sit by the campfar? rotate my car's tars? The food: dinner at noon? light bread? The clothes: socks with sandals? polyester pant suits? And the grammar would make my English-major mother flip over in her recliner: "Get down out from up in under there."
Struck with a noncombat form of shell shock, I cried for a good part of my first year in this foreign place. California felt like another lifetime.
Then one day David saw a small, hand-lettered sign tacked on a telephone pole advertising a music festival at the baseball field in Sodom. Honest: Sodom, aka Sodom Laurel. A music festival promised something familiar. Once again, the VW bus set off for a new adventure. "Just look for the dumpster" were the only directions.
We followed the French Broad River into Madison County, one county over. We crossed soft forested mountains, twisted around hairpin turns, and passed cows grazing beside fields thick with corn, rusty pickups spending old age on cement blocks, and mailboxes wearing names like Cas Wallin and Fannie Leake.
An hour and a half later we arrived at the ball field. There was the dumpster. There was Sodom.
The music festivals in California had raised stages filled with towers of amps, rows of microphones on stands, multi-tiered drum sets, undulating strobe lights with Jimi Hendrix or Cream commanding the stage. Today an old man in starched bib overalls and a crisp, white, long sleeve shirt stood at home plate with a slightly younger lady sporting dyed black hair and a hot pink polyester dress. They were singing their hearts out with no music to back them up. They were singing what I was soon to discover was an unaccompanied ballad. They were the festival.
Two women about our age sat in the bleachers between third and home. The four of us constituted the audience. The taller woman with long, dark hair walked over and introduced herself.
"Welcome. I'm Sheila Kay," she said. "You're not from around here, are you?" Maybe my Earth Shoes or David's straw cowboy hat gave us away.
We exchanged names and asked why there weren't more people here.
"There was a knifing last night," she said, casually pointing toward right field. "I guess folks stayed away today." Then, without missing a beat, she asked, "Why don't you two come with us to Granny's for supper? She's a ballad singer, too. We're heading up there now." David readily said yes. I'd have to swallow my nerves before I could eat, but I nodded OK. Really didn't have a choice.
We turned right past the ball field and followed Sheila's car up a rutted gravelly road. We passed a square house covered in PermaBrick siding and a lopsided antenna on the roof. The neat grass yard was landscaped with half a dozen used tires painted white and filled with petunias and marigolds, keeping a small deer statue company. At one curve, a tan single-wide trailer sat exposed on a dirt plot next to the skeletal remains of a log cabin.
A rocky creek ran to the left of the road, then crossed over and continued beside us on the right. A caved-in refrigerator lay sideways in the creek, along with empty tin cans that once held cling peaches in heavy syrup, according to the labels.
At the head of the cove a mailbox clung tentatively to a tilting post with NORTON lettered on the side. It marked the last curve to Granny's. The white wooden house had a rusty tin roof and a wide, covered porch that ran along the front of the house. An assortment of chairs with thin cushions lined the railing. Not far from the dirt parking area was an honest-to-goodness outhouse. Surely it's no longer in use, I told myself, remembering that second cup of coffee I had earlier with deep regret.
I emerged from our car and faced a motley collection of dogs.
"Quit growling, Nasty," Sheila Kay warned one dog who lived up to his name.
Broad wooden steps invited us to the porch. At the far left, faded blue jeans hung from colored plastic clothes pins clamped on wire strung from post to post. To the far right, the porch revealed the valley of Burton Cove.
The view overlooked a chartreuse-colored field of ripening tobacco where a black-haired, bushy-bearded man in overalls and no shirt plowed with a mule. Further on, a rough-sided, two-story barn listed slightly to the right. Then an elaborate rock chimney that was missing its house guided our eyes to the distant purple mountains marking the beginning of Tennessee. I had never seen so much green in my life.
I had never heard quiet like that either, quiet like a feather drifting past the sour cherry trees that lined the road leading to the house. The only sounds were the man in the field geeing and hawing directions to his mule and a persistent woodpecker somewhere in the trees. Screeching tires and honking horns belonged to another world.
A well-worn woman with white hair knotted on the top of her head came out the front door, dressed in a faded floral-print cotton dress and a stained apron.
"Would you like a dope?" she asked with a smile. I later learned her name was Dellie, also known as Granny.
"Pardon me?" What did she just say? I glanced at David, but he looked just as bewildered.
"Would you like a dope? It's mighty hot," she repeated.
"Sure." I didn't want to be rude.
Heavy lace-up boots and multi-colored striped knee socks carried her back into the house. She returned with a glass of Coca-Cola.
"Here's your dope," she said, handing me the familiar soda.
"Thank you" was all I could muster. In Santa Barbara, dope didn't come in a glass with ice.
After several rounds of dope, those two cups of coffee and a morning at the ball field, I had to find a bathroom. Discreet inquiry revealed that I'd have to use the outhouse. Heart thumping, palms sweaty, I headed down the porch steps toward the little brown structure, a sliver of a moon carved on the door, precariously squatting on four huge, round rocks. It was my first time.
"Take the poker with you," Dellie hollered. I looked up. Leaning over the porch railing, she pointed to a long stick resting on the side of the outhouse. Gingerly, I picked it up and went inside. The reason for the poker was clear. The pile inside the hole reached all the way up to and parallel with the seat. In order to sit unscathed, I used the poker for its intended purpose, poking the peak down to a less prominent position. There I was, a private school-educated debutant from Pasadena poking poop in Sodom.
I survived the outhouse much relieved.
Climbing back up the steps to the porch, I heard David ask Dellie if she would sing an old ballad. Without hesitation, Dellie, seated in a straight-back chair, relaxed hands resting on her apron, feet firmly planted on the porch, closed her eyes and started singing "Young Emily." Dellie's high-pitched voice punctuated the end of each phrase with a pronounced upturn of note, a characteristic I had never heard before. The lyrics and the haunting sound transported us to another time. I felt closer to the 16th century than the 20th.
She followed "Young Emily" with "The House Carpenter" and a couple of others before getting up and quietly going into the house, the screen door slapping gently behind her.
It wasn't long before soul-satisfying smells crept out of the house and up to our noses like the aroma curls in the cartoons.
"Y'all come eat," Dellie beckoned.
The oil cloth-covered table was a sight to behold: country-fried ham, redeye gravy, creamed corn straight from the large garden right off the porch, steaming green beans, and mouth-watering biscuits, all prepared on a wood-burning cook stove. A plate of bright red tomato slices and a small glass bowl full of blackberry jam rounded out the feast.
"Hope you can find something here to eat," Dellie said.
We filled our mismatched china plates and started eating.
The conversation turned to the price of tobacco, the troubled Ramsey boy, and other things I didn't have a clue about. I just kept eating.
For dessert, we dug into a bowl of homemade banana pudding lined with Nilla Wafers. Everyone drank sweet tea, except me. No more liquid for me that day.
I helped Dellie wash up. The freezing cold kitchen water originated from a spring higher up the cove. Gravity fed the water into a pipe stuck directly into the spring. That pipe ran straight to the faucet at the sink. The water flowed 24 hours a day; no turning it on or off.
For dish washing, Dellie heated water on the cook stove and poured it into two tin washtubs: one for soapy water, the other for rinsing. Dellie and I worked side by side, easy and relaxed, like countless women in kitchens around the world and through the ages. We set the clean dishes to drip dry in a drainer on the Formica counter and covered them with a dish towel to keep the flies off.
When we were leaving, Dellie gifted us with jars of homemade jam and pickled okra. Then she asked if I wanted a poke. Again, I had no idea, but it didn't sound like fun. Seeing the look on my face, she went to the kitchen and came back with a brown paper bag. "You need a poke to tote all these things home," she said. I thanked her, and we hugged. I was being welcomed into a new world that was deep, complex, and, in hindsight, fast disappearing.
As my feet metaphorically sank deeper into the Carolina red clay, I asked myself, "What can I do here that I never would have done back home?" The two answers I came up with were clogging and quilting, and I jumped into both with a passion. After a year of clogging lessons, I joined a clog team. Didn't last long, but it was great fun.
Quilting took a deeper hold. Every Thursday I joined a group of white-haired ladies at the Central Methodist Church for a morning of quilting and gossip, emphasis on the latter. After studying at the Asheville Art Museum, I became a teacher myself. My focus was on piecing traditional patterns like Log Cabin, Double Wedding Ring, or Rose of Sharon, another link with Sodom and the North Carolina mountain culture.
Over the years, David and I made good friends with both Asheville natives and transplants like us. We bought a tiny house and became the parents of a son, Zeb and a daughter, Sara Jane. David's music career blossomed. The volunteer purple and yellow irises bloomed in our yard every spring, Elvis gyrated at the Civic Center, and I was still skinny. What more could we ask for?
As Zeb and Sara Jane grew, our tiny house gave way to our dream house with plenty of room. We moved in, ready for adventure, but life had other plans. Two days into our new life, Sara and I were in a car accident. She died from her injuries five days later. So did our innocence that we were charmed, part of the fortunate few.
We buried Sara Jane at Riverside Cemetery with a pink granite heart to mark her grave and the spot where "normal" life took on a new meaning.
It's been more than four decades since I said goodbye to Santa Barbara and moved into that sweltering attic. Asheville is now a vibrant town with an abundance of artistic and musical creativity. David was right to follow his dream. He became a Grammy Award-winning banjo player and respected keeper of North Carolina's musical tradition. I was right to trust my heart and venture into the unknown. I even garnered a Grammy of my own. That North Carolina puzzle piece now fits me perfectly.
Many of the old-timers in Sodom, including Dellie, have passed on. Weeds surround the old tobacco barn, Sheila Kay took Dellie's place as the lady of the ballads, and most of the dogs in the hollows look like Nasty. I still enjoy an icy dope and tote my own pokes to Whole Foods.
A friend recently asked me, "If anything happened to David, would you go back to California?" Without a moment's hesitation, I replied, "And leave my home? No way."    
RESOURCES:
illustration by Michael Mullan