Sanctum of Hope
Sanctum of Hope:
A tiny chapel along a rural mountain road offers passersby a spot for respite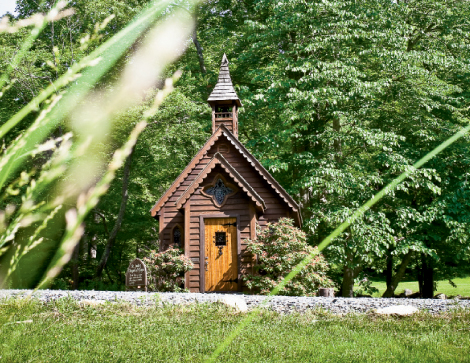 Many travelers driving through the town of Trust on their way to Max Patch or Hot Springs have found a sense of peace different from what a mountain vista or relaxing soak can provide.
Along North Carolina Highway 63, just yards from Trust General Store, tiny St. Jude's Chapel of Hope welcomes all who take a moment to stop.
In 1992, Beverly Barutio built the sanctuary near the farmhouse she shared with her husband, Bill, in gratitude for her recovery from cancer. After undergoing chemotherapy, she decided to stop the treatments and rely on her faith, promising to erect a chapel if she recovered. The cancer went into remission. And after moving to Trust, Beverly fulfilled her vow. She passed away 10 years later, but the current chapel owners, husband and wife, Todd Glasser and Carmen Eakes, have continued the Barutios' open-door policy. "It was special when we found it, and we agreed to leave it that way in dedication to Beverly," Glasser says.
Up the three stone steps and through the thick wood door, the cedar clapboard, 12- by 14-foot chapel holds four small pews carved with crosses and a prayer bench bearing angels. Saints shine upon visitors from four of the six stained glass windows, with a depiction of St. Jude at the head of the sanctuary. Many leave mementos—photos of loved ones, trinkets, notes—and donations for St. Jude Children's Hospital, renowned for its cancer treatment and research.
"It touches a lot of people," Glasser says. "You step inside the door and everything goes away, and you soak in the peace." Maybe it's the size, which lends itself to quiet reflection, or the setting, a verdant piece of land next to Spring Creek. Either way, it remains just how Beverly wanted it.