Rock Solid
Rock Solid:
A landmark greenstone home in Hickory melds historic elegance with modern luxuries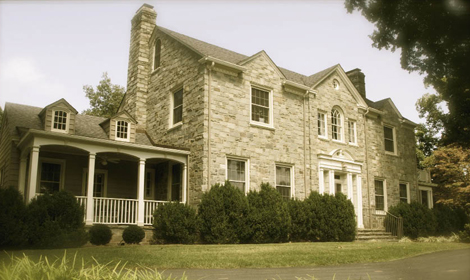 Like a piece of furniture that's been passed down for generations or a string instrument that sings more beautifully with age, Rob and Angela Simmons' 1938 greenstone home in Hickory was made to last. "They don't build houses like this anymore. We've had no structural issues. We've made very few design changes, and kept the original plaster walls, mouldings, and wainscoting," says Angela, sitting on the screened porch. She's framed by a wall of green-tinged granite quarried from Grandfather Mountain. "And I love the stone because it's unique," she adds.
Built by Ernest Elmore Whisnant, founder of a hosiery mill in Hickory, the stately abode stands apart from other Colonial revival-style homes of the same era because of the greenstone, which is no longer quarried. The craggy surface testifies that each piece was chiseled by hand, and the mortar that runs like veins across the facade is thick, typical for that period, and made from local creek sand.
The home is solid, but that isn't to say the Simmons didn't labor to preserve its integrity. It took 12 years of fine-tuned renovations, not to mention assistance from numerous craftsmen, masons, designers, and landscapers to keep the historic aspects intact while bringing the house into the 21st century.
It's where Angela, who is a partner with a Los Angeles investment firm, and Rob, owner of a start-up technology company, raise their children, Grace, Beau, and Benjamin. With 4,000 square feet on the main floors, plus an attic, finished basement, two-car garage and guest apartment, and a sublime back patio with a pool, it's got all the room a family could need.
"Rob said he didn't want another old house," recalls Angela. Before moving home to Western North Carolina in 1998, the two, both Hickory natives, had renovated a 1929 Spanish-style residence in L.A. "Once we saw this home we realized it was exactly what we wanted," she says, noting the layout, character, and age as selling points. "The house is a landmark and I like that it has history. I think now Rob appreciates the character and legacy of the home."
The Simmons bought the house on two and a half acres, and took the next seven months to paint, refinish the floors, and renovate the kitchen, which Angela says wasn't conducive for a large family. Walls were knocked down to integrate the kitchen and breakfast room, a bay window was added over the sink, and custom maple cabinets were installed. "One of the smartest decisions I think we made was doing the landscaping early on," she says. A gated fence and tall shrubs now provide privacy and safety for the children and dogs, as the home sits beside a busy four-lane road.
Later renovations included converting a 10- by 16-foot room in the basement into a temperature-controlled wine cellar, which Angela likes to joke is her favorite room in the house. The attic was finished to create a play space for the kids and hobby studio for Angela, who enjoys scrapbooking. And extensive work was done to transform the yard and back patio into a resplendent spot for entertaining. On one end of the pool is a bath house, on the other a hammock, pergola, and large stone fireplace. The outdoor kitchen, complete with a gas grill, stove-top burner, sink, mini fridge, and bar seating, makes summer pool parties a breeze.
With every design decision, the Simmons took great care to preserve the home's historic visage. For example, original blueprints were referenced to replicate the wooden balustrade that once capped the roof of the screened porch. Black paint was stripped from copper awnings before they were buffed to beautifully accent the greenstone. And inside, countless antique furnishings—from a colossal 1850s French oak armoire in the master bedroom to circa-1860 Victorian Rococo-revival armchairs in the living room—are narratives of an earlier era.
"We think it's important to preserve our home's character and integrity as a legacy to our family and this community," says Angela, who is currently working with an oral historian on a book about the house. And she knows all too well that preservation doesn't come without challenges.
Certain elements, such as the irregular-size screen doors, mouldings, and door handles, aren't made today. So finding craftsmen qualified to complete the custom work wasn't easy. And according to Angela, every project in an older house is harder than you imagine. "When a contractor comes, I've gotten used to telling them it'll take twice as long and cost me twice as much," she says.
There were only a few things about the house that the couple couldn't change. "We wanted to convert two fireplaces to gas," says Angela, "but I had three gas people tell me it wasn't possible because the stone is so thick." Updating some of the electrical wiring proved impossible as well.
Still, it's the home's peculiarities, such as the one-person-wide staircase in the rear of the house or the tiny bathrooms and closets, which lend character. "If I'd wanted big bathrooms or walk-in closets we wouldn't have chosen an old house," says Angela. For the Simmons, those trade-offs are slight compared with the rewards that come with owning an historic house. "I'd like this to be our family home for generations to come."