Rock Solid
Rock Solid:
Climbing Toward Confidence teaches girls to find their inner strength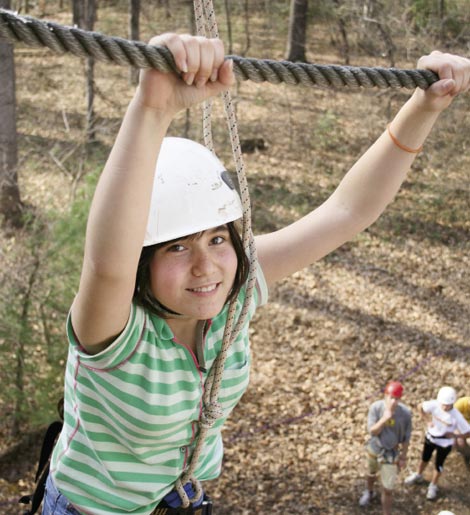 The first day of class was scary, recalls Shilpa Reddy. She had grown up in Morganton, but was starting her sophomore year at a high school in Durham. She was the new girl trying to find her way in a large school.
Today, as the director of Climbing Toward Confidence, she understands the challenges facing  the 12- to 14-year-old girls enrolled in her program. When you're an adolescent, you're the new girl every day. You want to fit in. You may let yourself be coerced. You may find yourself saying yes when, inside, you're screaming no.
Based in Asheville, Climbing Toward Confidence works to prevent sexual violence by helping girls build their self-reliance. The program accomplishes this by introducing the young women to a sport that is out of their comfort zone. But meeting weekly for almost three months at ClimbMax Climbing, an indoor climbing gym in Asheville, with a culminating excursion on a local rock face, the teens have a chance to find out who they are without pressure from the outside world.
The girls come to the program through referrals by school counselors who notice a sharp drop in confidence or signs that they or someone they know has experienced sexual violence.
In 2008, Anna Sharratt founded the program, which operates through Our Voice, a local crisis and prevention center. Now living in Austin, Texas, and the mother of a rambunctious 16-month-old son, Sharratt easily recalls the when, where, why, and how Climbing Toward Confidence came to be.
The inspiration for the program dates back to her childhood in St. Paul, Minnesota, when a group of female role models took her and other girls camping in the backcountry of the Big Horn and Wind River mountains. The girls learned "that we could choose who our friends were and not go along with those popular, snotty girls," Sharratt says. "I was given the gift of seeing a different way of being a woman than what a lot of girls see in teen magazines."
Climbing fosters the ability to speak for yourself because it's an activity you largely do on your own, Sharratt says. You may be roped in and working with a partner, but the move you need to make has to come from within. No one can help you do it, despite all the encouragement they offer. The lesson is that it's up for you to decide your path, a notion which builds the girls' independence.
Climbing fosters that self-assurance not by pushing the girls to daring heights, but by allowing them to reach beyond their limits. If they don't want to go any higher, they just say no, and they're either lowered to the ground or they climb down.
"We definitely honor the word no in this program," Reddy says. That's what Climbing Toward Confidence is all about—saying no and having it heard. The girls learn they can speak for themselves and other people will listen.
Now a seasoned climber, Reddy recalls her first experience in an indoor climbing gym as "incredibly interesting" and "weirdly terrifying." Still, she was hooked on the sport from that moment. The combination of balance, movement, and problem solving engaged her young mind in a way nothing else had. Climbing isn't about strength, many girls in the program are relieved to find out. It's about shifting weight from one leg to another and staying connected to the rock while searching for a way to move forward. There's adventure in that search and discovery at the end, and combined, they teach that you can take care of yourself, Reddy says.
She shares the story of her move to a new high school with the girls in Climbing Toward Confidence, and she describes the experience as "disorienting." Even the way people talked was different, she explains.
She also recounts how she found a foothold in her new world when she introduced herself to a couple of girls on her cross-country team. Every adolescent girl feels out of place, she explains. Finding a solid foundation from which you won't fall is just a matter of digging deep and discovering that foothold within.
photographs courtesy of Our VOICE