Robb Helmkamp
Robb Helmkamp:
Going with the grain: Wood and metal combine to form exquisite furnishings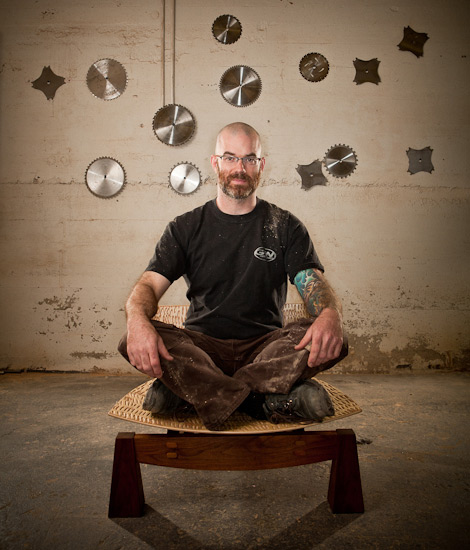 As the son of a Naval officer, Robb Helmkamp looked at the surrounding military landscape and found himself enthralled with the tanks, howitzers, troop transports, and aircraft carriers. "I sure as hell don't like what they are used for, but that in itself is interesting to me, that I separated the aesthetic," Helmkamp says. He recognizes that the austerity of the machinery's designs are somewhat reflected in his working style, along with everything from Japanimation and Star Wars, to woodworker George Nakashima. They all have a place in Helmkamp's imagination.
His style leans toward bold angles that emphasize functional elements, as well as the contrasts in the materials. For instance, a graceful arc of walnut on a jewelry armoire forms pulls that stand out against lighter maple drawers. "I like contradiction in my work," he says, "whether it's combining wood and metal, or different types of woods and color combinations."
Although they provide much of the character of his work, the woods and metals are mostly the same inexpensive materials he started tinkering with in his backyard 10 years ago: steel, cherry, maple, walnut, and sapele, an African wood similar to mahogany commonly used in furniture.
After pursuing his passion and earning a woodworking degree at Haywood Community College in Clyde, Helmkamp began working for local artists and, in 2006, opened Kamp Studio in Asheville. Now his work encompasses art, as well as functional furnishings. "If I could do art furniture for the rest of my life, I would. I build kitchen cabinets and tables to make ends meet, but it's all wonderful to me." In one of his most recent works, Helmkamp constructed a "tentacle stereo," an enclosure for a sound system that will emanate music he created. "I don't think I'd ever be satisfied just making fleur-de-lis and Victorian furniture—or any one type of furniture for the rest of my life," Helmkamp says. "I'm always pushing myself."