Right on Track
Right on Track:
Tweetsie Railroad celebrates 60 years as a kingpin of mountain family tourism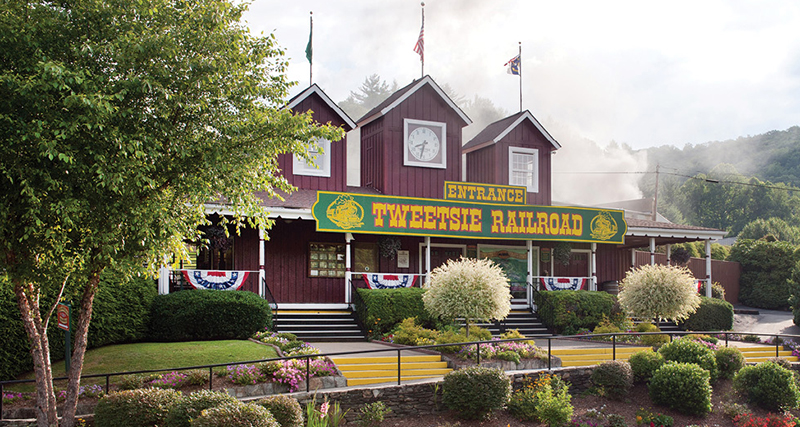 At North Carolina's first theme park, the fun starts with a three-mile loop of Roundhouse Mountain pulled by a smoking steam engine that's guaranteed to be attacked by Indians and robbed by bad guys. Then it's on to a chairlift trip up to Miner's Mountain for gold panning, gem mining, and carnival-style rides including boats, planes, kiddie cars, a miniature train, and a free-fall. There are plentiful places to shop and eat, and six live music, dance, and magic shows, with occasional concerts by famed acts like Grammy-winning cowboy quartet Riders In The Sky, who'll grace the stage August 12 and 13.
The park's long list of special anniversary events peaks in July and August with visits by favorite kid characters: the Teenage Mutant Ninja Turtles (July 7 to 9) and Nickelodeon's The Backyardigans (August 4 to 6). Tweetsie's Fourth of July fireworks display is the biggest in the High Country. "Cool Summer Nights" keeps the attraction open late on Saturdays in July, and from July 22 to 30, the K-9s In Flight Frisbee Dogs drop in.
RIDING THROUGH HISTORY: At Tweetsie Railroad, engine No. 12 is still riding the rails, 100 years after it first went into service.
A year after the park opened in 1957, Tweetsie adopted its Wild West theme, but the train ride through the rhododendron evokes a different past. In the romantic early era of railroading, Tweetsie was the longest narrow gauge railroad in the world and the highest passenger train in the eastern U.S.
Today, Engine No. 12 still chugs the tracks, exactly a century after it was built in 1917. The best time for rail fans to savor the rich history of this rolling National Historic Site is the park's Railroad Heritage Weekend, August 26 and 27. Besides the chance to see a rare "doubleheader" two-locomotive hookup, old No. 12 will pull a vintage train that includes an 1870s coach car. There will be special exhibits of historic artifacts, demonstrations, and tours of Tweetsie's steam train repair shop, one of the country's most renowned restoration facilities for steam engines.
Railroad Heritage Weekend started decades ago as "Old Timer's Day," when Tweetsie welcomed the aging railroad employees who ran the trains long ago. Today, the old-timers are gone, but Tweetsie honors them on down the track.
Railroad Heritage Weekend
August 26 & 27
$45/$30 ages three to 12/free two and under
(828) 264-9061, https://tweetsie.com/
RESOURCES:
Photographs courtesy of Tweetsie Railroad