Right Meow
Right Meow:
The new American Museum of the House Cat pays purr-fect tribute to felines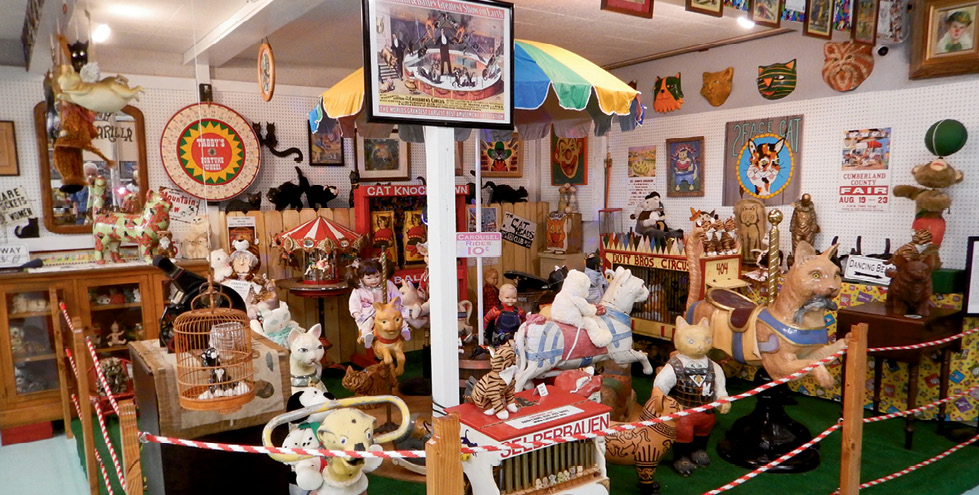 Harold Sims is crazy about cats. In a good way. Since 1996, the retired biology professor has run the Catman2 Cat Shelter in Jackson County, where his clutter of kitties presently numbers 66. They live in nice digs: a 4,000-square-foot house where they can freely roam. "Why would you put a cat in a cage?" Sims says. "A cat is not a criminal."
Harold Sims
Besides providing them a haven, Catman2 offers free and low-cost spaying and neutering, providing the procedures to more than 350 cats last year alone. All of that good work comes with a price tag, and to raise funds for the shelter, in April Sims opened the American Museum of the House Cat—one of only two of its kind in the U.S. The museum resides in the same building as the Old School Antique Mall, just south of Dillsboro, and showcases an estimated 5,000 items of cat art and memorabilia (about half of Sims' collection, he says).
Many days, Sims is at the museum and happy to guide visitors through his meow-nificent displays. Perhaps the most stunning is the "arcade," which features cats from antique carousels from all over the world. Surrounding it and stretching into several rooms are cat-themed clocks, tchotchkes, sculptures, toys, beer steins, dishes, pottery, jewelry, and glass, metal, folk, and visual art. Sims even has two original Andy Warhol cat pen and ink paintings, and one by singer/songwriter Billy Edd Wheeler titled "Reba McEncat." There are sections devoted to the history of cat litter and feline food, and one that pays tribute to cat medical care and pioneering American veterinarian and catnip proponent A.C. Daniels. There's a genuine mummified cat from the Middle Ages, and figurines from ancient Egypt.
"I collected all this stuff, and I didn't want to have it all hidden away in drawers someplace, I wanted to share it with the public," Sims says. With the right cat-itude, visitors can spend an entire afternoon sharing in his obsession—and helping Jackson's stray cats to boot.
American Museum of the House Cat
4704 US 441, Sylva
10 a.m.-5 p.m., Tuesday-Saturday; noon-5 p.m., Sunday
$5/$2 children under 12
(828) 586-8097
Facebook: The American Museum of the House Cat
RESOURCES:
Photographs by Jon Elliston