Ride the Rails
Ride the Rails :
Friends of the Ecusta Trail hope to add a new route to the region's selection of recreational pathways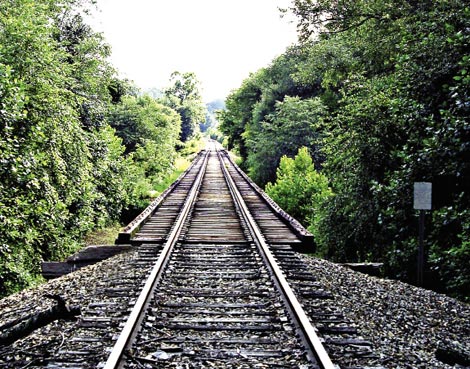 Train hopping may be a thing of the past, but the notion of riding the rails is full steam ahead. Minus the trains and tracks, multiuse rail trails are created along abandoned railroad corridors providing wide, flat paths ideal for biking and walking.
Western North Carolina lays claim to at least 10 rail trails, with another in the works. The proposed Ecusta Trail is an 18.5-mile path that will link Hendersonville with the former Ecusta paper mill in Brevard along an unused line owned by Norfolk Southern. "The trail can connect with other bike paths in Brevard, and on into Pisgah National Forest," says Chris Burns, a founding board member of Friends of the Ecusta Trail, the nonprofit group behind the effort. "Given the other trails in Henderson and Transylvania counties, it could conceivably allow for 40 miles or more of hiking and biking."
Yet a challenge lies ahead: the acquisition of the rail line. The group is petitioning state and local governments to partner to create the first state-owned rail trail. Fund-raising efforts will be needed, so there isn't a projected completion date. For now, planning and economic impact studies are under way, and Burns and the Friends are educating city officials and residents about the conservation and economic advantages the trail is expected to bring. In the meantime, here are three trails you can explore in anticipation:
Mount Mitchell Railroad & Toll Road This 21-mile path from Montreat to the summit provides ample time to reflect on the days when Mount Mitchell Railroad transported lumber and passengers along the route, which later served as a toll road until 1939 when the nearby Blue Ridge Parkway opened.
Little Tennessee River Greenway A park, picnic shelters, and an historic bridge offer reasons for pause on this 4.5-mile paved stretch through Franklin, along the former Tallulah Falls Railroad line.
Thermal Belt Rail Trail With old tracks and ties peeking through the crushed stone surface and signs from earlier eras, the eight miles from Spindale north to Gilkey expose the route's railroading past.
Resources www.ecustatrail.org www.ncrailtrails.org www.traillink.com www.railstotrails.org