Return to Thunder Road
Return to Thunder Road:
The quintessential mountain moonshine-running movie turns 60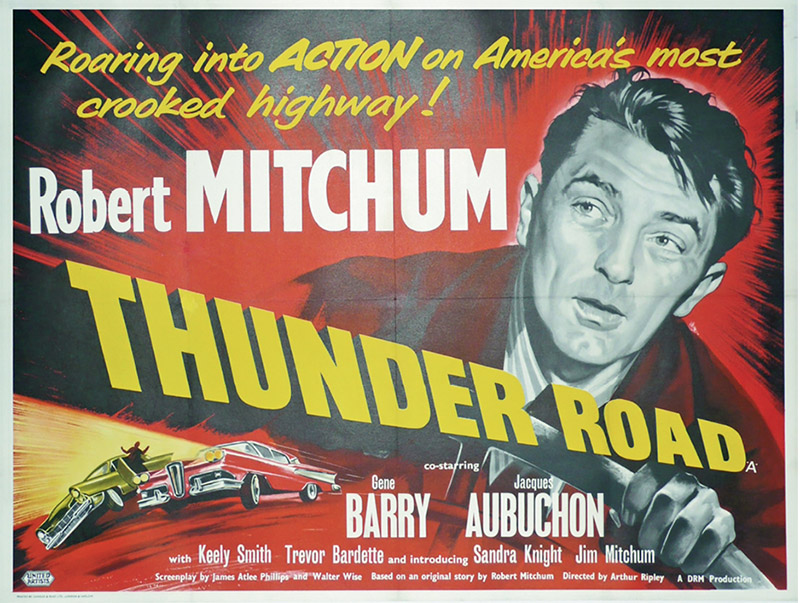 For a film that was never intended to be more than action-packed, drive-in movie fare, Thunder Road has had plenty of staying power. Released in May 1958, its story was set in the Tennessee mountains but it was filmed in and around Buncombe and Transylvania counties. Thunder Road remains one of the classic Asheville-area movies, offering a cinematic time capsule now 60 years old. Local film historian Frank Thompson reveals some of the most notable trivia related to the film:
In July 1957, Asheville was excited to learn that Hollywood heartthrob Robert Mitchum was coming to town to make a movie called Jack of Diamonds. Soon, the title was changed to The Whippoorwill and then to Thunder Road. That last change was inconvenient for the Battery Park Hotel, which had christened the suite where co-star Keely Smith stayed The Whippoorwill.
Mitchum cast his 16-year-old son, Jim (pictured above), to play the role of his brother in the film. He told reporters that he didn't want Jim to take acting lessons, "because I want him to be natural." Mitchum added: "One of Hollywood's biggest stars is a dog. It can't be too tough. If Lassie could do it, so can Jim."
Most of Thunder Road's car crashes were piloted by stuntman Cary Lofton. For the film's climactic scene, he drove 75 miles per hour through a barricade of two police vehicles on Brevard Road and flipped into a bank of transformers. As for that long, tumbling crash down Toxaway Falls? Lofton let the car do that one on its own.
Principal actors such as Gene Barry and Keely Smith were imported from Hollywood, but Mitchum wanted to cast as many "unknown locals" as possible. The most prominent of these was Frances Koon (pictured above), who played the Mitchums' mother. Between 150 and 300 locals appeared as extras.
Mitchum arrived in Asheville on the same plane as TV stars George "Superman" Reeves and Noel "Lois Lane" Neill, who were in town to do a personal appearance at City Auditorium.
On the day before its Asheville premiere, Thunder Road received a negative review by local critic Karl Fleming, but apparently few paid notice. Between opening day on May 9 and its closing on May 23, a record 23,000 people bought tickets to see it at the Imperial Theater downtown.
RESOURCES:
Images courtesy of the author/publicity photos