Red Butt Falls in Panthertown Valley
Red Butt Falls in Panthertown Valley :
Round-Trip:5 miles, Difficulty: Moderate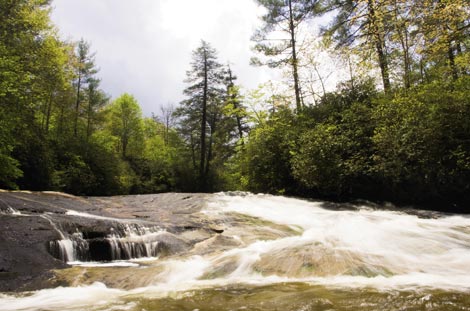 Spanning 6,300 acres in Jackson and Transylvania counties, the creeks, granite domes, and high bogs of Panthertown Valley offer a lifetime of footpaths, streams, and waterfalls to explore. One such refreshing trek during summer is just downstream of the Tuckaseegee River's headwaters, where the crooked stream threads through giant hunks of stone.
From Cold Mountain Gap trailhead, go right at the kiosk to follow Panthertown Valley Trail (#474). In a mile, turn right on Devil's Elbow Trail (#448) and continue another mile along on this route by veering right at the Riding Ford Trail junction. (Look for Riding Ford Falls just off the trail.) In less than a quarter mile, bear left at the fork in the trail on an unmarked footpath that descends to the stream. Stop below Elbow Falls, where the narrow river curves gently around a wedge of rock. Take a splash here or continue on the footpath, tromping over roots, logs, and through thickets of rhododendron to Red Butt Falls, an expansive stretch of water flowing over slick granite. A map, compass, and swimming gear are recommended.                       
Navigate: From U.S. 64 in Toxaway, turn right on N.C. 281 and travel 0.8 miles. Turn left on Cold Mountain Road and go nearly six miles to reach the short gravel road and parking area for Cold Mountain Gap trailhead.