Ready, Set, Go!
Ready, Set, Go!:
Five places to go in 2021 with direct flights from Asheville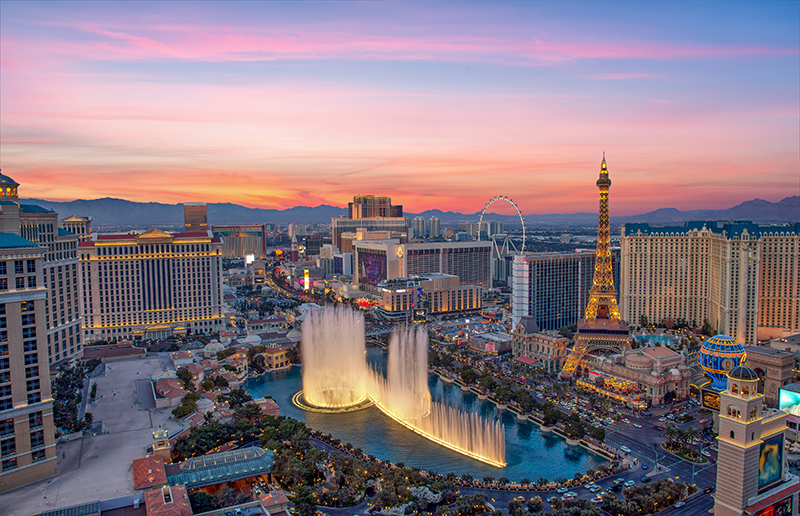 Las Vegas, Nevada
After a year of cancelled trips and homebound lockdowns, 2021 (at least the latter half, we hope) will open up opportunities for long-distance travel. So as we plan ahead to the day when we can once again go safely, here are five great escapes with nonstop flights from Asheville Regional Airport. Via four airlines, Western North Carolina's largest travel hub now offers direct flights to 19 cities across the United States, the latest of which is to Las Vegas, which begins March 4 and marks the airport's farthest nonstop route to date. Discover more at flyavl.com.  
Las Vegas, Nevada | Flight Time: 4.5 hours 
In addition to around-the-clock gambling and a neon-tinged nightlife that might make you wish you had nine lives and an extra liver, the City that Never Sleeps has some exciting new offerings. Nevada's first professional stadium, complete with a translucent roof and retractable doors that open to grand views of the Strip, debuted last fall to host pro football games, world-touring concerts, and major sporting events. The newly opened Circa Resort & Casino is the world's largest three-story sportsbook, offering all manner of sports betting. It's also the first-ever adults-only casino and has America's largest pool amphitheater—a truly one-of-a-kind feature. And if wide-open spaces is in order, Las Vegas is a gateway to many national and state parks.
Baltimore, Maryland | Flight Time: 1.5 hours
This historic seaport offers plenty to do, including a lovely inner harbor packed with shops, upscale crab shacks, a Civil War-era warship, and the National Aquarium—a great place to discover the ecology of the Chesapeake Bay. But if for no other reason, go for the seafood. Baltimore is a great jumping off point for exploring the Maryland Crab & Oyster Trail, a self-drive road trip to restaurants and seafood markets across the state, where cracking, shucking, and savoring the sea salty goodness provide a veritable taste of the Free State.  
Austin, Texas | Flight Time: 4 hours
Music fans will rejoice in Austin's eclectic live music scene. Festivals like SXSW (happening virtually in March this year) and Austin City Limits (in October) showcase legendary acts alongside rising stars, while some 250 venues provide a stage for musical artists of every genre. A smorgasbord of bars, breweries, and distilleries, sizzling Tex-Mex eateries and barbecue joints, museums and galleries, as well as outdoor pursuits and practically year-round sunshine won't disappoint either. 
Washington, DC | Flight Time: 1.5 hours
DC is spectacular during springtime, when thousands of cherry blossoms burst forth throughout the nation's capitol. But the city's monuments and museums (many of them free) can be enjoyed any time of year. It's perfect for a family vacation and a chance for all ages to explore history, art, technology, space, and more.
Orlando (Sanford), Florida | Flight Time: 1.5 hours
While there are direct flights to multiple points in Florida, Orlando is a trip for 2021, especially if you have kids. In October, Walt Disney World marks its 50th anniversary, and as you might expect, the mega theme park plans to unveil new rides, hotels, and restaurants, notably in Epcot Center (though some may not open until COVID-19 restrictions lift). If Disney's four theme parks and two water parks aren't enough, Universal Studios is nearby, as are beaches like New Smyrna and Canaveral National Seashore. And while often overlooked, the quaint lakefront town of Sandford is charming, with 19th-century buildings, antique shops, craft breweries, restaurants, and outdoor recreation along the St. Johns River