Raising the Bar
Raising the Bar:
Take in lavish libations and killer views at Beech Mountain's 5,506ˇ skybar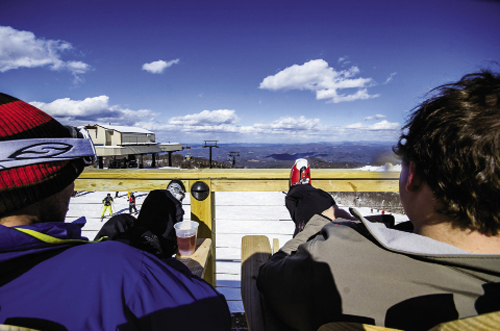 Avery County lays claim to the highest incorporated town in the eastern United States. So it's no wonder that when Beech Mountain Ski Resort opened a bar on the very top of the mountain last winter, it became the highest place east of the Mississippi where you can belly up and buy a drink. And snow enthusiasts, as well as summertime mountain bikers and fall leaf peepers, have been taking advantage.
 
 Located in a glass roundhouse, 5,506' is named in honor of the grand elevation, and the panoramic vista from both inside the glass bar and outside on the expansive observation deck is equally awe-inspiring. 
 
"The view is just beautiful," says Talia Freeman, Beech's marketing director. On a clear day, you can see mountains in South Carolina, Tennessee, Kentucky, and the Virginias.
 
To get there, it's a scenic chairlift ride to the top. Sandwiches and snacks are served, as well as locally roasted coffees from Bald Guy Brew. Beech Mountain Brewing Company's signature 5,506' Pale Ale is a favorite on draft and The 5,506' hot chocolate concoction, infused with a kick of hazelnut liqueur, is also popular. For those craving something more daring, the Chocolate Covered Cherry—a hot chocolate with cherry brandy and Godiva liqueur—is the perfect potion to help keep you warm and relaxed. Take care not to get too cozy, though: You still have to navigate an 830-foot vertical drop along slippery slopes to reach the bottom.    
 
Bottoms Up
5,506' ski bar
Beech Mountain Resort 1007 Beech Mountain Pkwy., Beech Mountain 
(828) 387-2011 www.beechmountainresort.com