Race to the Bottom
Race to the Bottom:
Sapphire Valley's Great Outhouse dash returns for frozen fun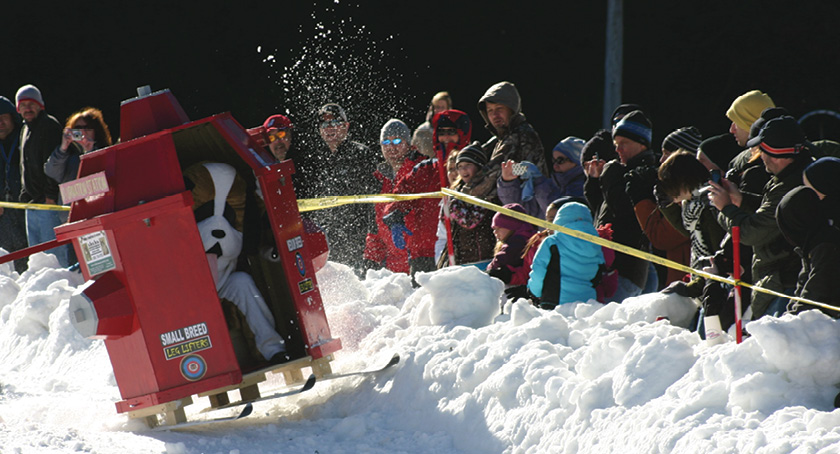 Think that bathroom humor is only for wisecracking kids? You need to shush, and head down the slippery slope of the 11th annual Sapphire Valley Ski Area Great Outhouse Race on February 18. You read that right: At the end of every ski season, Sapphire Valley stages a race that pits colorfully decorated outdoor lavatories on skis against each other. Proceeds go to Fishes & Loaves Food Pantry of Cashiers.
"It's an all-day party, with food and drink, followed by the race in the afternoon," explains Jim King, the ski area's marketing director. And the imaginatively designed outhouses put the old crescent moon cutout to shame. One of the best-loved parts of the event involves the crowd joining a "bathroom line" that's actually a pre-race review of the assembled entries. The outhouses are required to be fully functional (as bobsleds), so the race starts with a big push down a gentle but unforgiving incline. To the delight of a raucous crowd sometimes numbering in the thousands, the race often ends in a wipeout.
---
Great Outhouse Race: February 18, 2017, 11 a.m.-4p.m.
127 Cherokee Trail, Sapphire
Free to the public; $100 race fee
(828) 743-7663; www.skisapphirevalley.com
RESOURCES:
Photograph courtesy of Sapphire Valley Ski Area