In Pursuit of the Past
In Pursuit of the Past:
Uncover treasures, raise your auction paddle, and find home design inspiration with our guide to an eclectic collection of antiques purveyors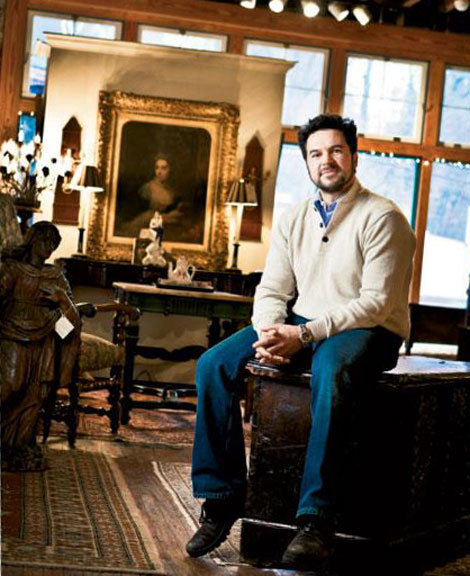 Village Antiques
755 Biltmore Ave., Asheville
www.villageantiquesonline.com
After touring the venerable Village Antiques with co-owner David L'eglise, learning about items as locally significant as Pisgah Forest Pottery and as lovely as an 18th-century French Provençal folk buffet, one might venture to guess the style of décor in his home. "Mid-century modern," he says with a laugh. Shocking at first, but it's reflective of his appreciation for a multitude of styles.
In fact, L'eglise likes pairing the sleek lines of modern furnishings with another favorite, the heftier Spanish and Italian baroque pieces. "They contrast each other well," he says.
He's been hooked on antique hunting since he landed a job making pickups in Europe for a dealer in New Orleans, while he attended Tulane University.
Today, he and business partners Zenda Addis and Terry Powell explore the obscure corners of Europe, as well as estate sales stateside, to offer pieces from more than 40 countries. And after 18 years, the thrill of the hunt hasn't gotten old. "I'm in a business I love," L'eglise says. —Rita Larkin
Nancy Roth Antiques
838 N. Trade St., Tryon
Country grunge and city glitz sit side-by-side in this small shop outside downtown Tryon. Despite the dramatic differences in the inventory of retail roommates Nancy Roth and Joe Ewing, the common denominator here is quality.
On Ewing's side of the shop, glass cases are filled with piles of forks, knives, spoons, and servingware representing more than 150 silver patterns. His specialties include a silver matching service, which helps anyone trying to piece together partial collections from as far back as the 1880s.
Roth's domain holds her primitive country furniture collection—most of which is beautifully displayed in its raw, "found" condition. Smaller country collectibles, from crocks and spice boxes to dry sinks and toys, complete the scene. —Heidi Coryell Williams
Jane Asher Antiques & Fine Traditions
344 N. Main St., Hendersonville
Jane Asher's boutique glitters with one of the owner's passions—estate jewelry. Vintage costume pieces, heavy with rainbows of crystals, share a cabinet with fine diamonds. Asher also specializes in vintage linen. German cutwork and classic Army-Navy embroidery are in abundance. A late 1800s French Cluny bobbin-lace tablecloth is delicious to the touch. She also carries a large collection of porcelain and rare sterling serving pieces. The balance of the 5,000-square-foot shop is devoted to 25 vendors chosen for quality and variety. Each nook has a personality; some folksy, some formal. After buying treasures, relax in a comfy chair and open a richly bound book in the rear library. —Lockie Hunter
Stuf Antiques
52 Broadway St., Asheville
Chandeliers draping the ceiling of Stuf Antiques create a world of light and crystal. This "general antiques" store sells 18th- through 20th-century American items and specializes in antique lighting, as well as repair. Owners Craig Culbertson and Otto Hauser, in business since 1983, define general antiques as "anything from toasters to Tiffany's." While you're less likely to spot a toaster, china and crystal line the walls, and hooded French chairs and love seats fill the room. The second floor holds the Antique Market Gallery, where dealers rent booths to showcase their wares, providing complementary finds to the wealth of treasures downstairs. —Cinthia Milner
Needful Things Antique Mall
10 Francis Rd., Hendersonville
www.needfulthingsantiquemall.com
An eight-foot-tall Michael Jordan carved from mahogany stands beside a similarly towering Mark McGuire, flanking the entrance of the 55,000-square-foot mall, which hosts 200 dealers. In another area, a nude looks coyly over her shoulder at a smiling Buddha. Needful Things boasts a large selection statues, old and new, and one-of-a-kind dry bars, many from the 19th century. There is also an oil lamp repair service. If you need a breather from the hunt, take a break in the café or lounge. Treasures from $2 kitchen utensils to $5,000 hand-carved bookshelves prompt owner Mike Wynne to claim, "If you can't find it here, perhaps it doesn't exist." —Lockie Hunter
Dovetail Antiques
252 N.C. 107 S., Cashiers
www.dovetail-antiques.com
Sally Johannessen is on a crusade to bring authentic, French antiques into homes and eliminate our urge to seek out trendy reproductions.
Johannessen has been to France more than two dozen times on shopping expeditions. While there, it isn't uncommon for her to wake at 4 a.m. to visit tried-and-true haunts for the rarest items. Sometimes she goes door-to-door, digging through garages and bartering with housewives. The result is a shop full of stories, history, and beautiful finds, from antique birdcages to ornately carved armoires and even a rustic bookcase with a crudely painted picture of Napoleon Bonaparte, which she dates to about 1810. —Heidi Coryell Williams
Hidden Valley Antiques Inc.
3990 N.C. 105 S., Boone
Among the booths stocked by 45 dealers, you can find fun accessories that would easily cost twice as much if new. Colorful glass bottles, including one used for poison marked "Not for Taking," vintage cameras, and a pair of lamps made from the pistons and carbon-fiber brake rotors of a 1968 Dodge Dart (perfect for a man cave) are ready to be taken home. —RL
The Gilded Age Antiques
10890 N.C. 105 S., Banner Elk
www.gildedageantiques.com
As antiques excursions go, it doesn't get much better than sharing a cup of tea with William McLaren, owner of The Gilded Age Antiques, and learning about the history of majolica. The shop, tucked into a hillside in Banner Elk, holds one of the country's top collections of this vivid ceramic style, particularly Victorian pieces by George Jones and Herbert Minton. Oyster plates, strawberry and cream servers, and tureens are all presented in bright hues, with whimsical representations of monkeys, rabbits, birds, and other creatures highlighted in natural scenes.
The style caused quite a stir when it made its debut at the Crystal Palace Exhibition of 1851 in London. After enduring the drab Georgian period, when fashions were dominated by silver, navy, and brown, "It must have been like the sun breaking through the clouds," says McLaren.
If you can tear yourself away from the spectacular pieces, you'll find more to admire, including husky, heavily carved Welsh furnishings, tapestries, paintings, desks, bureaus, the shop's line of reproduction tables hand-crafted in England, and other items from Europe. While you're there, take a moment to appreciate the charming painting of a pug by Tony Robert-Fleury, a Parisian-born artist. —RL
ScreenDoor
115 Fairview Rd., Asheville
www.screendoorasheville.com
If we're going by the book, ScreenDoor isn't strictly an antiques store. Instead, it's a study in the design magic that comes about by mixing the very old, charmingly vintage, and admittedly new. The fun starts outside the front door with a collection of yard furniture and garden goodies. Inside, the booths are inviting vignettes styled by interior designers, antique shop owners seeking additional exposure, and those who just have a great eye for intriguing items. At one end of the emporium, you can find Jonathan Alder picture frames, at the other, a Qing Dynasty carved-wood panel, while a hallway nabs passers-by with bins of classic vinyl. Owner Joanne Klappauf, who opened the spot 13 years ago, puts it best: "People find a lot of what they want here, but they also have fun. Even if I didn't own it, I'd hang out here." —RL
Revive: Vintage Reborn
178A Westwood Place, Asheville
www.revive.bondandbowery.com
When a newly procured position in Asheville fizzled with the economy, Chris Sabo took the opportunity to reinvent his career and launched Revive: Vintage Reborn. He started by scouring the East Coast and Midwest for mid-century modern and Danish furnishings and accessories, from console tables to teapots. In December, he opened a showroom of 20th-century modern design in West Asheville, including signature pieces by iconic designers such as Herman Miller and Hans Wegner. If you can't make it to the shop, Sabo is happy to ship lounge chairs by Edward Wormley, a teak dining room set, or any other retro find. —RL
Antique Tobacco Barn
75 Swannanoa River Rd., Asheville
www.atbarn.com
When planning a trip to the Antique Tobacco Barn, the granddaddy of the antiques row along Swannanoa River Road, it's important to block off hours on the schedule. Even the dudes from American Pickers would be impressed by the selection of mirrors, farm tables, paintings, garden art, toys, quilts, chests, corner hutches, lamps, bicycles, glassware...you get the picture. The house is usually packed with browsers, so don't let a fetching items sit too long, or it'll be gone in a flash. —RL
Architectural Warehouse
151 S. Mercerizing Rd., Tryon
www.architecturalwarehouse.com
If you envision building your dream home, chances are your mind immediately jumps to style—arts and crafts, modern, rustic, traditional. Now for logistics—the number of square feet, bedrooms, and bathrooms. Finally, after the walls go up, you pick out floors, light fixtures, and doors. Jim Strausbaugh, owner of the Architectural Warehouse, suggests another approach: Start with the details.
The time to peruse his store's rows of ornate doors hailing from far-flung countries, mantles salvaged from Victorian to arts-and-crafts homes, and vivid stained glass windows is years before the construction begins. This strategy allows the architect to craft the structure around the unique elements. "It's amazing the amount of character these things bring to a home," Strausbaugh says.
If you're thinking of building a home, heed Strausbaugh's advice:
Make it Your Own: Many clients fall in love with a front door or mantle and feel compelled to get their architect's permission before they buy. Strausbaugh points out, "Don't lose sight of the fact that this is your house. The architect works for you."
Invest in Character: "The front door is No. 1. It needs to be different. The eye should be drawn to it."
Strike Quickly: Unique pieces can go fast, so "buy what you like when you see it, because you'll never find it again."
Plan ahead: Ideally, you should start collecting pieces at least two years before you start construction. "If you wait until the last minute, you'll never find it."
Know when to walk away: "Not everyone is cut out to do this. There's got to be 10,000 decisions to make when you build a house. For some it is a great joy, for others it is great agony." —RL
Brevard Antique Mall & Underground Salvage Company
60 E. Main St., Brevard
www.brevardantiquemall.com
Tim Hall was salvaging and recycling furnishings years before he opened the Brevard Antique Mall & Underground Salvage Company in downtown with his wife, Nancy. She still remembers the day, in their first year of marriage, when she came home to find him cutting into her antique wooden trunk, which he converted into a a treasure chest frame to hold her fish tank. Today, the case and tank sit atop an old sewing pedestal in the store, and serves as an inspiration for creative reuse.
"It's like a big recycling place," says Nancy of the adjoining architectural salvage and antiques businesses. The antique mall offers three levels and hundreds of booths containing a potpourri of items, from classic Coca-Cola paraphernalia and kitchenware to furniture to vintage magazines, books, and records. The salvage company is where you'll find grand doors, windows, railings, light fixtures and any other architectural elements Tim comes across while working to restore old buildings. —Melissa C. Smith
Brunk Auctions
117 Tunnel Rd., Asheville
www.brunkauctions.com
Brunk Auctions catalogs feature page after glossy page of items ranging from cultural treasures to curious objects. At its latest auction, the house set records with the sale of a painting attributed to Chinese artist Chow Kwa, which sold for more than $400,000, and a glass crown sculpture by Harvey Littleton, that garnered more than $40,000.
Under the direction of owner Andrew Brunk, formerly the head of the American Decorative Arts department at Christie's, New York, the business has earned an
international reputation, but kept its all-are-welcome atmosphere. "The most fun is to look at the registration line and see 10 people holding their passports and still be in a place we love, which is Asheville," says Brunk.
New to Auctions?
Andrew Brunk offers tips for those who've never raised an auction paddle.
On Auctions: Don't be intimidated by the auction setting. "It's not like a tobacco auction where you don't understand what's being said. Anyone can come; it's a very social experience."
Know the Source: "Whether you're buying from a dealer or at auction, work with someone you trust. Look at the items carefully and be clear about what you're buying and the condition it's in."
The Investment: "Not everything increases in value over time. It's like any other investment, you can't always predict where the market is going, so buy what you like. If you buy things that bring you joy, the payoff is every day."
Quality over Quantity: "Buy the very best you can afford in any category. For instance, don't buy 10 mediocre early American paintings, buy the best one you can afford."
Recognize Opportunity: "There is a saying in the antiques world: If you want to learn about antiques, go spend some money. You will never forget your mistakes, and you'll never forget the missed opportunities. Every collector has stories of kicking themselves over things they didn't buy."
Upcoming auctions: March 12; May 28 & 29; July 16 & 17 —RL
Reminisce Antiques Mall & Auction
47 Macon Center Dr., Franklin
www.reminisceantiques.com
Reminisce Antiques & Auction has earned a reputation among appraisers and hunters as a high-quality auction house and high-end furniture dealer. First-time bidders are welcome: "We talk fast, but we talk plain," says Ron Raccioppi, who owns the shop with his wife, JoAnn. Complex bids always start with an explanation; for example, "times the money" means you're bidding on one chair, but at the end of the auction, that price will be multiplied times the number of chairs in the set. And, Ron says, if you raise your hand out of turn, they won't hold it against you or your pocketbook.
Furniture continues to be Raccioppis' niche, a carryover from when they started their English antiques business. One beautiful example is a French sacrament cabinet made from long-grain oak. It opens by placing a finger on the chin of an exquisitely carved cherub. Magnificent New England pieces, including benches and square-nail cabinets are on display as well. In the gallery, an array of highly collectible pieces can be found, including Cherokee baskets, and Cash family and Blue Ridge pottery. Those smaller, more affordable items ("smalls" in antique speak) are hot right now, due largely to a struggling economy. But that means it's a great time to get a good buy on a beautiful piece of antique furniture. —Heidi Coryell Williams
Provenance WNC
As industrialization marched forward in the late 19th and early 20th centuries, the people of Western North Carolina pushed back with a revived interest in hand-crafted goods. Here are two of the pieces created in WNC that collectors seek out today.
Brasstown Carvers
The Pieces: Animals, angels, carved Christmas crèches
The History: The Brasstown Carvers can trace their beginnings to 1929 when a local craft guild was organized in cooperation with the John C. Campbell Folk School. By the mid 1930s, craft production at the school focused on carving and, by the 1950s, the group became known as the Brasstown Carvers. Today's Brasstown Carvers, some of them second- and third-generation from the same families as the original artists, continue to produce work for the school's sales shop.
Claim to Fame: The high quality of their craftsmanship goes back to the group's beginnings: When Queen Elizabeth (then princess) visited America, she purchased two of Brasstown Carver Avery Beaver's colts in a Pennsylvania shop, and she later she wrote the shop owner to express how much she liked the carvings.
Brown's Pottery, Arden
The pieces: Traditional Southern folk pottery including face jugs, earthenware, tableware, and devil jugs
The history: Brown's Pottery originated in England and came to America in the early 1700s. The current North Carolina location, south of Asheville in Arden, opened in 1924, and is now owned and operated by eighth generation potter, Charles Brown, his wife Jeannette, and their sons, Charlie and Christian.
Why it's collectible: Considered "art pottery" these handmade pieces can't be found in huge numbers.
Cherokee Baskets
The Pieces: Single- and double-weave baskets made from rivercane (the most rare and oldest form), maple, white oak, and honeysuckle
The History: Basketry is among the most widely recognized trades of the Cherokee, dating back centuries. Used to catch fish, store grains, and for other utilitarian purposes, baskets have been an integral part of Cherokee life since prehistoric times. Cane was traditionally boiled with black walnut or native bloodroot to produce dark colors, yet just as often it was left in the natural yellow hue.
Why They're Collectible: Although many traditional weaves have been passed down through generations, antique baskets are highly valued, largely because they were designed for use, thus fewer have survived. Among the most desirable examples are those by Eva Wolfe, Nancy George Bradley, Rowena Bradley, Lottie Stamper, Edmund Youngbird, and Minda Wolfe.Often, these artists did not sign their work, but skilled professionals, including those at Qualla Arts & Crafts Mutual, can usually tell by looking at a basket's weave who it can be attributed to.
Pisgah Forest Pottery
The Pieces: Vases, bowls, candlesticks, jugs, pitchers, lamps
The History: Walter Benjamin Stephen (1876-1961) and his mother founded Nonconnah Pottery in Shelby County, Tennessee. Later, he moved to Arden, where he opened Pisgah Forest Pottery in 1926. Stephen's work is noted for its unusual shapes, turquoise and crystaline glazes, and freehand cameos. He made a new marking plate each year from 1927 to 1954, so the gradual development of Pisgah Forest Pottery can be charted over time. Today the pottery is operated by his grandson, Tom Case.
Tryon Toy Makers, Tryon
The Pieces: Noah's ark, circus-themed figures, animals, dolls
The History: In 1901, Eleanor Vance and Charlotte Yale moved to Asheville, where they taught wood-carving skills to boys living close to George Vanderbilt's Biltmore Estate. When Vanderbilt's wife, Edith, learned of the women's efforts, she worked with them to create Biltmore Estate Industries in 1905. The women spent a decade teaching the people of WNC traditional crafts, including woodwork and weaving. Vance and Yale then moved to Tryon in 1915 where they started Tryon Toy Makers and Wood Carvers, teaching youth to build furniture and toys. These hand-carved, hand-painted pieces became popular and desirable items. The school was sold in 1936.
Why it's collectible: Whimsical, well-made, and hand-crafted, the pieces are difficult for antique stores to hang on to because they have such an avid following
For more information about the people, pieces, and history associated with Western North Carolina's traditional Craft Revival, visit craftrevival.wcu.edu
—Heidi Coryell Williams
RESOURCES:
Written by: Lockie Hunter, Rita Larkin, Cinthia Milner, Melissa Cain Smith & Heidi Coryell Williams