Pump Up the Volume
Pump Up the Volume:
New releases from the local music scene that will have you singing along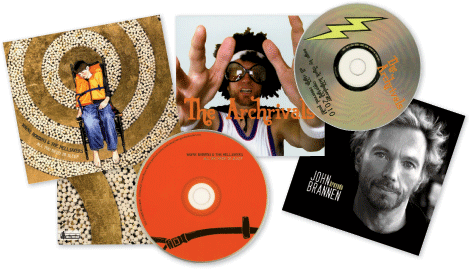 (from left to right)
Dream Weaver
Dell'Orso Records, 2010
Sonic Youth and Neil Young's Crazy Horse aren't customary muses for late-night lullabies, but Asheville rocker wayne robbins has found the soothing side of fuzzy guitars. All You Need to Sleep, the second CD from Robbins and his band the Hellsayers, explores the overnight hours with an alluring mix of lush vocals, cascading guitars, and the occasional chirping cricket. Three years in the making, the CD was recorded in Madison County and mixed by early REM producer Mitch Easter. Robbins, a college English instructor, taps his literary talents for songs that take listeners from "The Rose of Greenland" across "The Lonesome Sea" to "The Island of Malta." Pour a nightcap, and enjoy the journey.
---
Alter Ego
Sid Music, 2010
When you need a cool breeze this summer, drop in the self-titled debut CD from the archrivals. The pop-soul outfit is a new side project from Chuck Lichtenberger, keyboardist for indie all-stars Stephaniesĭd. He wrote the tunes, which feature plenty of keyboard hooks, spunky guitar riffs, and quirky lyrics. It's a busy time for Lichtenberger, who's also working on a release from his jazz collective, as well as a classical project with vibraphone player and ĭd-mate Matthew Richmond. In the meantime, savor the good-natured groove of his wig- and costume-wearing alter ego in The Archrivals. As the crew repeats on one funky cut: "Hit me loud, hold it now, don't stop." Agreed.
---
Southern Comfort
Sly Dog Records, 2010
Honesty and realism are hallmarks of the best Americana music, and john brannen brings plenty of both to Bravado, the sixth album from the singer-songwriter-guitarist. Brannen's clear-eyed and literate observations on heartache and hope, delivered with a raspy croon somewhere between John Hiatt and Bob Dylan, cut deep. Raised in the Lowcountry and living in Asheville until recently, Brannen's first album hit the Top 20, powered by the single "Desolation Angel," which led to a record deal in the '90s with Mercury Nashville. His songwriting skill has inspired artists, including the Eagles, to record his work. Set for release this month, Bravado stands alongside his best, with the tunes lingering well after the first listen.