Preserving Wisdom
Preserving Wisdom:
WNC film examines reciprocity between Native Americans and nature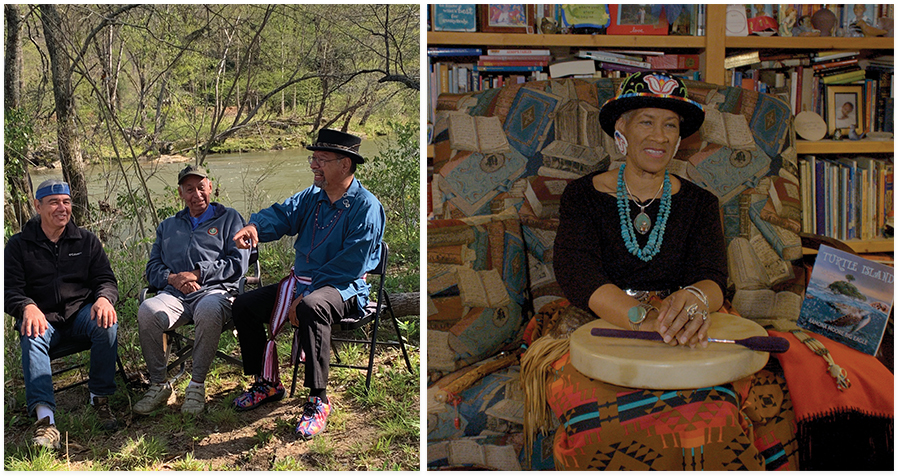 (Left to right) A storytelling circle; Author Ramona Moore Big Eagle.
This summer marks the release of Nature's Wisdom Thru Native Eyes, a documentary that explores the intrinsic connection between indigenous people and nature. Written and produced by David Weintraub and his team at the Center for Cultural Preservation in Hendersonville, the film shows interspersed native storytelling from the elders of the Eastern Band of Cherokee Indians and members of the Tuscarora tribe near Charlotte, with supporting information from botanical and wildlife scientists.
"Native people say animals and plants were here first, so they're our teachers," Weintraub explains. If we live in harmony with nature, we thrive along with them." The oral histories in the film from the Cherokee and others speak of the many lessons the living world can teach, he says. "They provide great examples of how to live and function in tandem with nature."
As an example, he cites indigenous peoples' centuries-old management of forests by utilizing low-intensity fires to clear thick foliage, allowing more sunlight to filter through and nourish young plants. "They understand the wisdom of living with and managing nature," Weintraub notes. "Our film looks at these connections. Native Americans lived outside and explored things around them. They had to be scientists; their livelihoods depended on it."
David Weintraub, director
Weintraub interviewed botanists from Clemson, and agents with the Henderson County Cooperative Extension—each supporting the wisdom of the indigenous leaders in the film. "I get excited about these issues!" he says. "I hope to make it as exciting for the audience… Hopefully that will be the case." Screenings will be held in local venues this summer, and all events will feature music, and a discussion with the filmmaker and film participants afterwards. saveculture.org.
Lights, Camera, Action! - Find nearby screenings of the film this summer
June 24 (rain date June 30), 8 p.m.; North River Farms, Mills River (a drive-in theater viewing)
June 29, 7:30 p.m.; The Orange Peel, Asheville
July 1, 8 p.m.; Trinity Presbyterian Church, Hendersonville