Precious Metals
Precious Metals:
Jeweler Matt Willig handcrafts exquisite wearable sculptures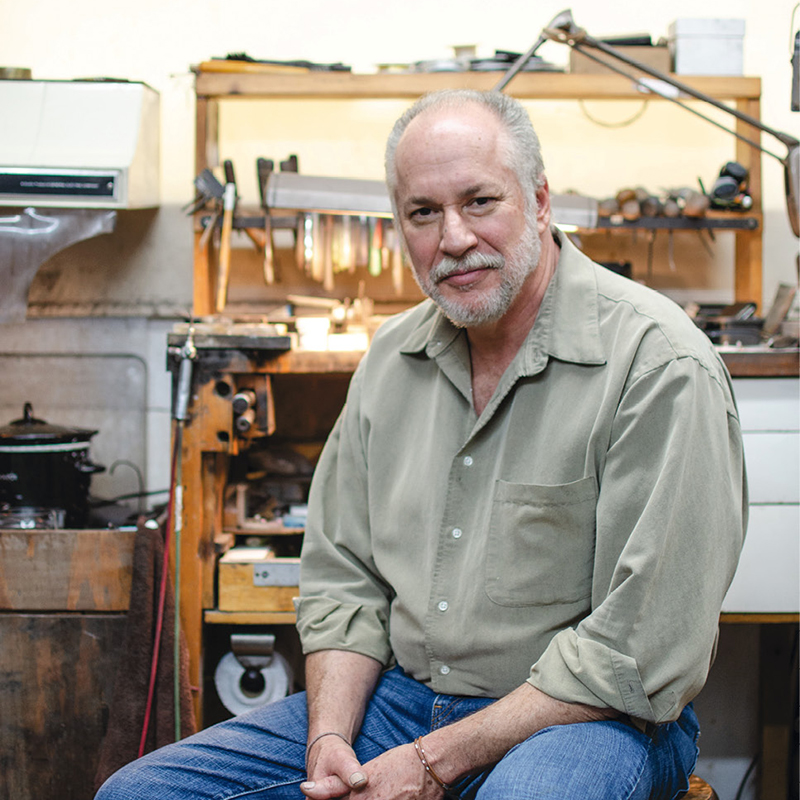 "I love that I'm still learning. That's what makes it fun." —Matt Willig
In his small studio near Celo in Yancey County, metalsmith and jeweler Matt Willig confesses he never tires of his craft, even after more than four decades. "A lot of it is second nature at this point," says the energetic artist as he holds up gold rings and cut stones destined for shops in nearby Burnsville and Spruce Pine, but "I'm still fascinated by this, and I'm lucky to be so jazzed about work after all these years."
While designing and repairing jewelry for local shops is part of Willig's everyday, his striking custom pieces and more affordable production lines are where his creativity can really play. The delicate detail work he refines at his bench serves him here, giving him the foundation necessary to experiment, creating expressive earrings that look as if their parts are floating in midair and abstractly designed necklaces crafted with gemstones and sometimes coral and bone.
The brooch (left) includes diamonds, moonstone, citrine, and quartz in gold and silver; the pendant (right) utilizes opal.
"I really like movement," Willig says. "Many of my pieces are sculptures to wear, with swinging and moving parts." The delicacy of these "sculptures" belies practical sturdiness. Using silver and multiple types of gold, Willig embosses the precious metals, running them through a rolling mill multiple times before fastening them to stainless steel wire. The process allows his pieces to flutter and twist without losing their stability.
Willig, a self-described collector of natural objects, is just as stable and grounded in his creative space. His work table is piled with stones and other found treasures from destinations like Mexico and Wales. They might be used in future pieces, but even on their own they carry their origin stories, much like Willig himself, who moved to the area 25 years ago with his family from Miami. "We didn't want to raise our children there," he says. "We were working hard, but it's not an easy place if you don't have a lot of resources."
(Left) Diamond and fresh-water pearl earrings set in 14K yellow and rose gold; (Right) 18K yellow and 18K rose gold earrings with diamonds
Miami was where Willig learned his craft. After his first experience with metalsmithing in high school, he was hooked. He took more classes at Miami-Dade Community College, then stepped into jewelry-making full-time in the mid '70s. In the early '90s, Willig and his family came to Wildacres Retreat, off the Blue Ridge Parkway, so he could take a class with metalsmith Heikki Seppä. The family fell in love with the generous community of artists and the landscape they now call home.
Willig works with fine metals and precious gemstones.
Willig's one-of-a-kind pieces are sold through Penland Gallery, Southern Highland Craft Guild, Maya Gallery in Weaverville, and the Jeweler's Workbench in Waynesville, among other locations. He's particularly proud of these custom pieces, in which he lets stones and materials speak for themselves, following their shapes and lines with an intuitive eye and a careful hand to create flourishes that accentuate but never overwhelm. He plans to have even more work in galleries in the near future. He's also trying his hand at some other crafts, like furniture-making and home goods. "I love that I'm still learning," he says. "That's what makes it fun."
Explore Willig's work at mattdesignsjewelry.com.
RESOURCES:
Photographs (18K yellow and 18K rose gold earrings with diamonds) by Mary Vogel; (brooch and diamond and fresh-water pearl earrings) by Tom Mills; (pendant) courtesy of the artist; (2, Willig) by Emily-Ann Trautman