Power Up
Power Up:
Get a healthy boost with a salad full of veggies, sprouts, and seeds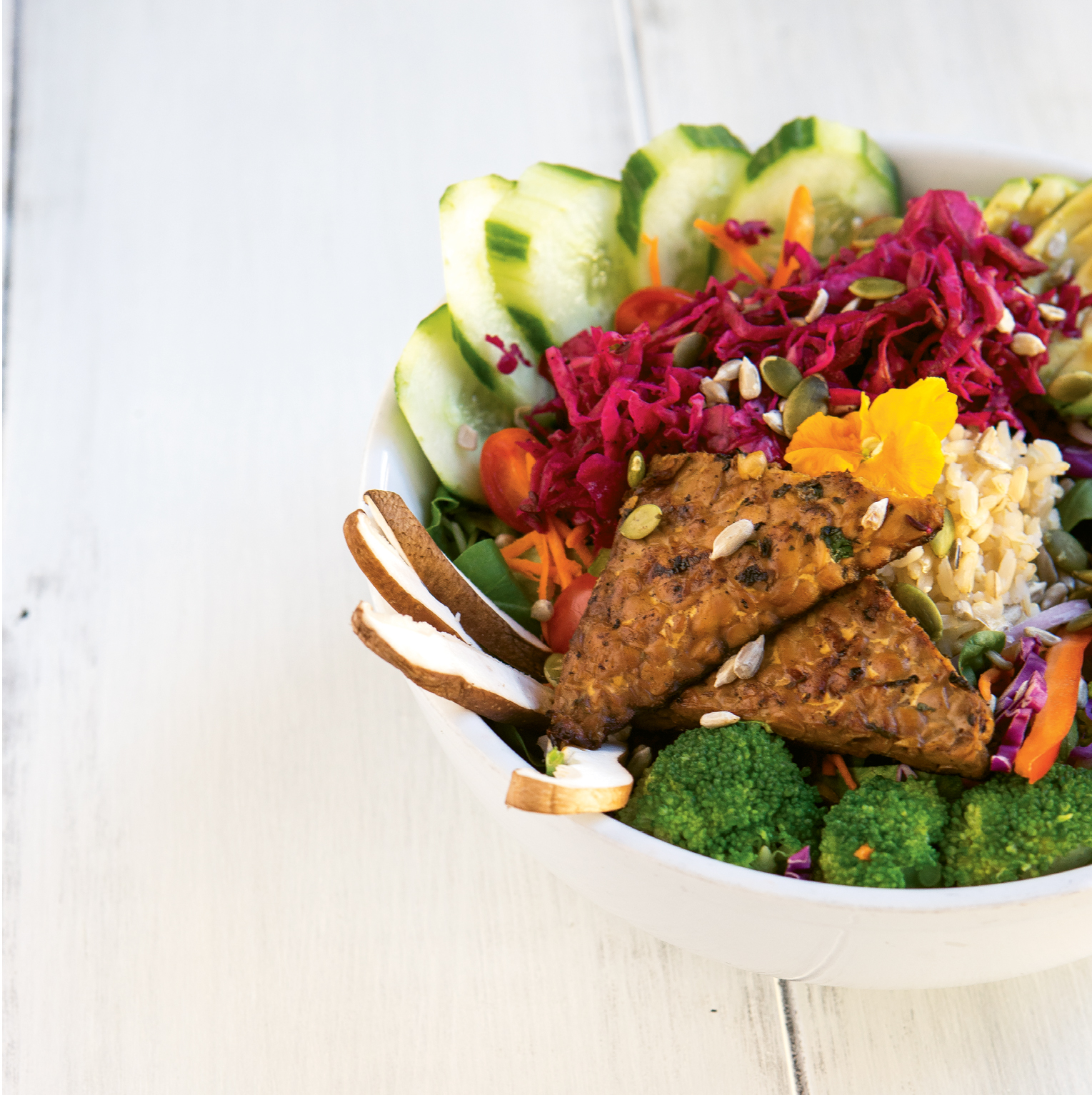 Laughing Seed Café in Asheville serves its popular Lotus Bowl with brown rice, blanched broccoli, kimchi, avocado, and tempeh or tofu. It's packed with vitamins, minerals, fiber, protein, and more. Owner Joan Eckert offers up the recipe so you can enjoy this nutritious salad at home. She suggests making it to suit your taste: Swap out the rice for quinoa and add your favorite fresh or cooked seasonal veggie, like butternut squash or beets. You'll feel super either way.
Lotus Bowl 
Courtesy of Laughing Seed Cafe
(Serves 1)
1 cup warm brown rice or quinoa
2 cups mixed salad greens
1 cup chopped fresh vegetables (carrots, red cabbage, red onion, cherry tomatoes, bell peppers, cucumbers recommended)
1/2 cup chopped cooked vegetables (blanched broccoli, sautéed broccoli rabe, steamed green beans, steamed butternut squash, yams, beets recommended)
1/4 cup fermented vegetables (sauerkraut or kimchee)
1/2 avocado, sliced
Handful of sunflower or pumpkin seeds
Garnish with sprouts like mung or clover
Tahini Lemon Dressing
Courtesy of Laughing Seed Café   
1 cup sesame tahini
1/3 cup olive/canola oil blend
1 Tbsp. extra virgin olive oil
1/3 cup lemon juice
1/2 tsp. salt
Pinch of cayenne pepper
Pinch of black pepper, freshly ground
1 cup cold water
Combine all ingredients except water in a blender or food processor. Blend until combined, then slowly add water while continuing to blend. If dressing is too thick, add more water. Serve with the Laughing Seed's super healthy Lotus Bowl. 
Laughing Seed Café
40 Wall St., Asheville
(828) 252-3445
www.laughingseed.com