Powder Play
Powder Play:
Make a break for fresh ground with the growing sport of snowshoeing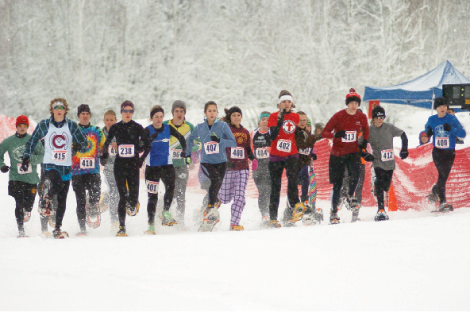 In the United States, the popularity of snowshoeing is catching up with other winter sports, winning fans with its ease and lower risk of injury. Western North Carolina is no exception to the buzz, thanks to sufficient snowfall and abundant backcountry terrain.
Anyone who's post-holed through deep snow can imagine how much more enjoyable a winter hike can be gliding atop the powder. The most casual hiker does just that wearing only snowshoes and a light hiking boot.
Technology is key to the new surge of interest. "Disregard the misconception of waddling around like a duck on big wooden tennis rackets," says Mark Elmore, sports director for the United States Snowshoe Association (USSSA). "There's no learning curve with today's light snowshoes made of aluminum, plastic, and carbon fiber. You can immediately walk at a normal stride."
Exercise is part of the appeal too. Snowshoes, which cost between $100 and $300, have an ice cleat built into the toe for grip, so serious mountaineers can climb uphill and runners can jog.
Beginners can get started with several events in the High Country. For National Winter Trails Day on January 7, Sugar Mountain Resort will offer free snowshoe rentals and one-hour guided tours. The hike covers technique tips while exploring snowy woods and passing icy streams near the edge of ski slopes.
Also on January 7, the USSSA's national racing program is sponsoring the first North Carolina State Snowshoe Championships on Beech Mountain. A competitive 10K race, which takes place above 5,000 feet on the Emerald Outback trail system, is one of 26 qualifying races leading to the U.S. National Snowshoe Championships in Frisco, Colorado, February 24-26. The 5K competitive and noncompetitive races let beginners get a feel for the sport, and the Snowshoe Scramble offers fun for kids. What's great about these races is no experience is required, and the entry fee ($5-$15) includes snowshoe rentals.
Beech Mountain is also hosting free snowshoe tours on January 14 and February 11.
Once you're hooked, Sugar Mountain Resort and Beach Mountain's Buckeye Recreation Center both rent snowshoes all winter, so you can trek into the snow-covered backcountry.        
---
Ice Breakers
National Winter Trails Day
January 7 | Sugar Mountain
Snowshoe tours take place at 9 and 11 a.m., and 1 and 3 p.m. Sign up 20 minutes in advance at the Ski/Snowboard School. The resort's snowshoe program operates all winter with rentals and a tour for $20 on Mondays, Wednesdays, and Fridays at 3 p.m., and Saturdays at 9 a.m. and 3 p.m. Sugar Mountain Resort; 1-(800) 784-2768; www.skisugar.com
North Carolina State
Snowshoe Championships
January 7, 1 p.m. | Beech Mountain
Register for the 10K, 5K competitive and noncompetitive races, and kids Snowshoe Scramble online at www.showshoeracing.com, or call (828) 387-3003. $15 for races, $5 scramble. www.beechrecreation.org
Guided Showshoe Tours
January 14 & February 11, 10 a.m. | Beech Mountain
These two tours are free. Additional hour-long, half day, and day snowshoe rentals are available throughout winter ($5-$25), as are private snowshoe excursions, starting at $30 for an hour. Buckeye Recreation Center; (828) 387-3003; www.beechrecreation.org