Play It Cool
Play It Cool:
Fields of Gold Farm brings a novel approach to gelato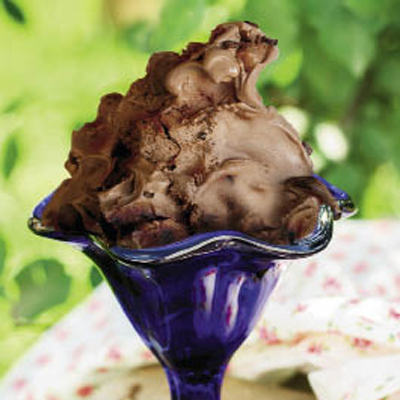 Barns aren't often associated with classical music or the crooning voice of Frank Sinatra, but at Fields of Gold Farm, Lisa Black's Oberhasli goats listen to the calming notes as part of their normal milking routine. The Hendersonville farm strives to cultivate a positive environment, and the soothing sounds are an effort to promote healthy, happy goats, and therefore sweeter milk, for the farm's most indulgent product: goat milk gelato.
The growing operation mixes more than 30 flavors of gluten-free, scratch-made gelatos. Favorites include Chocolate Dipped Strawberry, Lime in the Coconut, and Tiramisu Treviso. Black also dabbles in beer- and wine-infused varieties, partnering with Highland Brewing Company, Saint Paul Mountain Vineyards, and Russian Chapel Hills Winery. "I try to blend flavors to be natural and refreshing," she says. "Desserts don't have to be overwhelming."
The creaminess and light texture of Black's gelato is all thanks to the goat milk, which contains less butterfat than most dairy products. Traditionally, gelato made with cow's milk already has a lower fat content than ice cream and a third of the calories, but using goat milk eliminates much of the heavy and overly rich tastes common in other desserts.
Gelato is a central focus on the farm, but the goats also provide the key ingredient for goat milk soaps, made with organic vegetable oils and butters. Seasonal veggies are grown as well, and as the operation expands, Black hopes to open a farm store and offer tours. Currently, visitation is by appointment only. Says Black, "My goal is to have quality products that everyone can enjoy."  
Where to buy:
Fields of Gold Farm gelato can be ordered direct online, or purchased at Food Matters Market in Brevard or at the Flat Rock Farmers Market.  
Fields of Gold Farm  
Hendersonville
(828) 692-7096
www.fieldsofgoldfarm.com