Pisgah to People's Tree
Pisgah to People's Tree:
A red spruce joins a national tradition as it journeys across the country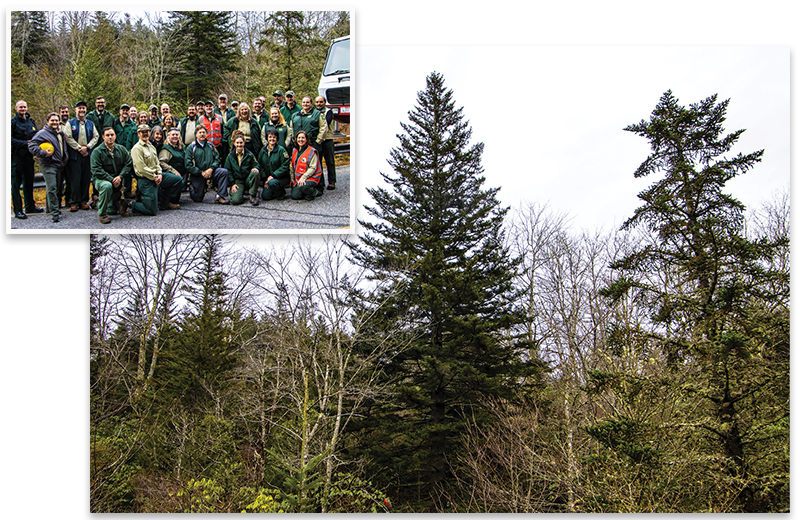 Grown Local - Harvested from the Pisgah National Forest, the red spruce was carefully chosen to represent Western North Carolina this season. A team of US Forestry Service workers assisted in its transport.
Around Christmastime, a half-century-old tradition towers over the Capitol Building in Washington D.C. This winter, the decorated Christmas tree on display annually at our nation's capital came from Pisgah National Forest. The evergreen conifer, dubbed "The People's Tree," is aptly named, as each year different states are selected to supply the tree. North Carolina's third feature since 1974 is adorned with over 4,000 large ornaments able to withstand inclement weather and 2,000 small ornaments for indoor use.

75-year-old Ruby the red spruce (lovingly named after its scientific name Picea rubens) towers at 78 feet high. After being harvested in Pisgah in November 2022, Ruby journeyed on an 80-foot trailer for two weeks before arriving at the capital. Along the way, Ruby stopped for 14 special events in North Carolina and Virginia. In order to make sure it stays healthy, Ruby is accompanied by what Adriene Rubiaco, a Public Affairs Specialist with the Forest Service, describes as a "bladder bag." This 40-pound vinyl water source is molded to the trunk of the tree, and is a crucial water source for Ruby while it's uprooted.
On the Road - The People's Tree is strapped to a truck to make its way to the United States Capitol where it will reside for the holiday season.
Ruby brings quite a heritage with her to D.C. ; with over 18 million acres of forest land across the state, it comes as no surprise that the Christmas tree sector across the state has more than 850 growers producing approximately 50 million trees. In fact, red spruces like those supplied for the People's Tree represent 94% of all species grown here in North Carolina. Both a time and labor-intensive product, a tree can take upwards of 12 years to be ready for harvest.
After dazzling crowds at the Capitol this holiday season, Ruby's cones will be collected, its seeds raised into seedlings and replanted out in the forest as part of conservation efforts for increasingly endangered ecosystems. Restoration efforts by The National Forests in North Carolina mean that $50,000 dollars will go back to the spruce-fir forests to bring seedlings and native plants into precarious ecosystems. Even Ruby will take part in this cycle—the remaining wood will go back to the WNC community.