Piece Work
Piece Work :
Waynesville artist Margaret Roberts transforms watercolor with collage techniques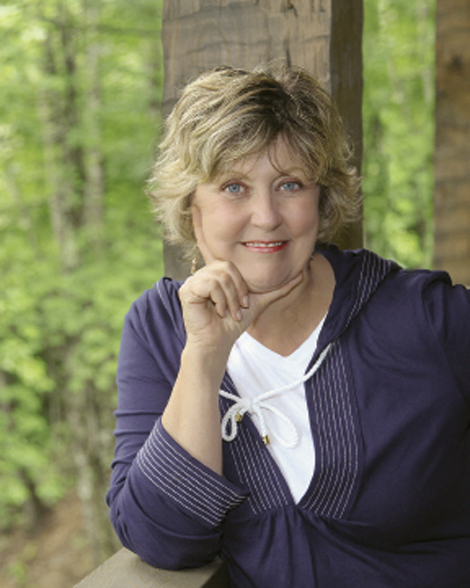 Watercolor isn't the most forgiving medium, but Margaret Roberts isn't easily daunted. Fifteen years ago, while working on a painting that she considered "beyond hope," she tore it into pieces, leaving deckled edges on the paper. The result was a revelation: Those "mistakes" in her painting created interesting patterns and textures that could be reassembled through collage, creating a fresh approach to watercolor. That happy accident led Roberts to experiment further, raising her collage pieces off the paper, essentially coming up with a three-dimensional style of watercolor painting. "I'm proud of the technique and I've never seen anyone else doing it," she says. "It's my baby."
Roberts still creates detailed watercolors, but for every one she paints, she may also make a very loose, detail-free painting to use as collage material. For elements such as leaves or flowers, she tears the paper to create a soft edge; whereas features such as man-made structures in a landscape are cut with a blade. The collage pieces are then glued to the surface of the detailed painting, sometimes flat against it, other times positioned to create the depth, which allows the work to spring from the paper and spill onto the surrounding matting.
Collage isn't Roberts' only style signature. She brings an uncommon vibrancy to the traditionally soft and muted watercolor palette through her choice of backgrounds and colors. Using bold reds, yellows, and oranges on a black wash, Roberts' subjects stand out with remarkable clarity. "People are really taken by the amazing combination of color and texture in her work," says Carrie Keith, owner of Twigs & Leaves gallery in Waynesville, where Roberts' work is shown.
A native of Southern Virginia, Roberts has lived in Waynesville for six years. As a former elementary school art teacher and adult literacy instructor, she says the exchange of creative know-how among local artists is inspiring. In keeping with that ethos, she helps aspiring artists. Each Monday, she opens her studio to anyone interested in learning watercolor, acrylic, or pastel techniques. Students share art materials and experiment in a pressure-free environment where mistakes are encouraged. After all, Roberts says, it was a misstep that brought her watercolor painting into to a new dimension.